Steps Freelancers Should Take When a Client Won't Pay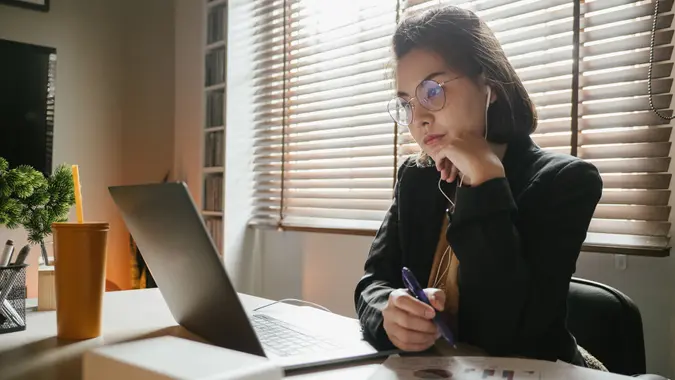 staticnak1983 / Getty Images
Freelancers have always struggled to get paid what they're worth and what they're owed. In 2015, long before the pandemic, a Freelancers Union study found that more than 70% of contract workers struggle to get paid at least once in their careers. But now, according to Freelance Creative, more and more employers are using the virus as an excuse not to pay just as the pandemic is making gig work more crucial than ever.
Read: This Is the Living Wage You Need in All 50 States
Contract workers are not covered by the protections in the federal Fair Labor Standards Act, but they are entitled to collect the money they earn, just like regular employees. Here's what to do if you find yourself in the frustrating and all-too-familiar position of doing freelance work for a client who won't pay up.  
Find Out: 30 Odd Jobs That Pay Insanely Well
Make Your Money Work Better for You
An Ounce of Prevention…
If you're already chasing a client for money, much of the following no longer applies. But moving forward, you can greatly reduce the likelihood of getting stiffed in the future by taking these actions.
See: 40 Legit Companies That Will Pay You To Work From Home
Only work with trusted clients:

Before you sign a contract or accept an assignment, check out the client's reviews, scour social media for complaints from other freelancers, run their website through the BBB and Google the company's name with words like "lawsuit" and "scam." 

Protect yourself with a contract:

The single best way for both parties to protect themselves is to sign a contract that covers five crucial elements: price, fees and work rates; payment method and schedule; project timelines and deadlines; cancellation and kill fees; and copyright and ownership rights.
Find Out: 25 Ways To Make an Extra $500 a Month
Invoice correctly:

Invoice promptly in the manner agreed to in the contract. Include your name and contact info and that of the client, the project name, the pay-by date and the invoice amount. Use your invoicing software's reminder system or create your own system for automatically following up if a payment deadline passes. 

Be meticulous in record-keeping:

Pay disputes often come down to who can prove what. Catalog and record assignments, payments and invoices, along with all related emails between you and the client. 
Make Your Money Work Better for You
More: Side Hustles and Small Ideas That Turned Into Million-Dollar Businesses
Know the Law — It Varies
Laws regarding contract work vary from state to state and even city to city. In Minneapolis, for example, the Freelance Workers Protections Ordinance protects freelancers from nonpayment. In New York, it's the Freelance Isn't Free law. It's crucial to know the law where you live and how it applies to you.
If your client makes excuses for nonpayment, contests what's owed or simply stops responding, here are some steps you can take.
Read: Necessary Tax Tips for People With Side Hustles
Speak up:

Your invoice might have gone to the spam folder or your client might have simply forgotten or made an honest mistake. Start by just reaching out and asking if there was an error with your invoice and if they'd like you to resend it.

Increase the pressure:

Reach out more frequently with increasingly urgent language, be persistent and if they still don't pay up, send a formal collections notice. No matter how angry or frustrated you are, obscene, threatening or otherwise inappropriate language will never help your case. Make sure every email and phone call is one that you would stand by in court.

Withhold final deliverables:

Stop submitting new work after payment has been missed or hold back final deliverables. 

Seek assistance:

Reach out to and consider joining a trade union like the National Writers Union, which helped members recoup more than $200,000 in 2018 alone.

Contact a lawyer:

A demand letter from a lawyer is usually enough to do the trick, according to Freelance Creative. This, however, can cost thousands, but services like AttorneyFee.com will have a lawyer write a demand letter for as little as $99.

Sue:

If your state has a specific law to protect freelancers, follow those protocols first. If not, you can sue your client in small claims court, which deals with sums up to $2,000-$7,500 in most states, although this can be a costly, time-consuming and frustrating process. If all else fails, you can probably write the debt off on your taxes.
Make Your Money Work Better for You
See: 22 Side Gigs That Can Make You Richer Than a Full-Time Job
More From GOBankingRates
Last updated: Feb. 24, 2021
Make Your Money Work Better for You