10 Best Summer Jobs for Teachers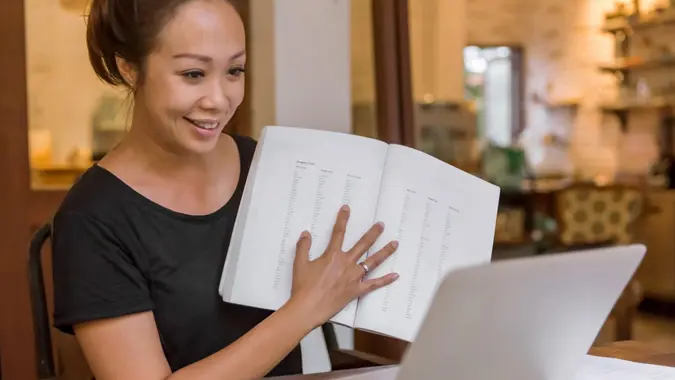 Kanawa_Studio / Getty Images
Teachers have a unique opportunity during the summer — a two-month or so departure from their regular schedules. And when classes aren't in session, it's the perfect time to make extra money. So if you're wondering how you can make money in the summer as a teacher, GOBankingRates has the answers you need. From putting your writing skills to work to getting paid to watch over private swim parties, here are 10 summer jobs for teachers. 
Freelance Writer
Why it stands out: Many teachers are well-versed in writing in a clear and concise manner, so freelance writing can be a perfect way to bring in some extra money over the summer. 
Pros
All you need to get started is a computer and a word processing program, such as Word or Google Docs. 
You can do everything from home, which saves money. 
You can continue freelance writing even after you go back to teaching. 
Cons
You'll likely have to prove yourself before you land higher-paying writing jobs. 
What to look for: Look for writing jobs on ProBlogger, register to sell on Fiverr or write content for bloggers and sell it in Facebook groups like Blogger Resource Room. Always research companies or individuals who offer you writing jobs to ensure you won't fall victim to a scam. Consider getting an employer identification number so you won't have to give your Social Security number when filling out documents that request it, such as a W-9. Additionally, consider requesting 50% of the payment upfront and the other 50% upon delivery. 
Online Tutor
Why it stands out: Online tutoring allows you to utilize many of the skills you already possess as an educator, so it's a natural fit. Best of all, there are quite a few online tutoring companies you can apply with — or you can build your own private clientele from local clients or find some online. 
Make Your Money Work Better for You
Pros
Having teaching experience makes teachers a perfect fit. 
As a private tutor with your own clientele, you can set your own rates. 
If you tutor online, you won't have to spend money on fuel. 
Cons
The base pay you'll earn through a tutoring company might be much lower than you're used to making as a teacher. Many companies pay $11 to $17 per hour, according to Glassdoor data.
You might have to work odd hours if you tutor students in another country.
What to look for: Because this is a summer job, if you choose to work for a tutoring company, find out how long its onboarding process takes so you can start earning money as quickly as possible. Some companies, like VIPKid, have multistep interviews.
Dog Walker
Why it stands out: What do teachers do over the summer for money? In this case, it's having fun. If you're an animal lover, taking on jobs as a dog walker is essentially getting paid to do something you truly enjoy. You can apply with a dog walking company or build up your own local clientele. 
Pros
You get to work with animals. 
If you work as an independent contractor, you can charge your own rates and make the most of your daily schedule.
Cons
Hourly pay for dog walkers is between $11.25 and $17 per hour, according to data from Care.com, which is likely much lower than what you make as a teacher.
Make Your Money Work Better for You
What to look for: If you decide to find clients yourself, start in your neighborhood. That way, you'll only have a short distance to go to start earning money. If you want to work for a company, research at least two, such as Rover and Wag, so you can make the most money possible.
Housesitter
Why it stands out: Housesitting often involves simple tasks, such as gathering mail, watering plants, caring for pets and notifying the owners of any issues or repairs that arise.
Pros
Housesitting can be flexible, allowing you to multitask. 
If you find your own clients, you can charge a rate you feel is fair. According to Thumbtack, rates for a housesitter to visit during the day increase the longer you have to stay and the more tasks you have to perform. For example, you could charge $12.50 for a quick 10-minute visit to retrieve the mail and water the plants, while for a 50-minute visit, you could charge $32. If you stay overnight as a housesitter, however, you could charge $50 to $100 each night, depending on the services you provide.
Cons
If there are pets involved, this job is likely going to be more restrictive to your schedule.
What to look for: Try to look for housesitting jobs that don't require you to be there several hours during the day and overnight. Check with friends and family first to see if they know of anyone who might need a housesitter during the summer. Be wary of listings you find online unless they are through a reputable company that employs a vetting process.
Virtual Assistant
Why it stands out: Acting as a virtual assistant, or VA, is a great way to make money from home this summer. Duties can range from administrative to more technical, including answering calls, organizing meetings, updating websites and managing social media accounts. According to Indeed, the average salary for a virtual assistant in the U.S. is $22.06 per hour.
Make Your Money Work Better for You
Pros
You can freelance, register with a virtual staffing agency or apply for a virtual assisting job directly through a company.
You can work from home, which saves money.
The average hourly pay can be higher than tutoring.
Cons
Some clients can be difficult. 
More work for the same pay can become an issue if you're not careful. 
What to look for: For a summer job, look for VA jobs that match your current skill set because you might not have time to learn new skills and apply them over the summer. According to Gina Horkey of Horkey HandBook, most new VAs charge hourly rates to get an idea of the workload and then move to a retainer rate, which is a rate you charge a client weekly, biweekly or monthly for a certain amount of agreed-upon tasks.
Sell Printables on Etsy
Why it stands out: Not only is this something you can do online, you can keep it as a side job once school resumes. If you love creating printables, such as calendars, planners, checklists and coloring pages, turn it into a job for the summer by opening an Etsy shop. 
Pros
Printables are digital products, so you don't have to box up and ship anything.
You can make passive income from printables 24/7/365. 
If you have printables you created in the past, you might be able to list and sell them if they could be useful to others. 
Cons
Etsy charges 20 cents per each item you list and 6.5% of the listing price on each sale.
Without the right strategy on Etsy, you could go all summer without a sale. 
Make Your Money Work Better for You
What to look for: Consider taking a reputable online course on how to sell printables successfully on Etsy. There is a lot of competition on Etsy, but knowledgeable sellers can offer you some tips and tricks that can give you an edge.
Online Test and Essay Scorer
Why it stands out: When it comes to the question of what side jobs teachers can have, online test and essay scoring are right in a teacher's wheelhouse. Not only can you do this job in the summer, but you could also potentially continue it as a side hustle during the school year if time permits. 
Pros
Flexible hours
You can apply to more than one scoring company at a time.
Cons
Some scoring opportunities might require you to (or prefer you to) have a certain educational background.
What to look for: There are many different online scoring companies, but often, these positions are seasonal. For example, most of the work for Measurement Incorporated occurs from March to June, which would not qualify as a summer job. However, ETS has cyclical scoring opportunities throughout the year. Pay can vary for these positions, between $12-$16 per hour.
Sell on Facebook Marketplace
Why it stands out: Using Facebook Marketplace to sell items locally can be a quick and easy way to make money the same day. Facebook Marketplace allows you to sell a variety of items — from baked goods and crafts to high-quality clothes and seasonal items.
Make Your Money Work Better for You
Pros 
It's free.
It can result in fast money without having to box up and ship anything. 
You likely already have several things around your home you can sell. 
Thousands of potential buyers will be able to see your ad. 
Cons
You'll have to meet with the buyer to close the transaction. 
You'll have to answer questions and entertain counteroffers.
What to look for: If you're meeting with a buyer, make sure the meeting location is a public place that's well lit. If you plan to sell baked goods, check with your state's department of health regarding cottage food laws to ensure that you're allowed to sell food online that you bake at home.
Teach Lessons
Why it stands out: What can a teacher do in the summer? Continue teaching. Give lessons to local students, such as swimming or music lessons. If you have cheerleading experience, you could hold a cheerleading boot camp for younger girls. Any talent you have that would translate well into hourly lessons could be profitable. 
Pros
You can choose what you want to teach and how you want to teach it.
You can set your own schedule. 
You can set your own fee or hourly rate.
Cons
You might find it difficult to book a steady stream of students throughout the summer due to vacations, summer camps and other scheduled lessons. 
What to look for: Brainstorm all of the different types of lessons you could teach. Then consider how well they would translate into hourly lessons, where you would hold the lessons and if they would be group or one-on-one sessions. You'll also need to decide what to do if a student misses or does not complete a scheduled lesson. Finally, set a fee or hourly rate.
Make Your Money Work Better for You
Mobile Lifeguard
Why it stands out: If you live in a large city, you might have luck becoming a mobile lifeguard. Happy Swimmers has job listings for mobile lifeguards in California, Arizona, Colorado, Texas, Florida and the East Coast.
Pros
You likely won't have to report to the same location each time you work.
Pay is higher than tutoring or online scoring. For example, Happy Swimmers is paying mobile lifeguards in San Diego $22 to $24 plus tips.
Cons
You won't have a set schedule, so earnings are unpredictable.
What to look for: Happy Swimmers is only one company that offers mobile lifeguard jobs. Search online for your local area to find other opportunities. You will need current CPR certification and be prepared to pass a background check.
Final Take
When it comes to summer jobs for teachers, there are plenty of choices. Some jobs require a certain skill set, while others are easy to dive into with little or no experience. Keep in mind that where you live will have a bearing on the amount of hourly pay or salary you will receive. 
This is not an exhaustive list; there are plenty of other jobs you can do to make money this summer. All in all, however, the best summer job will be one that you not only enjoy but also allows you to earn a fair rate for your services. 
Information is accurate as of July 6, 2022.
Our in-house research team and on-site financial experts work together to create content that's accurate, impartial, and up to date. We fact-check every single statistic, quote and fact using trusted primary resources to make sure the information we provide is correct. You can learn more about GOBankingRates' processes and standards in our editorial policy.