Nearly 20% of Americans Plan on Switching Jobs in 2023: 7 Tips for a Smooth Transition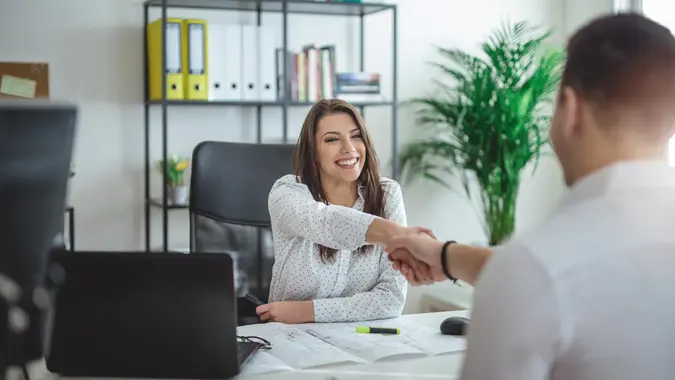 FluxFactory / Getty Images
The decision to make a career change is not a small one, but it seems many people are considering it nevertheless. Nearly 20% of respondents to GOBankingRates' 2022 Year in Review survey said they plan to pursue a new full-time job or career in 2023. And nearly 14% said they plan to find a new side gig or part-time work in 2023, as well.
Take a Look Back: 2022 Year in Review
Important: Unplug These Appliances That Hike Up Your Electricity Bill
One could cite numerous reasons for this potential wave of career changes. For instance, with the pandemic came the rise of remote work. But more importantly, many people who were perhaps already dissatisfied with their careers felt empowered to make a change.
Whatever the reason, people who may have simply tolerated problems at work are no longer willing to stand for them. If you want to make a career change in 2023, here are some tips to make it a smooth transition.
Perform a Self-Assessment
First, take inventory of what you like and dislike about your current job. What are the good things about it? What would you change if you could? Maybe you will realize you aren't as dissatisfied with your job as you think, and perhaps something else in your life is making you unhappy. Or maybe it is your job, and there is much more you would change than keep the same.
Make Your Money Work Better for You
Next, take an evaluation of yourself. For example, what are your values, interests, and skills? Is your current job providing fulfillment in those areas? Is there another career path that might be a better fit? If the latter, that could be the start of your search for your next career move.
Consider a Move Within Your Company
While you might be tempted to do something completely different for your next move, it may not be easy. If you go to a new company in a new industry, you might be forced to accept a pay cut — at least at first. You also won't have the network you may have spent years cultivating at your current position.
This is one reason it's often easier to get a new job at your current company instead of moving somewhere else entirely. If something at your current workplace would satisfy some of your answers to your self-assessment, it may be worth considering.
Live Richer Podcast: Tips To Stay on Budget This Christmas
Polish Your Resume and Skills
Whether you intend to switch industries entirely or apply at your existing company, it's a good idea to brush up on your skills. You should also update your resume with relevant skills.
Make Your Money Work Better for You
Your new career path might require education and training you don't already have, but that doesn't necessarily mean you must return to school for two to four years. For instance, many online courses and certifications can help boost your resume. Look for ones relevant to your new industry.
You should also update your resume. Chances are your new career calls for experience and skills that differ from the ones you need at your current job. You could tweak your skills and job responsibilities at current and past positions, so they align more closely with your new career. If you take online courses or earn a certification, be sure to add those.
Do Your Research
There will be much research to do, especially if you are considering an entirely new career path. For instance, peruse a few job postings and see if the career you are considering matches your values and skills. You can also network with people who already do this type of work and ask them about the pros and cons of the career.
Make Your Money Work Better for You
Check websites like Glassdoor and Salary.com to gain insight into this career's earning potential. In an ideal world, pay wouldn't be important, but there is no escaping the fact that pay matters. If the job won't provide financial security for you, it may not be the right fit.
Build Relationships
It's important to network and build relationships at work. Your network can help by referring you for new jobs. However, your network can also become your community and even your friends. Thanks to the internet, it's possible to network with people even if you don't know anyone in the industry. For instance, you can use websites like LinkedIn to reach out to people.
However, keep in mind the limitations of this form of networking. "Career changers often struggle to stand out from traditional candidates when using traditional methods of applying to roles through job boards, company websites, or LinkedIn job postings," said Joseph Liu, host at Career Relaunch podcast.
Liu says those changing jobs often struggle to stand out compared to those who advance internally. "Networking offers another pathway for candidates that often opens up hidden opportunities in the job market," Liu said.
Be Aware of Economic Conditions
Switching careers can be challenging for various reasons, one of which might be the economy. Unfavorable economic conditions can make it more challenging to land the job you want.
"Make sure you understand how a down economy may impact your potential new employer," said Tim Rowley, chief technology officer at PeopleCaddie, a mobile staffing agency. "You may be giving up the security that comes along with your seniority/tenure and the sponsorship that you enjoy within your current role during a very uncertain economic period."
Negotiate Pay at Your New Job
Negotiating can be uncomfortable, and not all companies will be willing to negotiate. However, it can never hurt to ask, especially if you would be starting at a lower pay point in your new job. Again, negotiating won't always work, but one study showed that nearly 19% of recruiters said negotiations could positively impact the hiring process.
Also, if you can't negotiate your base salary, remember that there might be other things you can negotiate. For example, you can ask for more paid sick time or family leave, or other parts of your benefits package. These things can really add up and are quite valuable on their own.
More From GOBankingRates
Make Your Money Work Better for You