Life and Money
What It's Really Like to Be an Entrepreneur
Being an entrepreneur is easier said than done.
The entrepreneurial spirit long has been part of American society, but in the past few years, entrepreneur-mania seems to have taken hold. If you turn on the TV, you'll see series such as "Shark Tank" and "Hatched" devoted to startups. And if you follow big-name entrepreneurs on social media, they often make it sound like anyone could -- and should -- start a business. Plus, entrepreneurship is often portrayed as the path the riches --
which, for some, it can be.
What you don't see highlighted in the media are the lows that come with starting a business. "The struggles are real," said Jason Vitug, founder of Phroogal, a financial education organization.
In fact, more than half of businesses fail within five years after being established, according to the Bureau of Labor Statistics. So if you're thinking about becoming an entrepreneur, you should consider the advice of Vitug and others who have started businesses. Here's what it's really like to be an entrepreneur.
1/10
Diego Cervo / Shutterstock.com
You Get to Be Your Own Boss
One of the big appeals of starting your own business is getting to be your own boss. After working for large and small advertising agencies for several years, Tom Hespos had become frustrated with the workplace dynamics where he was employed.
"I was working really hard but seeing people who had nothing to do with what I was doing make rookie mistakes that affected me, and I wanted to work for a business where that didn't happen," Hespos said. "The only way to realize that was to start my own business."
In 2002, Hespos launched Underscore Marketing, which provides media solutions for health and wellness brands. The New York-based company now has about 75 employees and has been named by Inc. as one of America's fastest-growing private companies. Starting his own firm has allowed Hespos to "live or die in the business world by my own merits," he said.
2/10
bbernard / Shutterstock.com
You Have to Commit to Keeping the Business Alive
As the boss of your own company, you get to call the shots. But it's also up to you to make sure you keep the business afloat.
"Entrepreneurs need to be able to commit to doing whatever it takes to keep the business going, particularly in its first two years," Hespos said. "That's going to mean putting the business before almost anything else in your life."
Hespos said he was fortunate that he launched Underscore Marketing before he was married and had a family. "I had maximum flexibility to stop whatever I was doing at the time and focus on the company," he said. Otherwise, the sacrifice would've been greater.
"If you're not prepared to miss out on a lot, or if the people you're close to can't understand why you need to put your business first for a couple years, don't launch a business," Hespos said.
Don't Miss: The Best and Worst States for Starting a Business
3/10
Uroš Medved / Shutterstock.com
You Get to Turn Your Idea Into Reality
The appeal of starting a business for many entrepreneurs is turning an idea into reality. For Molly Hamilton, that idea was creating a treat that would be delicious and safe for her four children -- all of whom have food allergies.
"I was aware of how little is on store shelves that is allergen free," Hamilton said. "I began remaking the cookie recipe I had used all of my life until I had one that my kids and others liked, and that was both nutritious and allergen free."
After spending a couple of years developing a recipe, sourcing packaging and finding a facility to produce her cookies, Hamilton starting selling Molly's Bakeovers in December 2015. Now Molly's Bakeovers cookies -- which are made with only natural ingredients and are free of gluten, peanuts, dairy, egg and soy -- are sold throughout the Mid-Atlantic in Whole Foods Markets and other specialty stores, in Safeway supermarkets in Northern California, Nevada and Hawaii, and on her website.
"It's gratifying to have an idea, to bring it to life and to watch it grow -- especially when the idea centers around your kids," Hamilton said.
4/10
Bona_natty / Shutterstock.com
Your Mind Is Always on Your Business
The drawback to having that idea you want to turn into reality is that it can consume all of your thoughts. "You will always be thinking about your business," said Amy Rutherford, founder and president of Red Barn Mercantile, a furniture and gift store in Alexandria, Va.
Although Rutherford doesn't have to be at her store all of the time because she has a staff who helps run it, she can see her sales on her phone. "I'm thinking about what the next move is and thinking about what I need to do when I get back," said the mother of two, who said she even finds herself thinking about her business while at her kids' school events.
Vitug said he even has trouble unwinding while on vacation. When he, his parents, siblings and their spouses and children recently spent 10 days at a resort in the Philippines, his brother-in-law commented that Vitug looked like his mind was elsewhere.
"That was a shocker to me," Vitug said. "I realized when I've gone on vacation, I haven't been able to shut off entrepreneurial mode."
5/10
GaudiLab / Shutterstock.com
You Can Decide When and Where You Work
Before starting his own business, Vitug worked 40 hours a week as the vice president of marketing and business development at a credit union. But he had to be in an office during the day working on someone else's priorities.
"As an entrepreneur, you get to decide how to use your time," Vitug said. "The benefit is that you get to pick and choose where you get to work from and when you get to work. "
Being his own boss allowed Hespos to alter his schedule so he could work from home a few days a week rather than commute two hours to and from his office in New York. "I'd shudder to think what that might be like working for a large corporation, where I'd have to sell my boss on the benefits of working from home a couple days a week," he said. "Now, I can actually see my kids for more than 30 minutes on the weekdays."
When Hamilton spent a month recently in California launching Molly's Bakeovers at Safeway supermarkets there, she was able to bring her kids with her and spend time with them. "It was a dream," she said. "I wouldn't be able to do something like that with a regular job."
6/10
Dragon Images / Shutterstock.com
But You'll Work Long Hours
Being an entrepreneur means you can work from anywhere -- even your kids' events, Hamilton said. "But the downside is you do work from anywhere and everywhere and all of the time," she said. "You end up missing out on some very special moments because you are pulled in lots of directions."
The Ugly Truth: Why Work-Life Balance Won't Make You Wealthy
When he was launching his business, Hespos said he worked all of the time. "At the start, the better question would have been, 'When are you not working?'" he said. "It wasn't uncommon for me to get calls at midnight to address client concerns about their ad campaigns. I remember even taking a call from a West Coast client at 3 a.m. East Coast time, out of a dead sleep. This was on top of working 12-plus-hour days and putting in significant time on the weekends."
Even though they're working long hours, some entrepreneurs fool themselves into believing they have a work-life balance because they're working from home. "If you find yourself working 10 hours in front of the computer, are you really spending quality time with your kids?" Vitug said.
He learned the hard way about the negative effects of long hours and not separating work from life. "My body was wearing down, my mental capacity was shortening," he said. He had to set a schedule for himself to avoid overworking.
7/10
Thomas Barwick / Getty Images
You Might Go Without an Income … for a While
Becoming an entrepreneur can mean sacrificing a steady paycheck as you get your business up and running. And once you do start making money, it might be a while before you're earning what you would have been paid with a corporate job.
"While my partners and I were able to pay ourselves after the first couple months, it was not nearly what we were worth on the open market had we taken positions with established companies, nor was it enough to really support ourselves," Hespos said.
Some entrepreneurs can go years before they can pay themselves. "It was five years before I made a salary," Rutherford said. "That's the crummy part of being an entrepreneur." Although her store has done well, she recently had to go once again without paying herself because she needed enough money to pay her staff during a slow sales month. Plus, she's opening a new stationary store and needs to funnel funds into that endeavor.
A lack of a steady paycheck also can take a toll on family finances. Hamilton said she's had to put a lot of her own money into her company and the ingredients she needs for her cookies. "Purchases for chia seeds have been put ahead of new school shoes many times," she said.
8/10
Dean Drobot / Shutterstock.com
You'll Likely Go Into Debt
In addition to going without pay for a while, becoming an entrepreneur can bring a myriad of setbacks you have to overcome. One of them is going into debt.
"At the end of year one, I found myself with a huge credit card debt, a five-figure debt to the IRS and needing to move in with my parents for a bit while I got things off the ground," Hespos said.
Rutherford said it took her years to pay off the debt she took on to keep her business afloat. "There was a time period where we weren't sure we would stay open," she said.
She had to reduce her staff and cut the salary of one person integral to her business during an especially tough time. That person moved on to another job because she couldn't afford the pay cut. Despite going into debt and slowly digging herself out, Rutherford said she took out a home equity loan to open her new stationary store.
9/10
Brian A Jackson / Shutterstock.com
You Have to Be Persistent
Being an entrepreneur requires persistence -- and lots of it. "It's two steps forward and three steps sideways," Hamilton said. As soon as you address one issue, more pop up, she said.
For example, she went through thousands of iterations of her first cookie recipe and took samples to family, friends and every event she attended to get feedback. Then, sourcing ingredients was a challenge because they had to come from a supplier that didn't process dairy, gluten, eggs or peanuts. "That rules out 99 percent of producers," she said.
One of the biggest stumbling blocks, though, has been finding a manufacturing facility. She moved her operations into a new facility this June -- the fourth she's been in since launching Molly's Bakeovers in December 2015.
10/10
Jacob Lund / Shutterstock.com
You Have to Love It
If you want to succeed at being an entrepreneur, you have to absolutely love it, Rutherford said. She meets with several other small business owners each month, and they all say that they wouldn't put up with the stress, debt and tax bills that come with running a business if they didn't love it.
"Most of us could be making more money in a corporate job," she said. "We love what we do. "
Hamilton agreed that starting and running a business is incredibly stressful but also incredibly gratifying. "I believe that what we are doing is important, and, as I often say, never underestimate a mother on a mission for her kids. I couldn't imagine doing anything else right now," she said. "But it's not for the faint of heart. You have to be wired this way."
Up Next: Key Signs You're Ready to Start Your Own Business
About the Author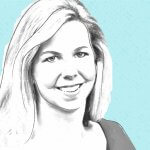 Cameron Huddleston is an award-winning journalist with more than 18 years of experience writing about personal finance.
Her work has appeared in Kiplinger's Personal Finance, Business Insider, Chicago Tribune, Fortune, MSN, USA Today and many more print and online publications. She also is the author of
Mom and Dad, We Need to Talk: How to Have Essential Conversations With Your Parents About Their Finances
.
U.S. News & World Report named her one of the top personal finance experts to follow on Twitter, and AOL Daily Finance named her one of the top 20 personal finance influencers to follow on Twitter. She has appeared on CNBC, CNN, MSNBC and "Fox & Friends" and has been a guest on ABC News Radio, Wall Street Journal Radio, NPR, WTOP in Washington, D.C., KGO in San Francisco and other personal finance radio shows nationwide. She also has been interviewed and quoted as an expert in The New York Times, Chicago Tribune, Forbes, MarketWatch and more.
She has an MA in economic journalism from American University and BA in journalism and Russian studies from Washington & Lee University.