Do You Have To Go Back? What To Do If Remote Jobs Run Out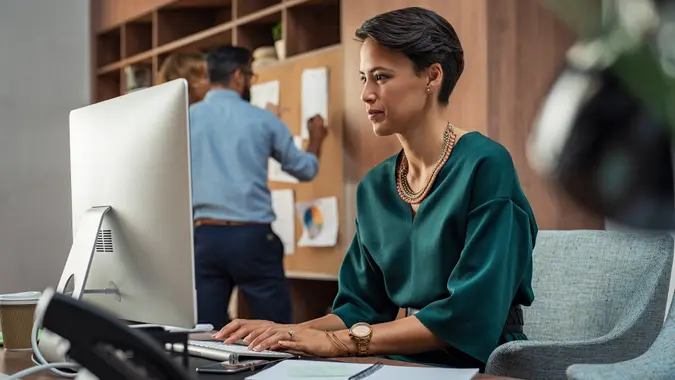 Ridofranz / iStock.com
Even after it was deemed safe to return to the office, remote jobs have been in demand. Before the pandemic, it was estimated that only 6% of workers did their jobs remotely. Now, the number is closer to 25% of workers.
Retirement at Any Age: Get Retirement Tips That Fit Every Stage of Life
Also: How To Invest In Precious Metals To Protect Your Retirement
Tips: Unplug These Appliances That Hike Up Your Electricity Bill
It's not surprising, considering there are many advantages to remote work: no commute, flexibility, better work-life balance and less impact on the environment are just some of the benefits of working at home. However, since the demand for remote jobs has gone up, these jobs have become harder to nail down. Only 15% of available jobs have the option to work remotely. What can you do if you want a remote job, but can't seem to find a full-time one that fits your needs? GOBankingRates talked to financial experts to find out the best alternatives. 
Make Sure You're Looking in the Right Places
If you've checked the same sites every day, you might be missing hidden gems that specialize in remote work opportunities. Ed Samuel, Executive Career and Life Coach at SamNova. Inc., says the best places to find remote jobs aren't always easy to find. "Not all remote jobs are advertised. In fact, you may have to dig to find the best ones. You can search on sites such as VirtualVocations.com, FlexJobs.com and Ryan Robinson's "65 Best Remote Job Websites in 2023. Better yet, identify your target companies and hiring managers and reach out to them." 
Make Your Money Work Better for You
Samuel says this personal touch of reaching out to hiring managers directly can turn into a remote work opportunity if you play your cards right. "Introduce yourself, articulate your value, establish a relationship, and find out if the hiring manager has a need or problem you can solve. If the answer is yes, it can lead to a follow-up discussion or interview. During your conversation, ask if the work can be done remotely," Samuel says.
Chelsea Clarke, Founder and Owner at HerPaperRoute, also recommends ProBlogger in addition to the sites Samuel suggested. She says these sites have perks that typical job search sites might not. "[These sites] save you a lot of time as you don't have to toggle the 'remote' filter like you would for traditional job boards. Plus, you can speed up your search by creating an account and setting up notifications for jobs in (or related to) your field," Clarke says.
Take Our Poll: What's the First Thing You Would Do If You Won a Big Lottery Jackpot?
Look for Jobs that Offer a Hybrid Work Model
Because more and more job seekers want the option to work remotely, lots of employers have introduced a hybrid working schedule, where coming into the office is only required on certain days. The rest of the days, employees can choose to work from home. An estimated 74% of offices have implemented a hybrid model. Though it might not be the perfect solution, you can work flexibly on the days you're not in the office and have more facetime with coworkers when you're in the office, giving you the best of both worlds. 
Make Your Money Work Better for You
Consider Part-Time Remote Work
Plenty of jobs are offering part-time remote opportunities that you can do until you find a full-time job, or you can take on a few to make a full-time salary. Samuel suggests roles in customer service, tutoring, proofreading, research, freelance writing, and after-hour customer service.
If you do go the freelance route, there are sites that can help you find opportunities immediately. "In today's world, you can use platforms like Upwork and Fiverr to find projects that will pay you," says Donny Gamble, Founder and CEO at RetirementInvestments.com. "There's tons of freelance work available and it can pay pretty well. You could turn it into a quality gig and could maybe even start your own business." 
No Remote Jobs in Your Field? Try Pivoting
If your top priority is to work remotely, it might be worth looking into another line of work that will allow you to do so. Brooks Scott, Founder, Owner, and Executive Coach at Merging Path, says there are plenty of fields that are looking to hire remote workers if you know where to look. "There is a huge demand right now for content on social media. One of my favorite new jobs that offer freedom from remote work are video editors. There are an array of tools you can easily learn by watching some YouTube videos. There are also a lot of opportunities for people to be coaches in their respective fields. A lot of people could really use a mentor or an advisor early on in their careers to help them get to the place that you already may be."
Make Your Money Work Better for You
More From GOBankingRates
Make Your Money Work Better for You