5 Top AI Tools You Can Use To Make Money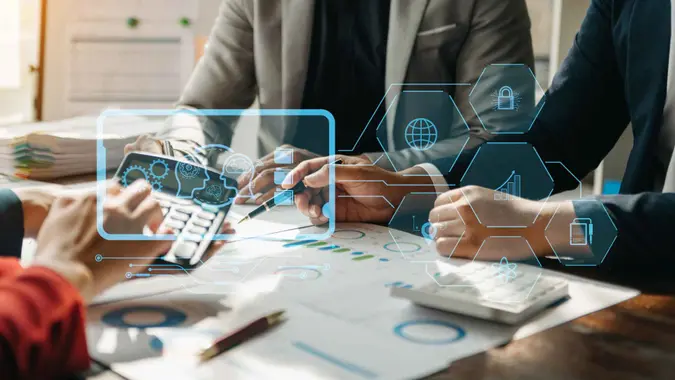 nuttapong punna / Getty Images
Tech companies, social media influencers and e-commerce sellers have discovered how to earn money using artificial intelligence tools — and now, so can you. Whether you're a digital content creator, a freelancer or have a new business idea, AI can help you gain another source of income. Read on to see how much you could potentially earn per month with AI tools.
What Are AI Tools?
AI and machine learning tools are used in nearly every industry. They can be used to interpret and communicate large volumes of data, mainly used for research purposes. However, AI has entered the world of business software by incorporating complex algorithms into everyday use. This helps people manage tasks more efficiently. To put it simply, AI tools use machines to imitate human intelligence.
Top 5 AI Tools You Can Use To Make Money
You can complete complex tasks, such as performing research, writing and video editing within a short time using AI tools. When looking for AI tools to make money, you should consider these five:
Lalal AI: An audio stem splitter that lets you remove instrumentals and vocals from music tracks while maintaining the authenticity and quality of the musical content.
Dall-E 2: An AI image creator that creates authentic images, such as oil paintings, in only a few minutes using any natural language input.
Lumen5: An online video creator software that allows you to create dynamic videos within 10 to 15 minutes. The AI tool includes video templates and filters, and can be formatted on various social media platforms. You write your transcript, and the tool suggests appropriate copyright-free video clips and images to add.
Copy.ai: A copywriting tool that helps you write unique web content for blogs, emails, video scripts, ads and social media captions.
JADBio: An AutoML tool that was originally developed for biotech students to extract information from any uploaded research data. It can also quickly create data analysis models.
Make Your Money Work Better for You
Good To Know

If you're looking to use AI professionally, consider investing in one of the more advanced AI tools to help you do your job.

For example, Watson by IBM is a chatbot that answers natural language queries. Watson recently competed on Jeopardy, where it defeated Jeopardy's champions and won a $1 million prize.
There are many great AI tools to choose from, so it's important to do some research and determine the tool that is best for you. 
How Much Money Can You Make Using AI Tools?
AI engineers in the U.S. can earn an annual salary of $120,219 on average. But, if you're not an educated AI engineer who designs predictive, automated machine software, how else can you use AI tools to make money?
You can also make money using AI-powered tools as a remote freelancer. Here are six popular jobs and how much you can earn nationwide on average using AI tools.
| Remote Job Using AI Tools | Monthly Salary | Hourly Salary |
| --- | --- | --- |
| Content Creator | $9,735 | $56 |
| Book Reviewer | $5,129 | $30 |
| Affiliate Marketing | $6,080 | $35 |
| Digital Artist | $6,814 | $39 |
| Application Developer | $8,982 | $52 |
| eCommerce Specialist | $3,982 | $23 |
Make Your Money Work Better for You
What Are the Four Types of AI?
People currently use AI to do things that humans customarily do. These tasks range from playing video games, creating artwork, interpreting verbal commands and even driving cars. The four types of AI, from the most basic to the most complex, are:
Reactive: Reactive AI machines are just that, and they cannot form memories or inform decisions based on past experiences. An example of an AI-reactive machine is IBM's Deep Blue, a supercomputer that plays chess.
Limited memory: Limited memory AI machines, such as self-driving cars, can look at past information. They can identify and monitor objects over time. 
Theory of mind: These machines represent the bridge between the AI we have and the AI we may be able to create in the future. Theory of mind AI machines form worldwide representations. They understand that objects, creatures and people have thoughts and behavior that determine their behavior.
Self-awareness: Self-awareness AI systems are designed to form representations about themselves and have consciousness. These AI machines are aware of their internal states and can foresee others' feelings.
Takeaway
Using AI tools to make money is growing in popularity in the business industry. If you are an entrepreneur or thinking about becoming one, consider using AI tools to complete your business tasks. This relatively new technology could earn you some extra cash and take your business to the next level.
FAQ
Here are the answers to some of the most frequently asked questions regarding AI tools.
Which is the best free AI?

The best free AI for you will depend on what you are looking to achieve. AI can be used for musical content, video creation, copywriting or digital design. Here's a look at some of the best free AI tools:

Lalal AI
Dall-E 2
Lumen5
Copy.ai
JADBio

Keep in mind that with most AI tools, they will allow you to use a basic version for free. To get full functionality, you may have to upgrade to the paid version.

What are the most used AI tools?

Some of the most used AI tools are ChatGPT, Dall-E 2 and Lumen5.
Make Your Money Work Better for You
Pay data is accurate as of July 12, 2023, and was sourced from ZipRecruiter and Glassdoor.
Our in-house research team and on-site financial experts work together to create content that's accurate, impartial, and up to date. We fact-check every single statistic, quote and fact using trusted primary resources to make sure the information we provide is correct. You can learn more about GOBankingRates' processes and standards in our editorial policy.