Is ChatGPT Plus Worth the Extra Cost? Here's What You Need To Know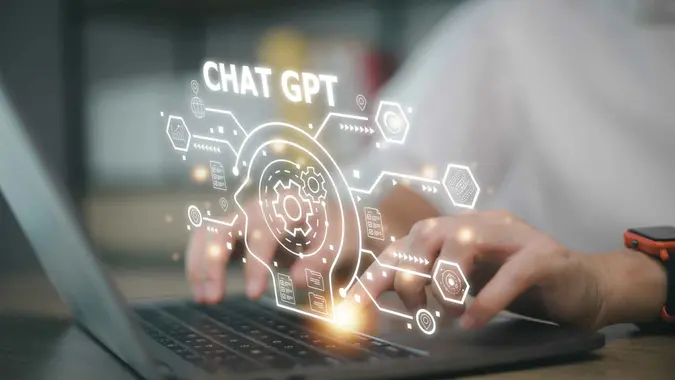 Userba011d64_201 / Getty Images/iStockphoto
Within five days of its launch in November 2022, the beta version of ChatGPT, the artificial intelligence chatbot created by OpenAI, garnered more than 1 million users. Since that time, people have used the "large language model" AI for travel planning, writing, programming, app development and more. Some even use it to make money.
Read:
The original version of ChatGPT is available for free. But OpenAI also has a paid subscription. Is ChatGPT Plus worth it for $20 a month? Keep reading to learn more.
What Is the Difference Between ChatGPT Plus and the Free Version?
ChatGPT Plus launched in February 2023 and it currently offers many of the same features as the free version. That is, it can conversationally chat with you, answer questions, create content, write outlines and even challenge assumptions. It has also been trained to reject inappropriate requests.
In addition to the basics, ChatGPT Plus offers web browsing capabilities and access to plugins. According to Wired, you will be able to place Instacart orders or book travel on popular websites through the plugins in the future.
The web browsing capabilities are not limited to Google searches, so it can give users more robust responses from a range of websites. Right now, ChatGPT Plus is limited to text-based websites for internet research.
ChatGPT Plus also offers useful benefits for business owners. The paid subscription allows businesses to customize responses by modifying them. This can help the AI to learn more about their company. From there, businesses can integrate the findings and suggestions into their existing business systems. For many businesses, organizations and other "power users," these features make the monthly fee well worth the cost.   
Make Your Money Work for You
Upgrading to ChatGPT Plus will also grant users access to new features and improvements first, before the general public.
Is ChatGPT Plus Faster?
ChatGPT Plus is notably faster than the free version. Right now, that's a key feature that sets the subscription-based model apart. During peak times, ChatGPT tends to be slow to generate responses. It may even shut down or deny requests during peak use times.
ChatGPT Plus users will always have access to the AI program, even during peak times. You will never see a message that ChatGPT is "at capacity." The chatbot will also provide faster response times during peak and non-peak times for paid users. With ChatGPT Plus there is never a queue to wait. You can get to work immediately.
The subscription model lets you choose between three versions of ChatGPT Plus:
Original Legacy version
GPT-3.5
GPT-4
Users have reported that GPT-4 has performed slower for certain tasks compared to the 3.5 model. As a ChatGPT Plus user, you may want to consider which model would work best for your daily tasks.
What Are the Benefits of ChatGPT Plus?
One of the most important benefits of ChatGPT Plus is its accessibility. If you've ever tried to use ChatGPT during peak times, you may have been frustrated to get a message that the server was at capacity. ChatGPT Plus users, on the other hand, are allowed to keep working even during peak times.
Reports say that ChatGPT's peak times run from 7 a.m. EST to 12 a.m. EST on weekdays. That is a large part of the day when people are awake and working across many time zones. If you'd prefer not to wait until the wee hours of the morning or on weekends to use ChatGPT, a ChatGPT Plus subscription could be the solution for you.
Make Your Money Work for You
Why Is ChatGPT Plus Better?

Right now, ChatGPT Plus is better than ChatGPT if you'd like the flexibility to have the chatbot available at all times and if you'd like faster response times. The web browsing capabilities will appeal to many users, as well.

In the future, OpenAI promises ChatGPT Plus users access to even more new features. At just $20 a month, it pays to invest in the service now and be one of the first to use new features as they roll out.
Is ChatGPT Plus Worth It?
For people who are using ChatGPT for fun, and don't mind waiting to use the service during peak times, ChatGPT Plus may not be worth the $20 per month investment. However, for businesses who have begun to rely on AI to respond to customer service emails, generate ideas for social media posts, help brainstorm content marketing ideas or other timely tasks, it's well worth the investment.
Likewise, for people using ChatGPT for app development or programming, the paid version can provide faster and more accurate results.
It's worth noting that ChatGPT-4 can provide more in-depth, nuanced responses than 3.5, but it does so at the expense of speed. Both versions draw from the same knowledge base, which does not have access to any data after 2021. However, you can use ChatGPT Plus to search the web, which gives access to post-2021 data and information.
ChatGPT Plus has also been fed more data, inherently making its responses more accurate, although users say it still gets things wrong at times.
Bottom Line
Is upgrading to ChatGPT worth it? If you plan to use ChatGPT to make money or you run a business and are already using the LLM chatbot for daily tasks, it might be worth it to upgrade. Currently, the features may not make it worth the added costs, but it pays to get in now in case the price increases as OpenAI adds new features. Plus, you can start enjoying the benefits today and learn new ways to leverage ChatGPT Plus as its capabilities grow.
Make Your Money Work for You
Our in-house research team and on-site financial experts work together to create content that's accurate, impartial, and up to date. We fact-check every single statistic, quote and fact using trusted primary resources to make sure the information we provide is correct. You can learn more about GOBankingRates' processes and standards in our editorial policy.