How To Earn Major Cash With DoorDash and UberEats in 2023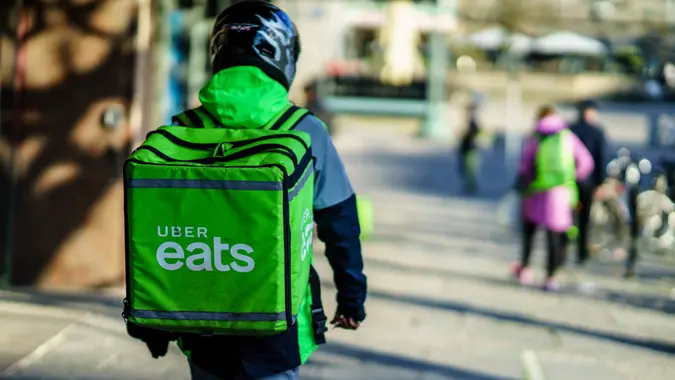 nrqemi / Getty Images
Food delivery service has come a long way from hoping you get your pizza in 30 minutes or less. Now with ridesharing programs in every corner of customer service, you can book a ride, order food or even get groceries delivered through a variety of platform options linked conveniently to your credit card. That being said, because of the demand for convenience, delivery drivers can make quite a bit of cash as a side hustle or even a full-time career. 
Making $8,000 a Month With Rideshare Apps
Rideshare apps are available for both customers and drivers in over 100 cities across the country. Whether you deliver food or other goods for an app such as Uber Eats or DoorDash, it's important to know a driver's earning potential. 
Sam Lyon of Salem, Oregon was ready to start his burgeoning career in IT when the coronavirus changed everything. Much like many others, Lyons had to pivot to another path in order to make money and pay his bills.
When he started, he wanted to see if he could make a wage similar to an actual career.
After his first week of delivering for Uber Eats, which he preferred over being a DoorDash driver, he made over $2,100 which he has documented on his TikTok account. His videos have received millions of views thanks to his dedication to making as much money as possible working this gig. Lyons did so by participating in what he dubbed the "Uber Eats Challenge." He also noticed earning potential trends involving not only base pay but also such factors as:
Delivery times
Volume of area
Service fees or delivery fees
Make Your Money Work Better for You
Uber Eats Challenge

After his initial success, Lyons wanted to achieve the goal of making $8,000 per month as a delivery driver. He committed to delivering food for 12 hours per day every day for 30 days straight. This pace would amount to $100,000 a year if he stayed on the trajectory. His progress can be seen on his TikTok account and ultimately here were his stats: 

Made 795 deliveries 
Drove nearly 5,000 miles
Earned an approximate gross income of $8,137

The Uber Eats challenge might not be for everyone, but if you have the time and determination to try it, it could be worth it.
DoorDash vs. Uber Eats: Which Food Delivery App Has Higher Driver Pay?
Though there are many rideshare apps or delivery platforms to choose from, two of the top contenders are Uber Eats and DoorDash. When comparing the two, it is important to understand that pay will vary depending on the following factors:
The area in which you work.
The volume of deliveries you take.
The amount of hours you work daily or weekly.
DoorDash Average Pay
DoorDash drivers, or Dashers, can make an estimated $2 to $10, plus tips, per delivery. Base pay varies greatly depending on the estimated duration of your drive or the distance you travel. Your pay will increase if any of these factors are altered such as a longer distance or duration than normal. 
To make the math easy, if you made $10 per delivery and averaged four deliveries per hour, on an eight-hour shift you would gross $320. This would put you at about $6,933 a month. This estimate is based on a five-day work week.
If you followed Lyon's model and worked 12-hour shifts, even without working 30 days straight, you would gross about $10,400. 
Uber Eats Average Pay
It is estimated that a driver for Uber Eats makes around $19 an hour on average. This estimate also varies depending on factors such as trip durations, the area you work within and the number of deliveries you can accumulate during your shift. The turnover rate is also a factor to consider. 
Make Your Money Work Better for You
Taking just the mean hourly wage, if you did the Uber Eats challenge, you would gross around $228 per day. In 30 days you would have only cleared around $6,840 before tax. However, as shown by Lyons himself, this estimate is much lower than what he was able to make driving for Uber Eats. 
Final Take To Go 
Ultimately, the goal of any job is to make money. This may sound obvious but if you are going to put the time and sweat equity into a side gig or full-time position, you want to maximize your earning potential. There are even examples of millionaire TikTok influencers who credit their financial start with driving for the like of Lyft, Uber or DoorDash. 
FAQ
Here are the answers to some of the most frequently asked questions about making money with Uber Eats and DoorDash.
How much does DoorDash make you pay?

Depending on what you order and your location, the fees you pay to DoorDash will vary. Here are some examples of fees:

Service fee: Starts at $0.60 and may increase based on the order subtotal.
Delivery fee: This fee can start as low as $0 but can vary depending on the merchant, location or demand.
Small order fee: A $2.50 fee may be charged if your order subtotal is below a certain amount.

Does DoorDash pay for gas?

No, DoorDash does not pay for gas for their workers, or Dashers. This means the cost of gas has to be factored into your overhead if you are considering becoming a driver.

Can you pay for DoorDash with cash?

Cash is accepted for some orders if you specify your payment method beforehand. For most orders though, cash is not accepted.

How much do you tip DoorDash or Uber Eats?

On average, 20% of a delivery total is still considered a fair tip for the driver. Keep in mind that some tips are automatically added to your order total, and these are different from delivery fees which do not go to the drivers but rather to the platform. If 20% of your order is less than $4, most people will tip $4 or more for their delivery as you have to consider the time spent, cost of gas and distance of the drive.
Make Your Money Work Better for You
Information is accurate as of June 26, 2023. 
Editorial Note: This content is not provided by any entity covered in this article. Any opinions, analyses, reviews, ratings or recommendations expressed in this article are those of the author alone and have not been reviewed, approved or otherwise endorsed by any entity named in this article.
Our in-house research team and on-site financial experts work together to create content that's accurate, impartial, and up to date. We fact-check every single statistic, quote and fact using trusted primary resources to make sure the information we provide is correct. You can learn more about GOBankingRates' processes and standards in our editorial policy.