7 Secret Websites To Make Money in 2023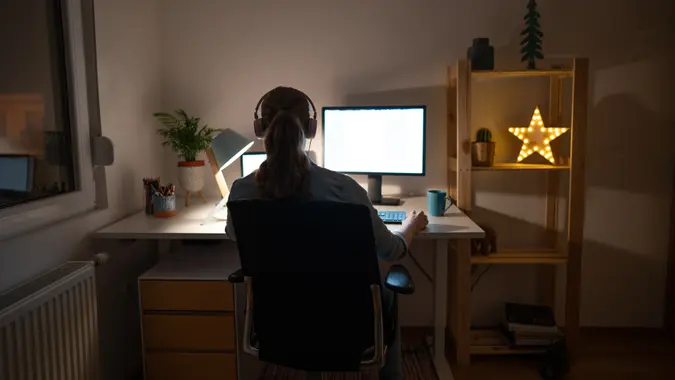 SrdjanPav / Getty Images
You've probably heard of some popular websites offering money if you do certain tasks like completing surveys or participating in blogging and affiliate marketing. But there might be a few you haven't heard of yet. There is a wide range of great ways to earn money online if you just know where to start. No need to begin digging through search engines as the best secret websites to make money are right here.
7 Secret Websites To Make Money
Here are seven secret websites to make money online in 2023:
BestMark
Gigwalk
Medium
Rumble
Side Hustle Database
Sweatcoin
Teachable
1. BestMark 
This mystery shopping company is one of the largest customer experience and employee satisfaction platforms out there. As one of their field representatives, you would go to restaurants or other service-based businesses and report back about your experience. BestMark pays via direct deposit, PayPal, referral bonuses or gift cards for your services which include:
Evaluate free meals or services.
Help companies improve their customer service through feedback.
Try new businesses and services.
Make Your Money Work Better for You
2. Gigwalk 
Gigwalk is a brand intelligence platform that helps businesses by paying you to perform tasks in your local area. The pay will vary depending on what and how many tasks you can complete but they are usually straightforward and simple. The following are examples of Gigwalk tasks you can get paid for:
Testing apps
Verifying addresses
Taking photos of local businesses 
3. Medium
Medium is a wonderful website if you are looking to make money with your writing. You can write and publish your material on this platform and if a piece you've written gets traction, which is measured by reading time and referred membership, you can make some money. You do have to apply, but if your application is accepted you have a chance to make some additional monthly income. 
4. Rumble 
As a video platform, web hosting and cloud services business, Rumble is a website that operates in a similar way to YouTube. You can upload your videos and make money in addition to getting exposure. Rumble has over 36 million monthly users and your video might even be chosen by partner companies like Xbox or Yahoo. The following is an example of the pay scale you can expect:
$50 in your video is approved by one of Rumble's partner companies.
$100 if your video is chosen to go on Rumble's homepage.
Make Your Money Work Better for You
5. Side Hustle Database 
If you are looking for easy online gigs to make some fast cash, the Side Hustle Database is a great resource to peruse. It contains a multitude of options for you ranging from selling birthday cards to teaching English. The money will vary depending on which side hustle you select. No matter which you choose, there is potential to earn some real money from these gigs all located in a one-stop side-hustle shop. 
6. Sweatcoin 
This innovative app can be good for both your wallet and your health as essentially it pays you for your steps. Sweatcoin rewards you for your daily exercise with currency. You can spend your rewards on items from many brands and retailers, or you can even cash out the rewards or donate them. Either way, you're making money moves.
7. Teachable
If you're an educator or knowledgeable in a particular subject, you could earn money on Teachable. Opportunities offered are creating and selling online courses, digital downloads or coaching. For example, once you have designed a course and added your content by using Teachable software you then can start selling it. Teachable even allows you to set your own price, and you don't have to worry about course delivery or payment processing as it's all done through the platform.
Make Your Money Work Better for You
Final Take To GO 
The internet is a vast place of pitfalls and opportunities, but if you know where to look, it can be lucrative as well. Sometimes, secret websites offer you more money-earning potential as they are less saturated with competition. Be sure to do your research to find the site that best serves your needs.
FAQ
Here are answers to frequently asked questions about secret websites where you can make money.
What is the best website for earning money?

There are many websites where you can earn money but some better, more secret websites where you can make money include sites like Teachable, Sweatcoin, Speechify, Rumble, Gigwalk or BestMark.

Which website can you earn real money on?

The following are websites where you can earn real money:

BestMark
Rumble
Medium
Task Rabbit
Speechify
Teachable

How can you make legitimate money ASAP?

Some sites and platforms you can use to make legitimate money ASAP are:

Gigwalk
Sweatcoin
Side Hustle Database
Information is accurate as of May 4, 2023.