10 Most Expensive Hotels in the World

8 min Read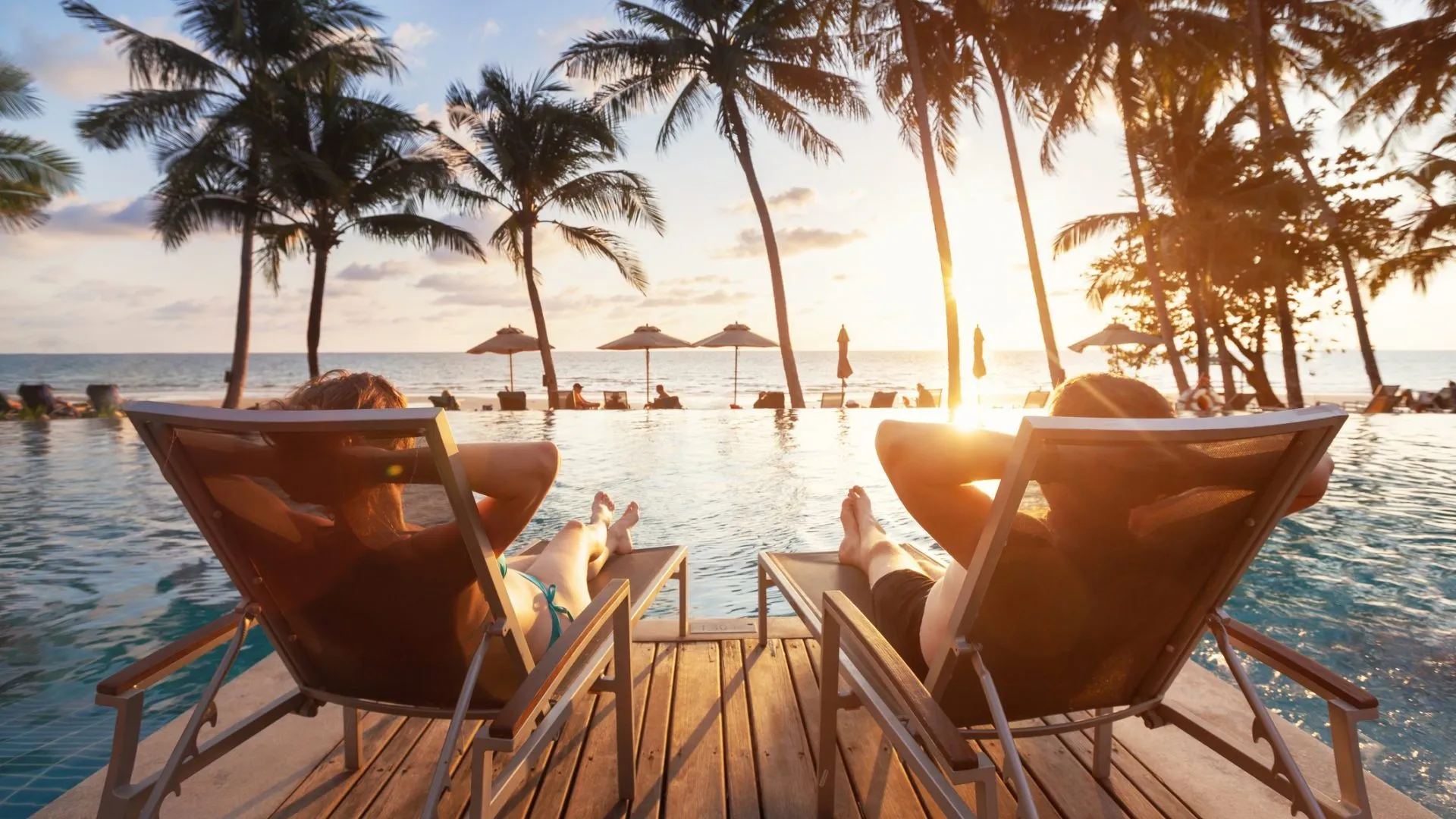 Make Your Money Work Better for You
10. The Royal Suite at Burj Al-Arab
Location: Dubai, United Arab Emirates
Cost per night: $28,000
Truly experience some Arabian nights in The Royal Suite at Dubai's Burj Al-Arab, which its website describes as a "global icon of architectural innovation."
The Royal Suite is designed to make you feel like royalty, indeed. You can bathe in Hermès skincare products, receive a massage outside on your private terrace, and look out over the beautiful ocean and Dubai skyline.
According to Wealthy Gorilla, the Burj Al-Arab is the seventh-tallest hotel in the world and stands proudly on a man-made island only accessible by a private bridge. There's such unique amenities as an underwater restaurant to which you must travel by submarine, a private helipad and more. The suite itself is decorated in 22-carat gold embellishments, includes a private butler and spacious living areas.
According to Emirates Billboard, The Royal Suite offers exquisite furnishings with exceptional views. Not too shabby for $28,000 per night.
Take Our Poll: How Do You Typically Split the Restaurant Bill?
9. The Royal Suite at The Plaza
Location: New York City, New York
Cost per night: $40,000
New York boasts not one, but three of the most expensive hotels in the world, starting with The Royal Suite at the iconic Plaza Hotel. The website describes this three-bedroom master suite as "palatial" and it comes with royal amenities, to boot. This 4,500 square foot suite comes with private elevator access and looks out over Manhattan's Fifth Avenue, directly onto the Pulitzer Fountain. The suite includes a grand piano, a dining room with seating for 12, a separate library and "immense" master bedroom. Guests will deck themselves in finery in a dressing area appointed in leather and wood, a master bedroom decked in mosaics, 24-carat gold plated fixtures, and a heated floor. You will also have access to a fully equipped fitness room, "state of the art electronic room controls," a chef's kitchen with "restaurant grade appliances" and a butler service. All that for just $40,000. Seems almost worth it.
Make Your Money Work Better for You
8. The Hilltop Estate at Laucala Island Resort
Location: Laucala Island, Fiji
Cost per night: $45,000
Staying at the Hilltop Estate on this gorgeous Fiji Island resort is a unique experience in the lush green hills of Laucala island, which the website describes as "the resort in a resort."
Guests of this South Seas paradise get access to a vast amount of living space that is spread out across three villas, including bedrooms, private quarters, a main residence with "its own panoramic pool landscape," that make you feel like you're living in a private garden paradise. You'll also gain access to a private cook, a chauffeur and a private nanny.
According to Wealthy Gorilla, one of those villas, known as The Delana, includes a master bedroom with walk-in closet, a library, a private pool with waterfall and a hot tub. All this splendor can be yours for just $45,000 per night!
7. The Muraka at The Conrad
Location: Maldives, Rangali Island
Cost per night: $50,000
The Muraka is a hotel experience like very few others, because you get both above-water and below-water experiences. The "luxury residence" as it's called on the website, boasts that it is "Nestled in a private area of the shimmering lagoon," and offers a one-of-a-kind experience complete with three bedrooms as well as interconnected living, dining, and entertaining spaces. You even get a 24-hour private butler service and "tailored experiences."
Above water, you have access to two bedrooms and a bathroom with an ocean view, and an outdoor deck with infinity pool. Downstairs you have access to a private underwater aquarium with floor-to-ceiling windows and a dedicated tunnel viewing theater. This sweet experience will only cost you a cool $50K, according to Wealthy Gorilla.
6. The Penthouse Suite at Hôtel Martinez
Location: Cannes, France
Cost per night: $53,000
On the seventh floor of Cannes' Hyatt-owned Hôtel Martinez, in France's Côte d'Azur, you'll find the Penthouse Suites, approximately 1,000 square feet of space all to yourself. This hotel was first opened in the 1920s, and apparently boasted the well-to-do and the well known. These two suites were recently redecorated to honor famous French actress Isabelle Huppert, and Thierry Frémaux, General Delegate of the Cannes Film Festival. You can alternate between watching French cinema or taking in the 180-degree view that looks out over the stunning bay of Cannes.
According to Wealthy Gorilla, this suite comes with king beds in four bedrooms, a living and dining area, master bathrooms with Turkish baths and a private jacuzzi on your balcony. Guests will likely be sleeping beneath famous paintings from Picasso and Matisse, as well, which might justify the $53,000 per night rate.
Make Your Money Work Better for You
5. The Ty Warner Penthouse at The Four Seasons
Location: New York City, New York
Cost per night: $60,000
New York City has more than one super pricey place to hang your hat for the right price. The Four Seasons' Ty Warner Penthouse is an artistic collaboration between I.M. Pei, Peter Marino and the hotel owner Ty Warner. The website boasts that the suite has been recognized as "a visual tour de force of volumetric flourishes and crafted surfaces" by Architectural Digest magazine. It also points out such details as its soaring, 360-degree views of Uptown, Downtown and Midtown, from up high at 52 storeys, and "cantilevered, glass balconies."
While you get 4,300 square feet to yourself, which is frankly bigger than some people's entire homes, you only get one king bed, and one oversized master bathroom. Seems like they could have splurged for more. 
Other amenities include: private elevator access, a Peloton bicycle, a Bösendorfer baby grand piano, impeccably selected art, a private spa, and a chauffeured Rolls-Royce. Wealthy Gorilla estimates the price per night to be $60,000 per night.
4. The Mark Penthouse at The Mark Hotel
Location: New York City, New York
Cost per night: $75,000
When most of us think of a hotel room, we think one room, a couple of beds, hopefully with a pretty view. The Mark Penthouse inside The Mark Hotel in New York is more like renting an entire villa to yourself. The Mark Hotel is a historic property, built in 1927 and renovated in 2009 by French interior designer Jacques Grange, according to The Robb Report. Now, the 10,000 square foot penthouse is full of gorgeous accommodations that were good enough for Meghan Markle's baby shower (hosted by tennis GOAT Serena Williams). For your chunk of change, you get access to five bedrooms (including two master suites) six bathrooms,  four fireplaces, and two wet bars. You also have a formal dining room with seating for 24, a library lounge, a full-size kitchen, living room and a grand piano. Even better, there's a 2,500-square-foot outdoor terrace with unforgettable views of Central Park and the Manhattan skyline.
Make Your Money Work Better for You
3. The Royal Penthouse at Marriott's Hotel President Wilson
Location: Lake Geneva, Switzerland
Cost per night: $80,000
Forget your parent's Marriott, where they attended work conferences or had a fancy weekend away. Very few people can afford a night at Marriott's Royal Penthouse suite, in their Hotel President Wilson, which runs around $80,000 per night, according to Wealthy Gorilla.
This suite looks out over Switzerland's glorious Lake Geneva and is literally minutes away from some of the most beautiful scenery along the rue du Rhône. The room is elegantly furnished and equipped with all the amenities, as well as Bang & Olufsen LCD television screens, floor-to-ceiling windows and more.
2. Empathy Suite at The Palms
Location: Las Vegas, Nevada
Cost per night: $100,000
If Vegas equates to tacky casino-esque hotels in your mind, you might be pleasantly surprised by the Empathy Suite at The Palms. For just a cool hundred grand, you can "stay in your own personal masterpiece," as the website describes, which was designed by well known artist Damien Hirst. The lavish suite is 9,000 square feet with two king beds, a private pool and terrace, and windows so big your view isn't impeded at any angle. According to Wealthy Gorilla, you'll also get perks like massage tables, a jacuzzi overlooking the Las Vegas strip, a salt relaxation room and a private tour of the art on the property.
1. Lover's Deep Submarine
Location: St. Lucia Island
Cost per night: $175,000
The most expensive hotel in the world is not even on dry land-it's fathoms deep in a specially designed, luxury-enhanced submarine, for an underwater experience that will be truly unforgettable-if you've got the cash to spare. Imagine relaxing in your suite with a fancy beverage and peering out your windows to see schools of fish swimming by, or dolphins! You can allegedly have this experience for a whopping $175,000 per night, though it's difficult to find where to actually book a room, so it might be more urban legend than actual getaway.
More From GOBankingRates
Please note: Images are for representational purposes only and may not reflect the specific hotel mentioned.
About the Author