10 Best Selling Items on Etsy for 2023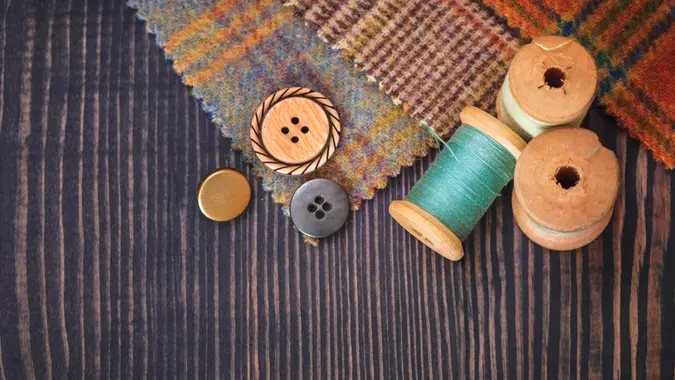 Murika / Wikimedia Commons
Selling items on Etsy is an amazing way to monetize your passion for creating. Of course, as a savvy soon-to-be shop owner, you want to learn about the top-selling items on Etsy, so you can maximize profits. Personally, I would focus on this select group of popular categories that people love to shop for on the site. Here's a look at the best things to sell on Etsy right now.
What Sells Best on Etsy in 2023?
Etsy has more than 100 million items for sale for consumers to choose from. Now it's time to find out what sells on Etsy the most.
1. Accessories
People are always searching for ways to create a unique style that's all their own. Etsy is a popular place to find these items, because they're not mass-produced.
Choose from hats and purses, hair barrettes and bows, ties and personalized cufflinks for every occasion and every outfit — and more. No matter what item or style you create, there will be more than a few buyers eager to wear it.
2. Art and Collectibles
What sells easiest on Etsy? Considering a search for "art" on Etsy returns more than 27 million items to browse, this might be the answer. From original paintings to prints of classics and from custom neon to clip art for kids' projects, it sells on Etsy.
Collectibles also are popular on Etsy, including memorabilia, figurines, old advertisements, and stamps and coins. It isn't everywhere you can shop for original movie posters and Precious Moments figurines at the same time. So if you have some collectibles gathering dust, they might be worth listing on Etsy.
Make Your Money Work Better for You
3. Craft Supplies
It isn't just the finished product that winds up on the site. Craft supplies are some of the top-selling items on Etsy, including yarn and patterns for knitting and crocheting. Jewelry makers will find kits, beads, charms, hooks, claws and other necessary tools. Etsy sellers also offer clothing patterns, embroidery kits and supplies for about any project.
4. Digital Artwork and Printable Items
What is the most profitable thing to sell on Etsy? It's hard to say for sure, but digital artwork and printable items are definitely a strong contender.
This is just what the category title implies — items that are sold digitally for the buyer to download and print. Artists can sell their works this way for use as wall art or even greeting cards; it all depends on how large the image will print. Other printable items include planner pages and stationary, and the buyer controls how many copies to make.
The best part? No shipping costs for the buyer and no trips to the post office for the seller. And depending on how your digital art is created, you might have very little production cost.
5. Home Goods
If you're redecorating and no longer want your art deco wall art or your sunburst mirror, chances are someone will. Etsy is a landing spot for new, used and handmade furniture, as well as dishware and other kitchen items, custom wreaths for the front door, indoor and outdoor décor and things to help make a garden grow.
Sellers who can provide a personalized touch, such as adding a family name to a wall hanging or doormat, have an audience in those who want to update their home or buy a gift for a wedding or other occasion.
Make Your Money Work Better for You
6. Jewelry
Shoppers turn to Etsy for new and used jewelry, from diamond engagement rings to wedding bands to one-of-a-kind pieces, whether quirky, glamorous or for everyday wear. There's jewelry for every neck, finger, wrist and toe. Etsy jewelry shops are among the most successful on the site.
7. Stickers
Remember going to the doctor as a kid and the excitement of getting to select a sticker on your way out for being good? Stickers are still popular — among a variety of ages — and they're best sellers on Etsy. Why? Because they aren't expensive, they don't take up much space and because they, simply, make people happy.
8. Toys
Lots to choose from here: personalized toys, wood toys, sensory toys, climbing toys, traditional toys and educational toys. And even toys for adults, such as stress-relieving fidget toys. Etsy has a collection of unique fun things for kids of all ages.
If you like crafting or collecting toys, Etsy is a good place to sell them — at least, those you don't intend to keep.
9. Vintage Items
What's old is new again; one person's trash is another person's treasure. Whatever adage you choose, vintage items are among the best selling items on Etsy. That includes apparel and accessories, jewelry, toys and even buttons and butter dishes.
10. Wedding Invitations, Décor and Clothing
There's nothing more personal than a wedding, from invitations to table favors to place cards and even the bigger-ticket items, such as wedding dresses and veils. When it comes to the paper products, such as invitations, many are sold in a downloadable template form, allowing couples to customize them with their choice of paper or card stock. Graphic artists can sell the same template or change the colors to give the design a whole new look.
Make Your Money Work Better for You
The items extend to the wedding party, with bridesmaid gowns, wedding vests and bow ties available, along with T-shirts and favors for the bachelor and bachelorette parties.
Getting Top Dollar on Etsy
While Etsy is one giant e-commerce site, it actually is a collection of small businesses called "shops." Once you decide to sell on Etsy, it isn't hard to get started, but it does require you to do your homework before hitting the marketplace. Being prepared before you start will help you to maximize your potential as a seller.
Build Your Inventory
Before opening your shop, spend time on the Etsy website to look at what competitors in your genre are offering. How can you make your items different from the other sellers? What makes you stand out in a crowd?
Once you've determined what to sell, it's time to build your starting inventory and take pictures of your items. The Etsy Sellers Handbook, available on the company website, is filled with tips about how to best photograph your merchandise. Photos, according to the handbook, should grab the attention of shoppers, display the product clearly and show details such as color, materials and size.
Set Your Pricing
Selling on Etsy is easier than setting up your own website to sell your merchandise. You have a built-in audience of millions of buyers, but know there is a fee to work with Etsy. The company doesn't charge any user or monthly fees, but there are three costs:
Make Your Money Work Better for You
Etsy Fees

Listing fee: Sellers pay a listing fee of 20 cents per item. The listing will stay online for four months.
Transaction fee: Etsy charges a 6.5% fee per transaction once the item sells.
It's important to set prices that pay you for your time, materials and costs — and make sure you consider the taxes you'll owe on your profits. By opening your Etsy shop, you're moving from hobbyist to pro, and you should be paid like one.
According to the Etsy Sellers Handbook, most Etsy shoppers aren't looking to pay bottom dollar when they visit the site. Instead, they are looking for just the right product and are willing to pay for it.
Name Your Shop
The name of your shop — which is limited to just 20 characters — should reflect you or your merchandise, evoke a feeling among buyers or be something unique that will set your shop apart, according to the Sellers Handbook. It should be broad enough to allow your shop to evolve and narrow enough to keep the focus on what you sell.
For example, if you make bracelets now, you probably shouldn't choose "Only Bracelets" for your shop name. What if you decide to add necklaces to your offerings down the road? But the more focused the name on your merchandise, the easier it will be for shoppers to find your shop and start filling their carts.
Make Your Money Work Better for You
As you choose a name, come up with a few in case the one you prefer already is taken. And be comfortable with it. To help your shop grow, you'll probably want to add social media pages to advertise it. Make sure it's something you would like to be printed on business cards, too. Put simply, if your shop is successful, that name will be with you for years to come.
Is It Worth Selling on Etsy?
Opening a shop on Etsy can be a great idea if you truly enjoy creating the items you plan to sell and have the time to dedicate to your shop. But if you only have one or two items to sell and don't plan to create or find more — or if you simply don't have the time to dedicate to creating your brand — Etsy might not be the right platform for you.
While starting a new venture can always feel intimidating, you'll never know if you'll find success as an Etsy seller until you try. Taking a chance on yourself might turn out to be the most fun and rewarding move you've ever made.
Jennifer Taylor contributed to the reporting for this article.
Information is accurate as of April 7, 2023.