Honeygain App Review: Can You Make Passive Income Effortlessly? | GOBankingRates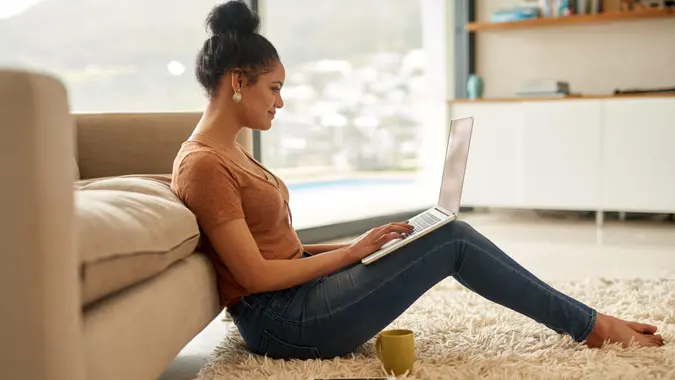 PeopleImages / Getty Images
Mobile data is a commodity these days. If your internet plan limits you to a certain amount of data usage per month, you know how expensive it can be to go over your limit.
If you have more data than you need, on the other hand, using Honeygain to sell your unused data can earn you extra money each month. But is the Honeygain app safe? If you're not sure whether it's a good idea to give an app access to your monthly data plan, keep reading to learn more about Honeygain.
What Is Honeygain?
Honeygain is a crowdsourcing app for macOS, Android or Windows. When you download it to your device and share your unused data, you'll earn cash.
The app is best for people who have an unlimited data plan and don't use it all. Your unused traffic can earn you some passive income when you let Honeygain run behind the scenes.
Make Your Money Work Better for You
Is the Honeygain App Safe?
You might be a little worried about letting an app access your unused data in the background. After all, what happens if Honeygain sells off all of it? And who, exactly, is using your data plan's traffic?
To ease your mind, Honeygain's website says it only sells your traffic to trusted partners such as data scientists and Fortune 500 companies.
Additionally, Honeygain doesn't gather personal data from its users beyond what's necessary for the service — specifically your email address, IP address and chosen payout methods.
The app also features the following security controls:
You can choose the amount of data you want to sell per day.
The app doesn't access your storage.
You can control who you share your data with.
All connections are fully encrypted.
Is Honeygain Legit?
Based on reviews of Honeygain on Trustpilot, the app is legit enough to get positive feedback from most users. There are over 1,000 reviews for it on Trustpilot, and Honeygain gets an average of 3.9 out of 5 stars.
Make Your Money Work Better for You
How Do You Make Money With Honeygain?
There are a few main ways to make money with Honeygain. Read on to find out how to get started.
Sharing Your Data
After you download the app and enable the level of data you're comfortable with, Honeygain will pay you for using the data. The app's dashboard will keep you up to date on how much you've earned. To maximize your earnings, install the app on several devices.
Content Delivery
Honeygain pays you for sharing your internet connection for Content Delivery. The platform borrows your connection and a host of others so they can work together. When there are enough users available, they provide stable connectivity for the faster delivery of larger files such as images and videos, which are bandwidth-intensive. The service is currently in testing mode but still allows you to earn credits.
Honeygain Referrals

If you have a big network of friends and family, take advantage of the Honeygain referral program. You can invite others to sign up using your own custom link. When your referrals start using the app, you'll earn 10% of all their earnings.
How Much Can I Earn With Honeygain?
If you're wondering whether you can earn $50 per month using Honeygain, it's possible — if you share a lot of data. You need to earn a minimum of $20 to get paid each month; otherwise, your balance is added to the next month. The app's current payout is as follows:
You get one credit for every 10 MB of traffic that goes through your devices. The current rate is $1 per 10 GB shared.
If Content Delivery is available in your area, you can earn up to 10 credits per hour.
Make Your Money Work Better for You
According to Honeygain's earnings calculator, you can earn:
$20 per month sharing your network from three devices for six hours per day and 6 GB of content delivery per day
$50 per month running seven devices to reach 15 GB of sharing and allowing for content delivery 24 hours per day
Traffic demand can fluctuate, so you might have a big earnings day followed by less usage (and less money) the next day. It all depends on how much traffic Honeygain's partners need.
How To Get Paid
Once you're set up and you start seeing Honeygain at work, follow these steps to get paid:
Monitor the Honeygain dashboard. Once you reach $20 in earnings, you'll see a "Payout Request" button.
Select "Payout Request." You'll get an email from Honeygain's partner, Tipalti, within one business day.
Register your PayPal account with Tipalti.
Check your PayPal account. You'll get paid within two to three business days.
Note that Tipalti will charge you a fee of $1 when you cash out, plus 2% of the total up to $21.
Is Honeygain Worth It?
If you're not using all the data you pay for each month, Honeygain may be totally worth installing. There's no obligation when you activate an account. You can enable and disable the app as needed or set limits on how much of your unused traffic you're willing to sell.
The only issue is that you'd need to sell lots of your data to make money. Honeygain only pays customers $1 per 10 GB. You may be able to make more if you get enough friends to sign up for the app using your referral link and add a few other ways to make money online.
Make Your Money Work Better for You