How Much Do Uber Drivers Make? Is It Worth Your Time?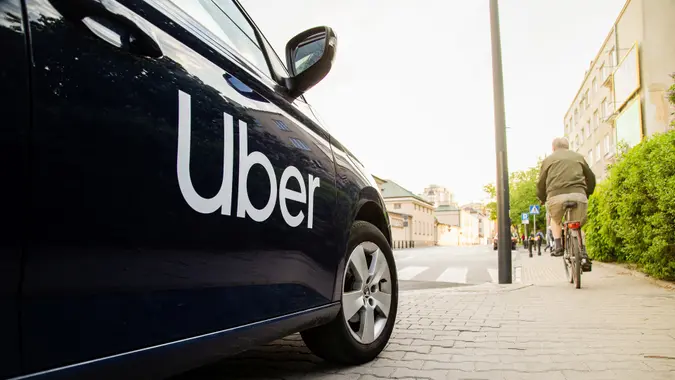 MOZCO Mateusz Szymanski / Getty Images
A day to yourself on the open road sounds pretty good: no boss to interrupt your break and no co-workers to tell you to turn down your music. But is driving for Uber the freeing, profitable gig it's made out to be?
Gig work is a continually growing field of contract workers looking for side hustles or freedom from the 9-5 grind. Yet how much do Uber drivers make? Is it worth your time to pick up some rideshare work?
According to Salary.com, Uber drivers in the U.S. make a median wage of $38,002 per year — but how much you could make depends on your location and the times you're available to drive.
How Much Do Uber Drivers Actually Make?
The average hourly pay for Uber drivers in the United States is approximately $15 to 22, according to Salary.com. However, it's essential to understand that this may vary based on several factors like base fares, tips and other incentives.
Uber Driver Percentile Pay by Location
The following data shows the percentile distributions of Uber driver earnings in several different locations. Note that median earnings appear as the 50% stat.
Location
Earnings
Connecticut
10%: $27,729
25%: $34,102
50%: $41,102
75%: $50,102
90%: $58,296
New York City
10%: $30,274
25%: $37,102
50%: $44,602
75%: $54,402
90%: $63,324
Kentucky
10%: $24,239
25%: $29,702
50%: $35,702
75%: $43,602
90%: $50,795
San Francisco
10%: $32,027
25%: $39,402
50%: $47,502
75%: $57,902
90%: $67,371
Cheyenne, Wyoming
10%: $23,630
25%: $29,002
50%: $34,902
75%: $42,602
90%: $49,612
Uber's Pay Structure
Uber's pay structure is dynamic and flexible. It is calculated according to location, demand and distance. Pay may vary on a day-to-day basis.
Uber provides earnings estimates instead of a set wage to help drivers identify their likely profits. These should be viewed strictly as projections. They are based on what other drivers working the same hours in the same location earned over the previous month.
Make Your Money Work Better for You
Qualifying Earnings
Uber drivers earn from a combination of factors, including customer tips and trip fares. Occasional things like Quest and Boost+ promotions may lead to additional earnings.
What Is a Base Fare?
The base fare is the flat rate that a pickup pays. Time and distance increase the trip fare in some cities. In other cities, the upcharge is based on destination, demand and delays due to unexpected traffic.
Does Surge Pricing Affect Drivers?
Uber uses surge pricing when demand is high, increasing the costs of rides. Uber drivers can use a local map to find surge prices and time their availability. This can increase earnings.
Cancellation Fees
Drivers are protected if a ride is canceled while they are en route to a pickup. They will receive a cancellation fee.
What About Uber Eats?
Uber rideshare drivers also have the option to deliver orders through Uber Eats. This entails opting in, accepting delivery orders and then transporting food and beverages to customers.
Choosing to deliver food can boost an Uber driver's pay, especially on days when rides are slow. Uber encourages its drivers to diversify their payment options, depending on demand.
Uber Eats pays drivers a delivery fare based on pickup, drop-off and distance. There is also a similar surge pricing for food delivery known as Boost that will increase pay at certain times of the day.
Gross vs. Net Income
Several significant deductions will reduce the amount that Uber drivers net. These are important to consider when considering gross versus net income as a driver.
Make Your Money Work Better for You
Uber drivers are contract, or 1099, workers. This means they work on their own schedule with their own supplies. Drivers are responsible for all vehicle maintenance, gas and insurance compliance.
As contract workers, income taxes are not withheld from pay. Drivers must remember that they owe taxes on the pay they receive from Uber. Not only do they need to calculate their income taxes, but they must also pay a self-employment tax if they make more than $400 per year as a 1099 contractor.
The self-employment tax is 15.3% and covers both the Medicare and Social Security tax contributions that both an employee and an employer pay in a typical job. Since Uber drivers are self-employed, they must pay both employee and employer taxes — 7.65% more than they would as regular W-2 employees.
Good To Know

The average car insurance will not cover a vehicle used for rideshare work. Uber provides insurance that covers drivers while they are waiting for a request, en route to pickup or during a ride. To protect yourself when you use your vehicle for Uber, be sure to sign up for a rideshare auto insurance policy.
Uber Stats
In the 12 years since its founding, Uber has expanded into over 70 countries. Uber drivers took about 7.6 billion trips in 2022 — a significant increase from its previous high of 6.9 billion trips in 2019.
Compared to other rideshare options like Lyft, Uber leads the pack with about 71% of the industry's rides completed through its app.
Uber's Rebound
Though 2020's statistics showed a decline in regular riders, this was most likely due to the COVID-19 pandemic. Uber's rebound in rides has followed the overall trend of 2014 through 2019, which saw an almost 50% increase in riders. Annual trips grew 53% from 2020 to 2022, according to company data cited by Business of Apps.
Make Your Money Work Better for You
Given its lock on the market and steady projected growth, Uber will undoubtedly continue to prosper as a company. But does that translate into an equal opportunity for each new Uber driver?
Location and Demand
Unfortunately, these stats do not bode well for many Uber drivers based simply on location and demand. Of the 10,000 cities across the globe that Uber is present in, five account for nearly a quarter of its rides — 22%. These cities are London, São Paulo, Chicago, Los Angeles and New York City.
An Uber driver's pay is based on how many rides they book and complete. Being in an ideal location can vastly increase pay, whereas a rural Uber driver would generate significantly less income.
Is Being an Uber Driver Worth It?
Being an Uber driver is worth it if you approach the gig with the right expectations. It is certainly worth it in large cities where you can make a fair wage due to demand and availability of rides. It may also be worth it in less populous areas for those just looking for a side hustle.
Due to the wide variability of pay as an Uber driver, managing expectations based on opportunities is essential. Optimizing Uber work can maximize your income, but it hinges on the opportunity for rides and deliveries in the area where you drive.
Uber Driver FAQ
Here are the answers to some of the most frequently asked questions about becoming an Uber driver.
Can you make $500 a day with Uber?

Technically, a driver could make $500 in a day with Uber — if everything fell into place. In May 2021, The Washington Post reported that some drivers in big cities were making close to $50 an hour due to good strategy and a driver shortage. In such cases, if drivers work 10-hour days, they could certainly reach $500.

How much do Uber drivers make working 20 hours per week?

Uber's average pay to drivers seems to hover around $15-$22. Average Uber drivers working 20 hours per week would make around $370.

Does Uber pay for gas?

Uber does not pay for gas, maintenance, insurance — besides the coverage it provides — or other costs associated with driving. As an independent contractor, you are responsible for maintaining the equipment you use for work.
Make Your Money Work Better for You
Daria Uhlig and Cynthia Measom contributed to the reporting for this article.
Data is accurate as of April 18, 2023, and is subject to change.
Editorial Note: This content is not provided by any entity covered in this article. Any opinions, analyses, reviews, ratings or recommendations expressed in this article are those of the author alone and have not been reviewed, approved or otherwise endorsed by any entity named in this article.
The article above was refined via automated technology and then fine-tuned and verified for accuracy by a member of our editorial team.
Our in-house research team and on-site financial experts work together to create content that's accurate, impartial, and up to date. We fact-check every single statistic, quote and fact using trusted primary resources to make sure the information we provide is correct. You can learn more about GOBankingRates' processes and standards in our editorial policy.