How To Sell on Etsy in 2023: An Expert Guide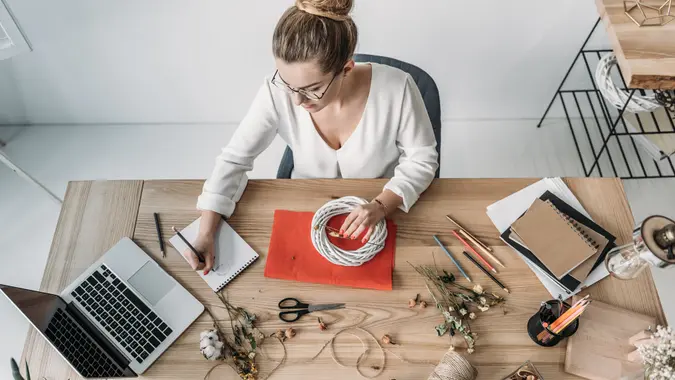 LightField Studios / Shutterstock.com
Etsy crafters and entrepreneurs sell thousands of unique or handmade items, from jewelry to art to stickers. With a reach of 85 million buyers, the time and effort can be worthwhile, but how do you get started to ensure success?
How To Sell On Etsy: A Step-by-Step Guide
Here are seven steps to follow to start your Etsy shop:
Step 1: Form your business plan
Step 2: Set up your Etsy account
Step 3: Product photography
Step 4: Write eye-catching product listings
Step 5: Enhance your social media presence 
Step 6: Provide excellent customer service
Step 7: Grow your Etsy business
Step 1: Form Your Business Plan
There's a lot to learn about Etsy before you start selling items or promoting product listings. That includes finding information about the top-selling items and the cost of doing business on Etsy. Remember that what you sell must be handmade, vintage or craft supplies and as Etsy CEO Josh Silverman would say, "You've got to do something different."
Decide what to sell: Perhaps your special skill is making decorative throw pillows. Take a look at what the sellers in that category are creating to see what you can offer that is different. Can you introduce alternate shapes, sizes or fabrics? Do you offer personalization? Can you create a product that you can piggyback on the pillow, such as a matching valance?
Be competitive but cost-effective: Figure out what your competitors are charging for similar products to yours as you set your price structure. Now is the time to determine if you can make your pillows to sell at the going rate and turn a profit. It may be tempting to undercut all competitors, but you need to figure in your labor and materials costs as well as the Etsy fees to price accordingly. 
Step 2: Set Up Your Etsy Account
When you're ready to take the plunge, it's easy to set up your Etsy account. You'll register with your Google or Facebook account, or create a new username and password through your email address, and follow the prompts.
Setting up an Etsy account is much simpler than trying to create your own website. You don't need to be tech-savvy to sell because Etsy guides you through each step of the process.
Name your shop: The Etsy Sellers Handbook recommends limiting the name to 20 characters that describes your merchandise or is unique enough for prospective buyers to find again easily when they're ready to make a purchase. Once you've picked your name, do some research to determine if someone else already owns rights to the name.
Create a logo: Once you confirm your Etsy shop's name is unique, create a logo. You can do that yourself for free on a website such as Canva, or find a pro to do it for you through Upwork or Fiverr.
Make Your Money Work Better for You
Step 3: Product Photography
Etsy has a comprehensive guide to photos that you'll want to review before you start snapping pictures of your items. In short, Etsy recommends photo styling, which involves using props, models or different backdrops. For example, your pillows will look more attractive on a coordinating sofa or chair than propped up on your kitchen counter.
If you're selling something like one of your paintings, for example, use a background with a neutral color. Etsy recommends a white or gray background kept simple and uncluttered so that the buyer can focus on your art.
If your product doesn't look enticing from the photos, it will likely get passed over for a product featured in photos with better lighting and composition. A good product photo is worth a thousand words of product description.
Step 4: Write Eye-Catching Product Listings
Your written words will help to sell your product, too. Start with a title that includes keywords a buyer might search for when looking for that type of item. It's important to put your product's key attributes at the beginning of your title, too.
"Your title should make it easy for shoppers to quickly see what you're selling and what makes it unique," according to the Etsy Sellers Handbook. "Shoppers only see the first few words of your title when they're looking at search results, so make sure you're using that space to describe what your item is."
The body of your description should describe your product accurately and include details such as size, what it's made from and why it is unique to your shop. Instead of writing "throw pillows," consider getting more specific somewhere in the description or title, such as "18-inch coastal pillows" or "sage green farmhouse pillows," to find the right customer. Also clearly communicate important variables such as shipping rates and options.
Make Your Money Work Better for You
Good To Know

If you're going to sell on Etsy, study other successful shops. Whether it's a competitor or a store offering something entirely different from your product, there is a lot to learn from checking out what other sellers are doing to reach buyers.
Step 5: Enhance Your Social Media Presence
The power of Facebook, Twitter, Instagram and Pinterest shouldn't be forgotten. Every friend or follower you have on social media is a potential buyer, and Etsy makes it easy to link your listings to your accounts.
In fact, through Etsy, you can create six types of posts to share on social media. Those are:
Your five-star reviews
Your most recent listings, up to 25
Upcoming coupon or sales events
Items you've favorited
Milestones you've reached, such as the anniversary of your shop
Updates about your shop
These can post to your social media just by clicking "Shop Manager" from your Etsy account, then clicking "Social Media." Create your post, add images and your caption, and then choose the platforms where you want your posts to go. The more followers you have the more likely you can also subsidize your Etsy shop through Etsy ads or offsite ads. 
To be successful, you should post regularly; set a schedule as a reminder. Vary the posts you share so that your followers aren't inundated with just "buy, buy, buy" messages. Photos of works in progress or your creative process can be valuable. Be sure to respond to comments your followers make to keep the conversation running.
Make Your Money Work Better for You
Consistency is key — it takes time to grow an audience. Keeping your followers updated, even if you only have a handful of followers at first, ensures your Etsy shop and its products are regularly seen.
Step 6: Provide Excellent Customer Service
You can't compete with the major retailers in many aspects, but you could beat them if you're willing to provide a high level of personal service. Communicating with customers is key if you want your Etsy business to thrive. Given that Etsy items largely are handmade, a prospective buyer might want to customize an order and will contact you directly to inquire.
For example, you might have posted a listing for a throw pillow in red buffalo check and a customer really wants navy blue checks. Or, a customer might be more tempted to buy from you if you can ship it on the same day.
Responding right away, whether you can fulfill an order or not, will show customers you are serious about your Etsy business. Pleasing a buyer likely will result in a five-star rating, which is the aspiration of every seller and shows other customers you can deliver on your promises.
No matter what the circumstances, don't forget to provide fast shipping options for your customers. Etsy shipping options might include standard shipping times, but shipping your items fast is a great way to impress and secure repeat customers.
Step 7: Grow Your Etsy Business
Being an Etsy shop owner can be challenging. There is no boss or supervisor reminding you to work. You'll need discipline and commitment to put in the work every day to grow your followers and store sales. 
Make Your Money Work Better for You
Etsy sellers recommend doing something every day toward reaching your selling goals. That could be making items one day, taking the photos the next and adding the listing on the third day.
Etsy is as big of a time commitment as you make it. Like any business, however, the more time you're willing to commit to making smart decisions, increasing production output, promoting items on social media and planning for the future, the more successful you're likely to be.
What It Costs To Sell on Etsy
The company doesn't charge any user or monthly fees, but there are three expenses when selling with Etsy: 
It costs 20 cents to list an item for four months.
You'll pay a 6.5% fee per transaction once the item sells.
There is a payment processing fee of 3% of the sale, plus 25 cents. The transaction is completed on a secure platform.
When setting up your Etsy store and figuring out your budget and overhead, make sure you factor in what kind of payment platform or Etsy payments you'll accept as well as shipping costs. 
Final Take
Learning how to sell on Etsy takes some effort and experience, but if you're willing to put in the sweat equity, you could reap the rewards while avoiding such overhead as rent and utilities. Before you get started, do your research on what you intend to sell and if it could succeed. Once you have an idea and plan in place, be prepared to put work into your Etsy store daily to make it a success. Etsy has been around for nearly 20 years, and hopefully your business will have just as much longevity. 
Make Your Money Work Better for You
FAQ
Here are the answers to some of the most frequently asked questions about selling on Etsy.
Is it worth it to sell on Etsy?

It can be worth selling on Etsy depending on the overhead of your products and how much you sell. Other factors to take into consideration include:

-It costs 20 cents to list an item for four months.
-You'll pay a 6.5% fee per transaction once the item sells.
-The payment processing fee is of 3% of the sale, plus 25 cents.

How much does it cost to sell in Etsy?

Etsy charges fees which include a listing fee of 20 cents that covers the item for four months. On sales, there's a 6.5% transaction fee and a payment processing fee of 3% plus 25 cents.

What sells for a lot of money on Etsy?

Some of the most highly profitable items to sell on Etsy include handmade jewelry, digital art, paintings, handmade furniture, collectibles or customizable items.
Other Ways To Make Money
Cynthia Bowman, Jami Farkas and Alicia Bodine contributed to the reporting for this article.
Information is accurate as of March 23, 2023. 
Editorial Note: This content is not provided by any entity covered in this article. Any opinions, analyses, reviews, ratings or recommendations expressed in this article are those of the author alone and have not been reviewed, approved or otherwise endorsed by any entity named in this article.
Make Your Money Work Better for You
Our in-house research team and on-site financial experts work together to create content that's accurate, impartial, and up to date. We fact-check every single statistic, quote and fact using trusted primary resources to make sure the information we provide is correct. You can learn more about GOBankingRates' processes and standards in our editorial policy.