I Need Money Desperately: Here's What To Do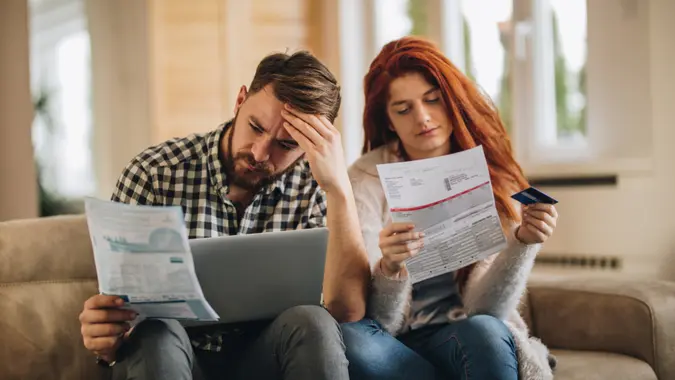 skynesher / Getty Images
Emergency allotments for SNAP, or Supplemental Nutrition Assistance Program, benefits were halted nationwide at the beginning of March. Because of this, many families might find themselves scrambling to buy food and stay on top of other expenses.
Take heart. There are opportunities abound to put cash in your pocket fast, whether you need money to pay rent, keep your utilities like electrical turned on or feed your family. Take a look at some of these tips below.
What Can I Do If I Desperately Need Money?
Some jobs or tasks require skills and a bit of patience. Others just require you to show up.
Some may involve taking on debt. As a last resort, a new credit card or personal loan can put money in your pocket fast.
Ideally, you'll find some easy ways to earn money fast that won't set you further behind for next month's bills.
Shift Your Money Mindset
If you need money, you have two options:
You can wallow in your struggle and worry about your expenses
You can think creatively and find ways to make money fast
Be proactive. Worrying about your financial situation can leave you feeling stuck and disheartened. Once you start visualizing the money in your hands, or your bank account, you'll begin imagining ways to get cash fast.
Take action. Even if it seems as though your idea may not work, it's worth trying. Make a few phone calls. Look for short-term gigs on websites like TaskRabbit. Look around your house and see what you can sell.
Make Your Money Work Better for You
Once you take targeted action to make more money, you'll spot opportunities around you.
Ways To Borrow Money if You Have Good Credit
If you have good credit, you may be able to open a new credit card or take out a personal loan to get you out of a financial jam. Talk to your credit card company and see if they'll provide a virtual card number. That way, you can make purchases before your physical card arrives in the mail.
A few personal loan providers also offer fast approval and can deposit the money into your account within one business day. If you need cash to pay rent, consider a personal loan. Just make sure you aren't stretching yourself too thin and can make a plan to pay it off.
You may be able to use some of the ideas on this list to earn extra cash each month to pay down your loan.
Ways To Borrow Money Fast If You Have Poor Credit
If you have poor credit or no credit history, some lenders will still offer personal loans. Expect higher interest rates on these emergency loans for people with poor credit.
At all costs–avoid payday loans. Though these companies offer short-term loans, they'll charge an exorbitant interest rate with your paycheck as collateral. If you've got poor credit, consider asking friends or family for a short-term loan instead.
How Can I Make $100 Fast?
You can certainly make $100 fast without going into debt. It's a matter of knowing where to look for gig work and other opportunities.
Make Your Money Work Better for You
1. Donate Plasma
Did you know you can earn $20 to $100 per plasma donation? It takes about an hour, and you can donate as often as twice a week, as long as the sessions are 48 hours or more apart.
2. Sell Your Hair
If you have long hair, you can sell your healthy locks for as much as $4,000. Plus, by going for a shorter 'do, you'll save money on hair products and haircuts in the future, too!
3. Rent Your Yard Space
If you have a beautiful yard with lots of space for dogs to run, consider renting it out through SniffSpot. You may be able to earn as much as $3,000 per month. The only downside? You'll get paid monthly through the service, so you may not get cash immediately.
4. Walk Dogs or Pet-sit
Don't have the yard space to rent? If you're an animal lover, consider pet-sitting or dog-walking to earn extra cash. Rover.com connects pet-sitters and dog-walkers with pet owners who need reliable animal lovers to take care of their pets.
5. Have a Garage Sale
If you need cash immediately, you can have a garage sale. Look around your home. You might be sitting on a treasure trove and not even realize it–from old housewares and appliances to clothing or toys. Many items you own are things that other people may like. With a garage sale, you can make hundreds of dollars in a single weekend.
6. Sell Items Online
Garage sales aren't always a walk in the park. If standing outside and dealing with strangers sounds less than appealing, sell your items on Facebook Marketplace instead.
Make Your Money Work Better for You
Another platform, called Decluttr, lets you sell old electronics quickly and easily. Some examples include gaming systems, computers or phones. You'll get paid by PayPal or direct deposit the day after they arrive at Decluttr's facility. The faster you ship them out, the faster you will get paid.
7. Return New Items
You might have changed your mind about some of your shopping decisions–even regretted a few. Items such as clothing or electronics, for example, can be returned. If you've got the receipts, return them to the store for cash.
Even if you don't have the receipts, you may be able to return them for a gift card or store credit. Depending on the store, a gift card can help you buy food or household essentials. Or, you can sell the gift card online for cash.
8. Sell Gift Cards
You can earn as much as 92% of a gift card by selling it to CardCash.com. You can even sell partially-used gift cards.
Best of all, the payment typically arrives within 48 business hours via Paypal or ACH deposit. You also have the option of getting a check in the mail.
9. Do Odd Jobs
If you want to earn cash fast, think about the odd jobs you'd be willing to do. Some ideas include:
Gardening
Landscaping
Putting together furniture
Doing odd jobs around the home, such as hanging molding, painting, minor repairs)
You can spread the word in local Facebook groups or join a website like TaskRabbit for odd jobs.
Make Your Money Work Better for You
Final Take
If you need cash fast, consider your skills, talents, and items you have lying around that you can sell. It will take a bit of work and creative thinking, but you can earn $100 or more if you need money desperately.