15 Best Jobs for 13-Year-Olds That Pay Well: Your Guide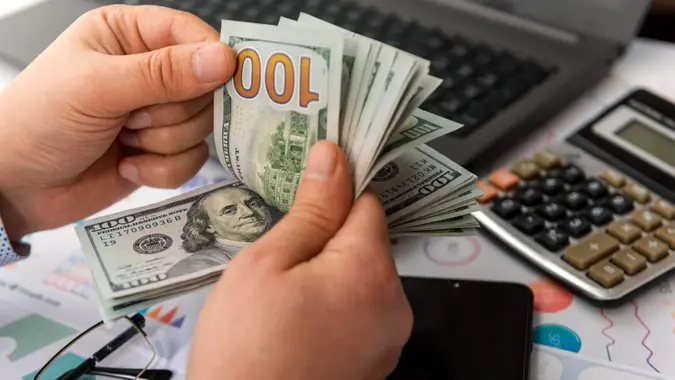 turk_stock_photographer / Getty Images/iStockphoto
Though 13-year-olds can't legally get full-time or even part-time employment, they can do side jobs to make their own money. Thirteen is an excellent age to start learning about how to earn money, save it and use it wisely.
Jobs for 13-Year-Olds
Depending on how creative they are and the action plans they can come up with, 13-year-olds have plenty of options to earn some income.
Dog Walking
Kids can make up to $20 per hour with dog walking, though $10 to $15 per hour is the usual range for a nonprofessional. This option is especially convenient for kids who live in subdivisions or apartment blocks, because there are many potential clients.
Gardening
Many homeowners would love to garden themselves, but they might be too busy. This is where a 13-year-old's entrepreneurial spirit and a homeowner's lack of time come together. Weeding, watering the lawn and planting new plants can all be part of the gardening services provided by a 13-year-old. Because rates for new professional gardeners start at  $20 per hour, a 13-year-old could safely charge between $10 and $15 per hour for their services.
Make Your Money Work Better for You
Lawn Mowing
Lawn mowing requires know-how about using different kinds of lawnmowers, such as push mowers. A 13-year-old wanting to start a full-blown neighborhood lawn-mowing service can easily charge $20 to $40 per lawn, depending on the square footage and if they bring their own equipment. This could turn into a lucrative weekend and summer job.
Collecting Recyclables
The pay for this job is highly variable and depends on how far the 13-year-old is willing to walk or bike to scavenge for recyclables. Thirteen-year-olds who live in areas like New York City can net up to six cents per can or bottle they bring to a recycling facility.
Snow Shoveling
In the northern parts of the U.S. and in the Midwest, snowstorms are a common inconvenience. What better way to start a side gig than to shovel snow off neighbors' properties? A 13-year-old with stamina, warm clothing and a hefty snow shovel can charge $10 to $20 per hour, since a professional company will start at $25.  
Car Washing
Unlike snow shoveling, this gig is available year-round in many climates. Because full-service drive-through car washes typically cost $5 to $10 per wash, a 13-year-old can charge between $8 and $15 per wash. 
Make Your Money Work Better for You
Babysitting
Some teens are naturally gifted when it comes to looking after younger children, toddlers and infants. This could be an excellent way for a 13-year-old to build a long-term relationship with a family and become their go-to babysitter. Even on school nights, the 13-year-old can do their homework once the kids are asleep.
This convenient side gig can earn them anywhere from $12 to $18 an hour, depending on how many kids they're taking care of — and how old the kids are.
Assisting the Elderly
Assisting an elderly person could involve shopping for their groceries, helping clean their home, pet sitting or dog walking or even cooking meals. The hourly rate for elderly assistance like this is around $15. 
Tutoring
If a 13-year-old is particularly bright, they can tutor fellow classmates or younger students for quite a lucrative fee. Professional tutors get paid anywhere from $50 to $100 per hour, but young starters can expect to get between $10 and $20 per hour for their knowledge of their specialized subjects.  
Make Your Money Work Better for You
Bicycle or Skateboard Mechanic
Thirteen-year-olds who learn by doing may already be used to taking apart their own bikes or skateboards to repair them. Bicycle and skateboard repair is usually billed per service, and teens can charge around $20 for a simple full-spectrum servicing — or a few hundred for a significant upgrade.
Housekeeping
A counterpart to gardening or lawn mowing, housekeeping is just as in demand as outdoor services for many busy homeowners. With the right supplies and an enterprising attitude, a 13-year-old could easily set up a house cleaning service. Teens can typically earn anywhere from $8 to $17 per hour, depending on where they live. 
Pet Sitting
This job is perfect for young animal lovers. Thirteen-year-olds can charge  $15 to $20 per visit to care for a neighbor's pet. They can charge even more if they are expected to pet sit overnight.  
Painting
A 13-year-old can paint structures like fences and sheds or even interior or exterior walls. All it takes is a few minutes of instruction to make sure they know what they're doing with the roller, paint trays and technique. Generally, neighbors and other acquaintances pay $15 or $16 per hour, though many of these projects are paid by the job rather than hourly.
Selling Art
Pay: Variable
A 13-year-old with a penchant for art can sell their work. This can be a great way for teenagers to make money by doing something they love. Ceramics and paintings can go for hundreds of dollars each, depending on the skills and execution of the artist. Even a 13-year-old can sell handmade mugs for $15 to $30 — just remember to factor in the cost of materials before adding up the profits.
Photography
Pay: $0.05-$0.25 per photo
If a 13-year-old has an eye for taking great photographs, even on phone cameras, they could invest in that passion for turning a profit. Local media and many apps are always looking for photo submissions for various applications, and many stock websites pay for photos, too. These submissions can be worth $0.05 to $0.25 per image. 
Final Take
While they cannot be employed in the same way that adults can be, 13-year-olds can earn money by doing simple, everyday tasks that the adults around them may not have the time to complete, like painting a fence or mowing a lawn.
FAQ
Here are the answers to some common questions about getting a job at 13.
What jobs can I do as a 13-year-old?

From moving lawns and walking dogs to selling art and photos, there are many jobs that 13-year-olds can do.

Can I get a job at 13 in California?

No, you cannot be employed in California at 13 years old, but that doesn't mean you can't earn money. There are many ways a 13-year-old can earn money without being officially employed, like gardening, bicycle repair and babysitting.

Can you get a job at the age of 13?

In the U.S., you must be at least 14 years old to be employed, so you cannot get a job at the age of 13. You can still earn money by doing odd jobs and assisting your neighbors.
Information is accurate as of Dec. 20, 2022.
Our in-house research team and on-site financial experts work together to create content that's accurate, impartial, and up to date. We fact-check every single statistic, quote and fact using trusted primary resources to make sure the information we provide is correct. You can learn more about GOBankingRates' processes and standards in our editorial policy.
Make Your Money Work Better for You