10 Side Business Ideas To Make Money in 2023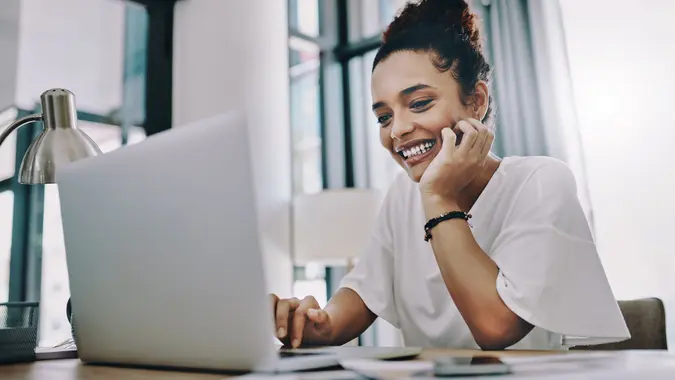 Delmaine Donson / iStock.com
Being an entrepreneur does not mean you have to quiet quit your day job. Sometimes having a side hustle can be not only more fulfilling but also lucrative. Starting your own full time business can be daunting, but starting your own side business seems somehow more approachable.
Read: Protect Your Financial Future With Gold and Silver
Top 10 Money-Making Side Business Ideas
Making money moves seems to be the theme of 2023. Between rising inflation and ongoing job restructuring, starting your own side business may be worth considering.
Become a virtual assistant
Sell your art or handmade goods
Start a housesitting or pet sitting company
Teach or tutor online
Sell your skillset
Rent your space or extra room
Start a cleaning business
Deliver food or goods
Sell or repurpose thrift store clothing
Begin dropshipping
1. Become a Virtual Assistant 
You can freelance your organizational skills by becoming a virtual assistant or virtual administrative assistant. You would operate as high-level support for businesses or business heads.
It's office work without the office — you can do it remotely. If you feel you could do the following tasks easily, this may be a good side business for you. 
Organize schedules
Set meetings
Make conference calls
Correspond through phones and emails
Make Your Money Work Better for You
2. Sell Your Art or Handmade Goods 
Sometimes a hobby can turn a profit. Turning raw materials into sellable goods has great overhead potential. You can start your own website or sell through a platform like Etsy. There is always a market for art and handmade products. Here are some examples of goods you can make and sell.
Jewelry
Pottery
Photography
Clothing
Candles
Skincare products
Specialty or personalized items
3. Start a Housesitting or Pet Sitting Company
House sitting can be convenient, since you would be getting paid but you are also getting free room and board for the duration of your stay. You can set times to housesit when you are in between homes, as well, to save on rent.
If the house you are watching has animals, you can charge an extra fee, or sideline that into a separate pet sitting gig.
4. Teach or Tutor Online
Students of all ages can use one-on-one help in a variety of subject matters. You can tutor in general curriculum subjects, teach another language or help in more specific areas, such as helping clients study for SATs. There is also a variety of things you could teach classes for online. Depending on your skillset, you could teach in the following areas.
A second language
Cooking
Drawing
Learning a musical instrument
Make Your Money Work Better for You
5. Sell Your Skillset
If you specialize in a particular trade or craft, you could easily start your own side business by hiring yourself out on jobs. There is no shortage of things to be repaired or tuned up. If you have skills in the following areas, this is something to consider.
Handyman tasks
Carpentry
Mechanical
Hair styling or cutting
House painting
6. Rent Your Space or Extra Room
If you have a room in your house you do not use, you could convert it into a bedroom and rent it out to vacationers — or someone who wants something more long-term. You could also convert a garage into a spare guest area if you wanted more privacy, or stay with family and friends and rent out your entire space for varying periods of time.
Space is a commodity, so if you don't use it, you could lose out on making some extra cash.
7. Start a Cleaning Business
Starting a cleaning business is a low-cost startup idea with very little overhead. Cleaning houses is an in-demand way to make some quick cash. By setting up some recurring gigs on a schedule and building a regular customer base, you could make significant and consistent extra income for a side business.
Make Your Money Work Better for You
8. Deliver Food or Goods
Delivering food or goods is a great side business for those with reliable transportation, such as a car or bike. You can sign up through such platforms as TaskRabbit or Favor or start your own delivery system, if you feel like you would have enough customers to support your business from its launch.
9. Sell or Repurpose Thrift Store Clothing
If you like to shop and find bargains, reselling thrift store clothes may be the side business for you. You can find a multitude of donated clothes at low costs — sometimes even designer wares. You could sell on sites like Poshmark or start a website where you sell these hidden gems as is, or — if you are a skilled sewer or designer — make something new and unique from the already structured existing materials.
10. Begin Dropshipping
What is great about dropshipping is that, essentially, your side business would be able to fulfill orders for items without having to keep those items in stock. There are little to no startup costs for the e-commerce business model. By using this platform, you would essentially be acting as middle man, but could easily turn a profit.
Final Take
The best way to decide on the best side business idea for you is to take some personal inventory and assess what areas you are strongest in and what skills you have. Once you determine these, you can start to put a plan in motion and make some extra income.
FAQ
How can I make an extra $1,000 to $2,000 a month on the side?

If you want to make an additional income of $1,000 to $2,000 extra, some options to consider include thrifting clothing to resell, housesitting or tutoring online. The great thing about starting your own side business idea is, for the most part, you can determine your own rates.

What is a profitable side business?

Some of the most profitable side businesses are those you can start with low costs, so you don't start in the red. Some options to consider are:

–

Rent your space or extra room

–

Start a cleaning business

–

Dropshipping

How do I get a side business idea?

Getting a side business idea is as easy as addressing your skillsets and seeing how you can monetize them. The following are example ideas of where you could start:

–

If you're highly organized, consider being a virtual assistant.

–

If you're creative, sell your art or handmade goods.

–

If you're good at carpentry, mechanics or putting things together, offer your services as a handyman.
Make Your Money Work Better for You