These 9 Uber Hacks Can Earn You More Cash as a Driver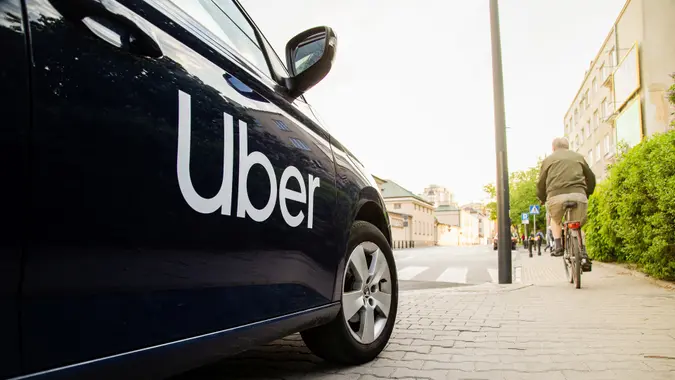 MOZCO Mateusz Szymanski / Getty Images
If you're currently an Uber driver or are considering signing up, you may be wondering how much you can make on the app. Because Uber is a facilitator that connects drivers with passengers, it does not guarantee any minimum income. How much you make depends on how many passengers you get and how they tip you. But there are some simple Uber hacks that can help you make more money on the platform.
9 Uber Hacks To Maximize Your Income
Here are nine of the best Uber hacks drivers can use to ensure they are making the most money possible while driving.
1. Drive During Peak Times
Uber raises pricing during high-demand times, which is often during rush hours or on weekends. Driving during these hours can help you earn more per ride. Knowing when there is higher demand in your area is a key part of maximizing earnings.
How Much Do Uber Drivers Make on Average?

Reported hourly pay for Uber drivers ranges from $9.15 to $42.05. The average hourly pay is $22.66. The average Uber driver's salary is $3,185 monthly or $44,987 a year. 

Many drivers only drive to make extra money on the side, not as their main source of income. This may skew statistics so take any salary estimates with a grain of salt. How much you can make largely depends on when and where you drive for Uber and how much you get in tips. 
2. Utilize Surge Pricing
This hack is closely related to the first. Keep an eye on the Uber app for surge pricing in specific areas. The surge pricing feature shows you a map of your city and the specific areas where prices are increased in real time. Keeping an eye on the map while you drive helps you position yourself in surge pricing areas to make the most of the higher rates.
Make Your Money Work Better for You
3. Maintain High Ratings 
A higher driver rating can make you more appealing to passengers. To maintain high ratings, ensure your car is clean, be polite and offer amenities like phone chargers or water.
4. Know Your Area 
Familiarize yourself with your driving area, including popular destinations, event venues, airports and hotels. By positioning yourself near these locations, you may increase your chances of getting rides. Knowing your area also means knowing locations close by where you can eat, rest or use the bathroom, without driving far and losing time and gas.
5. Be Strategic About Tips
Be personable and provide excellent service to increase your chances of receiving tips. Some drivers may find success in gently reminding passengers that tipping is an option.
6. Use a Fuel-Efficient Vehicle
Uber does not pay drivers for gas and vehicle wear and tear, so it's important to select a reliable car with good gas mileage. While this doesn't affect how much money you receive from Uber it can greatly reduce your expenses, increasing your net earnings.
7. Combine Rideshare Apps 
Don't rely solely on Uber. Sign up for other rideshare services like Lyft and switch between them to stay busy and maximize your earnings. Many customers may have their preferred ridesharing app or may switch to take advantage of a discount or promotion, so using multiple apps makes you available to as many potential customers as possible. However, if you are using multiple apps, be careful not to accept two passengers at once!
Make Your Money Work Better for You
8. Track Your Expenses
Keep a detailed log of your expenses, including fuel, maintenance and car washes. While Uber does not reimburse you for these, they can be tax-deductible, and tracking them accurately can save you money during tax season.
9. Take Breaks and Avoid Burnout 
It's important to know your limits and not overwork yourself. Taking regular breaks and avoiding long hours can help you stay fresh and provide better service to your passengers. 
How Do Drivers Make Money on Uber?
Uber and similar ride-sharing apps like Lyft are ways to connect passengers who need a ride with drivers who can take them wherever they need. For this service, Uber takes a cut of the money passengers pay for their rides and pays you the rest. To become a driver for Uber you do not need to commit to any timeframe or work a certain number of hours. This means you can choose how much you want to work every week.
However, your income is not dependent just on how many rides you take. Passengers pay different prices based on trip duration and distance, but also based on demand. Uber dynamically raises pricing based on demand and driver ability. During peak hours, you may make more than at other times. Driver total compensation also includes tips, so drivers who receive more tips will make more money per ride.
The Bottom Line
Driving for Uber can be a lucrative way to make money, but it's not necessarily easy. By employing the above hacks, you can increase your chances of making more money on the platform. Remember that your earnings are not just based on the number of rides, but also on the quality of service you provide and the strategic choices you make as a driver.
Make Your Money Work Better for You
FAQ
Here are the answers to some of the most frequently asked questions about making money with Uber.
How can you get free money on Uber?

If you have not ordered a ride through Uber before, the company regularly has promotions and discounts which can save you money on your first rides. Look for promo codes on the Uber website, coupon sites or social media.

Can you make $500 a day with Uber?

How much you make on Uber depends on your location and how many people need rides on that day. As more people request rides, Uber will raise prices due to demand in that area. Therefore it can be difficult to estimate how much you will make on any given day. On average, Uber drivers make around $22 an hour, though some report earnings as high as $42 per hour.
Information is accurate as of June 20, 2023. 
Editorial Note: This content is not provided by any entity covered in this article. Any opinions, analyses, reviews, ratings or recommendations expressed in this article are those of the author alone and have not been reviewed, approved or otherwise endorsed by any entity named in this article.
Our in-house research team and on-site financial experts work together to create content that's accurate, impartial, and up to date. We fact-check every single statistic, quote and fact using trusted primary resources to make sure the information we provide is correct. You can learn more about GOBankingRates' processes and standards in our editorial policy.