What Is Uber Green and Will It Save You Money?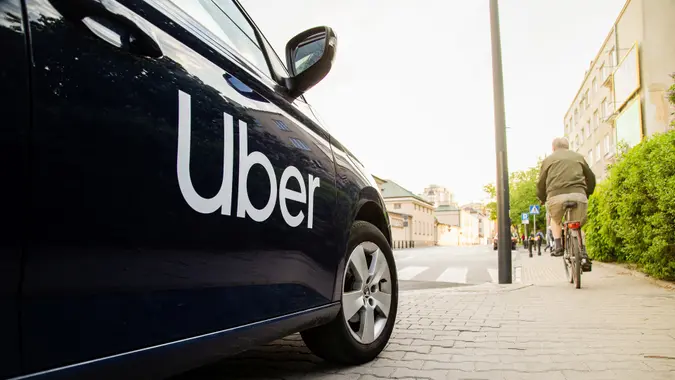 MOZCO Mateusz Szymanski / Getty Images
If you've used the Uber app recently, you may have noticed a new option for something called Uber Green. This feature is rolling out in various cities in the U.S. and Canada and offers customers a more environmentally conscious way to rideshare. But how exactly does Uber Green work, and can it save you money?
What Is Uber Green?
Uber Green is a service offered by Uber that allows riders to choose trips in low-emission hybrid or electric vehicles. By opting for Uber Green, riders can actively reduce their carbon footprint and contribute to cleaner urban environments. This program aligns with Uber's commitment to becoming a more environmentally friendly and sustainable service — Uber has pledged to become a zero emissions mobility platform by 2040. 
How Does Uber Green Work?
When you open the Uber app to request a ride, you will have the option to select Uber Green. If you choose this option, Uber will pair you with a driver who operates a hybrid or electric vehicle.
The rest of the ride process is the same as a regular UberX. You will see details about your driver, their car and a map showing you how far away they are. When they arrive, you will be notified. Once you're in the vehicle, your Uber Green driver will take you where you need to go. Once you arrive, you can rate your ride and tip the driver.
How Much Is Uber Green?
When Uber Green launched the service, there was a $1 surcharge over a regular UberX. This meant that choosing the environmental option was more expensive for customers, making many people less likely to use it. However, since then, Uber has changed its system so that Uber Green trips cost the same as UberX for the same distance and time.
Make Your Money Work for You
Where Is Uber Green Available?

Uber Green began its journey in a few select cities but is expanding consistently. Right now, the service is available in over 60 cities around the globe. In North America, you'll find Uber Green in major cities like New York, Los Angeles, San Francisco, Toronto and Vancouver. Furthermore, Uber plans to bring this service to more cities in the coming years as part of their global environmental commitment.
Is Uber Green Better for Drivers?
While drivers need to own or have access to a hybrid or electric vehicle to participate in Uber Green, Uber has implemented incentives to encourage drivers to make the switch. For instance, drivers earn a little extra on each Uber Green trip compared to regular UberX trips.
Additionally, Uber has dedicated a whopping $800 million in resources to help drivers transition to electric vehicles through partnerships with automakers and charging station providers. This not only helps drivers financially but also supports them in contributing to a greener environment.
Can Uber Green Save You Money?
Initially, you might not see a direct saving in your pockets by opting for Uber Green since the prices are typically the same as UberX.
However, in the broader perspective, by supporting a service that reduces carbon emissions, you're contributing to cleaner air and a more sustainable environment. This can lead to fewer health problems, reduced pollution-related expenses and a better quality of life. Moreover, as more people use Uber Green, the demand for electric vehicles may increase, potentially driving prices down in the long run.
Make Your Money Work for You
How Uber Green Could Impact the Electric Vehicle Market
The growing popularity of Uber Green could have ripple effects throughout the auto industry. As demand for rides in low-emission vehicles increases, car manufacturers may see a surge in demand for hybrid and electric vehicles. This, in turn, can lead to increased investment in EV technology and advancements that can make electric cars more affordable and accessible to the general public.
Additionally, as more drivers switch to electric vehicles, there will be a need for more charging stations. This can foster infrastructure development, making it more convenient for people to own and use electric cars.
Final Take
Uber Green could be an important step forward in the fight against climate change. When more people choose rides in low-emission vehicles, it's not only the riders who benefit, but the entire community. Even though the upfront cost of Uber Green is the same as UberX, the environmental benefits are something to be considered. Uber Green also helps drivers by providing them with incentives to switch to more sustainable vehicles. 
By opting for Uber Green, riders are sending a message to the transportation industry about the demand for cleaner options, which could lead to more innovation and lower costs in the future. Next time you need a ride, consider choosing Uber Green if it is available in your area.
FAQ
Here are the answers to some of the most frequently asked questions regarding Uber Green.
What is the difference between UberX and Uber Green?

The primary difference is the type of vehicle. With Uber Green, you'll be riding in a low-emission hybrid or electric car, whereas regular Uber rides could be in any kind of vehicle. In most other respects, Uber Green and UberX are essentially the same.

What is Uber Green and why is it cheaper?

Uber Green is a service for booking rides in hybrid or electric vehicles. Initially, it was a bit more expensive due to a surcharge, but now it costs the same as a regular UberX. The pricing change is part of Uber's commitment to encourage more people to opt for environmentally-friendly transportation. However, while it costs the same as a regular Uber, it is not actually cheaper.

Is Uber Green cheaper than UberX?

Currently, Uber Green costs the same as UberX for the same distance and time. While you don't save money directly, you contribute to a greener environment by choosing Uber Green.
Information is accurate as of June 16, 2023. 
Editorial Note: This content is not provided by any entity covered in this article. Any opinions, analyses, reviews, ratings or recommendations expressed in this article are those of the author alone and have not been reviewed, approved or otherwise endorsed by any entity named in this article.
Our in-house research team and on-site financial experts work together to create content that's accurate, impartial, and up to date. We fact-check every single statistic, quote and fact using trusted primary resources to make sure the information we provide is correct. You can learn more about GOBankingRates' processes and standards in our editorial policy.