Does Uber Take Cash?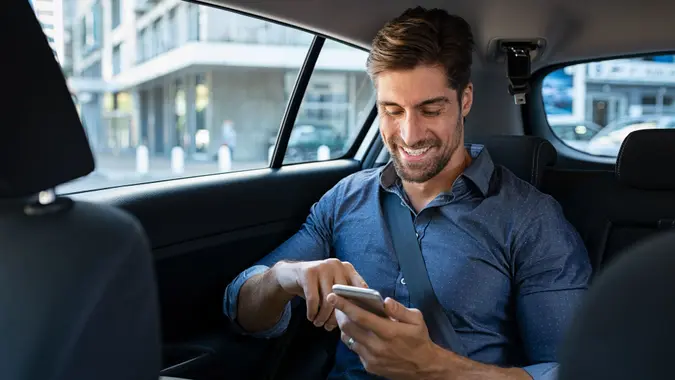 Ridofranz / Getty Images/iStockphoto
It is finally the weekend and you are meeting some friends out at a new spot that is meant to have some amazing cocktails. Being the responsible person you are, you want to be able to enjoy yourself and not have to worry about driving so you decide to take an Uber. 
Read: If Your Credit Score is Under 740, Make These 4 Moves Now
You don't feel like using your overworked credit card but do have some birthday cash that has been burning a hole in your pocket. So, does Uber take cash? The answer is yes, and here is how you do it. 
How To Pay in Cash for Your Uber Ride 
The good news is that Uber does allow you to pay for your ride in cash. You just have to remember to select that option beforehand when you book your ride. In your Uber app, go to the "Wallet" section and click on the icon that looks like cash. You tap on this icon to choose it for just the upcoming ride, or you can make it your default payment choice.
Make Your Money Work for You
By choosing the cash option beforehand it allows your Uber driver to be prepared for this specific transaction. Be aware that because Uber operates with credit card or digital transactions a majority of the time, many drivers won't have a lot of cash on them to make change or break large bills. 
Uber is largely set up to be a cashless experience so you will have to be proactive if you'd like to pay with cash. Some regions or countries don't allow cash when using Uber so double-check that you see the "cash" icon is available in the "Wallet" section of your Uber app. 
Tipping Your Uber Driver With Cash
You are also welcome to tip your Uber driver in cash. This would be given to the driver at the end of the ride. Let them know how much money you'd like back if you pay in cash, and what amount you are giving them as gratuity. This is an option if you pay all in cash or if you pay via the credit card on file. If you pay with a credit card, and tip in cash, simply choose the no tip option for the card on file when prompted to pay by the app.
Make Your Money Work for You
Does Uber Eats Take Cash? 
If you're hungry and don't want to drive somewhere and can't even muster the strength to take an Uber somewhere, Uber Eats is a great option. If you still have some of that birthday cash left over after going out the other night, you'll want to know if you can use cash to get all your comfort foods delivered to your door by an Uber Eats driver. 
You are in luck as Uber Eats also accepts cash. This allowance can depend on what area you are in, so double-check that your local drivers are complying with accepting cash. If they are you'll be able to adjust your payment in your account wallet to the cash option. Your driver will then be notified you are paying cash and that they are expected to collect cash upon delivery.
Cash vs. Uber Cash 
You will want to avoid confusing cash with Uber Cash. Though they sound similar, they function in different ways and there are different steps to use either. Uber Cash has nothing to do with paying cash for rides. 
Cash: To use cash for an Uber ride you select the cash payment method in your account wallet in the app. Make sure to do so before booking your ride so the driver is aware you will be paying with cash and to collect the cash at the end of the ride. 
Uber Cash: Uber Cash is a way to add funds to your Uber account with a gift card, credit card or debit card. The balance transfers to Uber rides or Uber Eats orders. To add money to your Uber Cash account simply follow these steps from Uber's website:

Select the menu icon in the upper left corner of your app.
Choose "Wallet" and then "Add Funds."
Pick the amount you'd like to purchase.
Select "Payment Method" to choose how you'd like to buy.
Tap "Purchase."
Make Your Money Work for You
Accepted Payment Forms for Uber 
What is convenient about apps such as Uber is you can store your preferred payment method on the app, which will be automatically charged upon completion of the ride. You can change this default payment at any time. Uber excepts the following forms of payment:
Any major credit card
Google Pay — if using an Android
Apple Pay — if using an iPhone
Uber gift card
Certain prepaid cards such as Entropay, Xapo, Satoshi or Tango
Uber Cash
Cash
Your Next Uber Ride 
Knowing that you can pay cash with Uber can be beneficial as it is always good to have options. If using cash just make sure to double check this option is available in your area, and if it is, select this option before booking your ride so your driver can be prepared.
FAQ
Does Uber take cash?

Yes, Uber takes cash. You have to select the cash payment method in the wallet section of your account prior to booking your ride. This way your driver will be notified to expect cash and collect it upon dropping you off.

Does Lyft take cash?

Though you can not directly pay your Lyft driver with cash, you can add cash to Lyft Cash. You do so by presenting a barcode or ID number from your Lyft app to participating vendors such as Walmart or Kroger and submitting the amount of cash you would like to add to your account. This way you turn physical cash into Lyft Cash, but indirectly are still able to use cash for your rides.

Can you tip your Uber driver in cash?

Yes, you can tip your Uber driver with cash. You can do so whether you paid all in cash or with the credit card payment method you have on file in your account. If you pay via credit card, simply opt to not tip on the credit card when prompted, and hand the cash tip directly to your driver.

Should you tip your Uber driver in cash?

Gone are the days when cash is king. Though there is no real preference anymore between cash and credit card gratuity, be aware most drivers may not have change on them as most of their transactions are digital. As long as you tip, either by physical cash or by card, it is appreciated.

Does Uber Eats take cash?

Yes, Uber Eats takes cash. You must select the cash payment method in your Uber Eats account wallet before submitting your order. This way the driver is notified you'll be paying in cash and that they have to collect the cash upon delivery.

When did Uber start taking cash?

Uber started accepting cash payments in 2015. This started in India and branched out to other countries where the preferred method of payment was also cash. Today Uber accepts cash payments in over 50 countries.
Editorial Note: This content is not provided by any entity covered in this article. Any opinions, analyses, reviews, ratings or recommendations expressed in this article are those of the author alone and have not been reviewed, approved or otherwise endorsed by any entity named in this article.
Make Your Money Work for You