How Much Does It Cost To Rent a Lamborghini?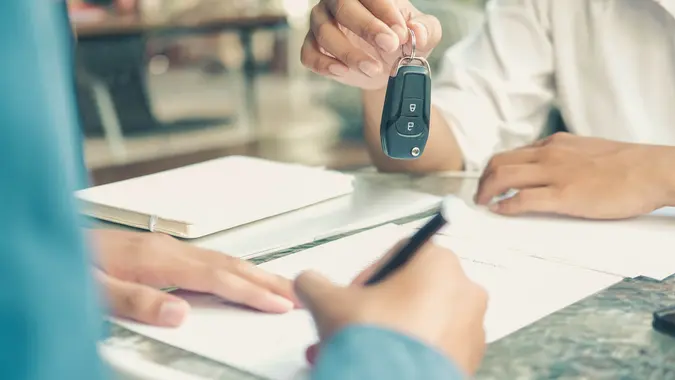 psisa / Getty Images/iStockphoto
Nothing says luxury and wealth quite as smoothly as a Lamborghini.
These ultra-sleek and impeccably stylish cars date back to 1963, when Automobili Lamborghini was established in Sant'Agata Bolognese, Italy. That year, the Lamborghini 350 GTV, a two-seater coupe with a V12 engine, hit the road for the first time ever. Only 120 of these vehicle models were made and sported an MSRP of $15,600 — quite a bit of cash for a set of wheels in the mid-1960s.
But today, a new Lamborghini goes for astronomically more — about $300,000, according to Jon Callahan, the founder and CEO of JalopyTalk.
Naturally, such an expensive car to buy is also a fortune to rent. How much exactly does it cost to rent a Lamborghini? At least $1,000 a day. But sometimes up to $3,000.
GOBankingRates talked with auto experts to learn more. 
How Much Does It Cost To Rent a Lamborghini for a Day?
"You can rent a Lamborghini for about $1,200 per day in the U.S," Callahan said. "But usually, the deposit required is substantially higher than this figure." 
How Much Can You Rent Out Your Lamborghini For?
"While there is no definitive answer, you would likely be able to rent your own Lambo out for a day for somewhere in the vicinity of $1,000 to $3,000 per day," Callahan said. "This price may change depending on the make and model of the car, as well as where you are located. It's important to remember that this amount does not include any driving or maintenance fees — and additional insurance considerations that should most definitely be taken."
Make Your Money Work Better for You
How Much Does It Cost To Rent a Bugatti for a Day?
Lamborghinis are super expensive to rent, but the price tag pales in comparison to that of a Bugatti. 
"It can cost anywhere from $2,000 to $6,000 per day to rent a Bugatti," Callahan said. "This price depends on the make and model of Bugatti that you choose and your location and calendar availability. You may also be subject to additional fees such as sales tax or delivery costs." 
How Much Is It To Rent a Lamborghini in California?
"You can expect to pay significantly more in California per day because the state has one of the most restrictive automobile licensing policies in the United States, making it difficult for new businesses to enter the marketplaces," Callahan said.
On Turo, the peer-to-peer car-sharing app, renting a Lamborghini Aventador Svj 2020 in the Los Angeles area costs $1,620 per day. This vehicle retails new for $425,021.
"Don't be surprised if this jumps the $2k per day mark [in California]," Callahan said.
How Much Does It Cost To Rent a Lamborghini for a Month?
"Renting a Lambo for a day is one thing — but a different kettle of fish for a full month," Callahan said. "Firstly, you would need to consider for what purpose you are renting the car in the first place. If it's for a special event/experience, then one-day rental prices make sense. And while you would almost certainly get a discount if you were to extend this sort of lease deal across multiple days — it would make very little financial sense to do so."
Make Your Money Work Better for You
So does this mean that you would just multiply the daily rate by however many days are in the month? Not necessarily. 
"Many companies offer longer-term finance deals on extended rental periods," Callahan said. "Or it can even make sense to take out short-term financing. You would lose a certain amount in depreciation on the resale — but it would be far cheaper than the daily rental price. So it is swings and roundabouts."
How Much Does It Cost To Buy a New Lamborghini?
A new Lamborghini goes for about $300,000.
"This price does not include taxes or fees, so your final cost could be slightly higher," Callahan said. "Additionally, this figure is for the base model; if you want features like leather seats and a navigation system, your ticket will likely be much higher. As with any luxury automobile purchase, there are many factors to consider in the final cost: brand name (Lamborghini is one of the most prestigious brands in the world), options (some models come equipped with more than just basic amenities), location (luxury automobiles generally command a higher price in major metropolitan areas)." 
How Much Does It Cost To Buy a Used Lamborghini?
"Used Lamborghini prices vary depending on the vehicle's make, model and condition; however, a used Lamborghini will cost anything from $65,000 to $100,000 plus," Callahan said. "But it can also depend on who you know. As a mechanic, I have seen Lamborghini's with missing engines, doors, etc. for considerably less."
Why Is Renting a Lamborghini So Expensive?
"There are a few reasons why renting a Lamborghini can be expensive," Callahan said. "First and foremost, it is an extremely luxurious car that requires premium fuel and maintenance. Second, the depreciation rate for Ferraris and Lamborghinis is much higher than average because of their unique design and performance capabilities. And lastly, these cars often require special insurance policies that cover incidents such as collisions or thefts."
Make Your Money Work Better for You
Where Are the Best Places To Book a Lamborghini Rental?
"When it comes to booking a Lamborghini rental in the USA, there are many options available," Callahan said. "Some of the best sites/places to visit include MPHClub, Royalty Exotic Cars – Las Vegas, and Dynasty Luxury Rentals – Miami, among others. Each of these websites offers various features and benefits that make them perfect for those looking to book a luxury car rental."
Which Lamborghini Model Should You Rent?
Consider these three Lambo models when looking to rent one.  
Model: Huracán Coupé
Average daily rental price: $1,200 – $1,500 per day
"The Huracán Coupé is a stunningly designed sports car unveiled in late 2018," Callahan said. "This high-performance machine features a V12 engine and all-wheel drive, making it one of the most capable cars on the market today. The exterior is made from lightweight materials that are both durable and aesthetically pleasing, while the interior features luxurious appointments, including handcrafted leather seats and an abundance of natural materials." 
Model: Aventador SV Roadster
Average daily rental price: $1,700 – $1,800 per day
"The Lamborghini Aventador SV roadster is one of the most exclusive and powerful sports cars on the market today," Callahan said. "This car has a price tag that reflects its impressive features, making it an expensive but worthwhile investment. It boasts a 6.5-liter V12 engine with 700 horsepower and 590 pounds of torque.
"It also has advanced safety technology, including forward collision warning, pedestrian detection, lane departure warning systems, dual airbags for both front seats (for adults) and side curtain airbags for all four occupants (including children). This car can achieve 0-60 mph in just two seconds and reach speeds exceeding 205 mph."
Model: Urus SUV
Average daily rental price: $1,650 – $1,850 per day
Make Your Money Work Better for You
"The Urus has a displacement of 6.2 liters and boasts an impressive engine specification that includes 516 horsepower and 508 lb-ft of torque," Callahan said. "It can accelerate from 0 to 60 mph in just 3.5 seconds, making it one of the fastest SUVs on the market today.
"Other notable features include seven airbags, electronic stability control, all-wheel drive, four electric windows (one with a heat function), rearview cameras, panoramic sunroof/skylight system (with integrated blinds for privacy), Audi connect suite for smartphone integration (including GPS navigation), as well as heated seats front and back."
Is Renting a Lamborghini Worth It?
"There is no doubt that driving a Lamborghini can be an incredible experience," Callahan said. "This iconic car has been known for its formidable performance and striking looks, and it's not hard to see why. From the moment you step inside the vehicle, you'll feel like a celebrity."
"The engine is incredibly responsive and accelerates quickly — you might even need to take your foot off the gas pedal sometimes," Callahan continued. "The sound of the engines — both in V8 and Turbo models — is spectacular. Not only does this car look great outside, but it also features luxurious interiors with high-quality materials used throughout. If you get a chance to drive one, even for just one day — I would advise it."
While renting a Lamborghini costs a fortune at between $1,000 and $3,000 per day, luxury car experts like Callahan say it's well worth it to rent one if you can afford it.
Advice

Remember, before booking any luxury car for a daily rental, including a Lamborghini, do the following: 

Research models ahead of your trip.
Make sure you're renting from a legitimate site or individual.  
Ask for a model guarantee. 
Understand the ins and outs of your coverage.  
Get a full lowdown on how the car works and any daily maintenance it requires.
Make Your Money Work Better for You
Our in-house research team and on-site financial experts work together to create content that's accurate, impartial, and up to date. We fact-check every single statistic, quote and fact using trusted primary resources to make sure the information we provide is correct. You can learn more about GOBankingRates' processes and standards in our editorial policy.