4 Ways To Rent Out Your Car for Extra Cash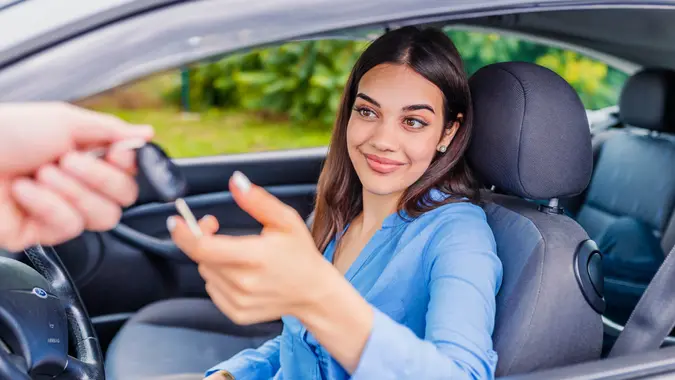 dragana991 / Getty Images/iStockphoto
If you haven't been driving much lately, you may be thinking about how much your car is costing you as it sits in your driveway. You've spent good money on your car, so maybe it's time for it to return the favor. There is no need to put it up for sale or deal with used-car salesmen quite yet as there are other ways to subsidize car ownership. 
See: How To Build Your Savings From Scratch
4 Ways To Rent Out Your Car
There are several peer-to-peer car-sharing services or companies through which you can rent out your car when you're not using it to make some extra income as a side gig. Make sure you understand what parameters you need to consider, such as protection plans, auto insurance coverage, liability insurance companies and varying rental service agreements.  Here are four ways to rent out your car: 
Turo
Avail
HyreCar
Getaround
1. Turo
As one of the world's largest car-sharing marketplaces, Turo encourages car owners to build a business that involves other people renting and driving your car. Here are a few key takeaways:
Turo claims that the average annual income generated by renting out one car is $10,516.
According to AAA, the average cost of car ownership in 2022 was $10,728.
If you only have one car to rent, Turo is a good way to make a little money, but more importantly, it essentially pays for your car if you factor in the average cost of gas, insurance and car payments annually. 
Turo allows you to rent both leased and financed vehicles.
2. Avail
Avail is a service that rents cars at airports across the country. It caters to people who are traveling and would otherwise leave their car at the airport for the duration of their trip. Here are some things to know if you are considering using Avail:
You drop your car off at the airport and they list it on their app. 
When someone wants to rent your car, they pick up your car at the airport and return it there when they're done.
Avail's website indicates you can earn between $20 to $25 per day renting your car.
Avail Plus is for those who are traveling for a month or more. If you list your car on Avail Plus for at least 30 consecutive days, you'll get a $400 bonus, regardless of how many days the car is rented.
Avail has a long list of eligibility requirements your car must meet if you want to share it, including having no open recalls, fewer than 125,000 miles, valid registration and a clean title. It should also seat fewer than 10 people. 
Make Your Money Work Better for You
3. HyreCar
HyreCar specializes in renting cars to those who will use them to drive for other delivery services. You can rent on a daily, weekly or monthly basis. Here are six tips on how to use HyreCar:
You need to comply with the requirements that other delivery services or rideshare apps have for cars, including things like the age and size of the vehicle and its physical condition. As part of HyreCar's sign-up process, it asks for Uber/Lyft inspection documents, along with your registration and pictures of your car.
Once you've signed up, you'll be notified when someone wants to rent your car. Confirm the application as soon as possible, since some drivers will apply for multiple vehicles and just take the one they can get first. You'll need to be the first to confirm to get the booking.
Check the documents, including your registration and vehicle inspection documents. Make sure the insurance document on your HyreCar dashboard is correct before you give the keys to the renter with a valid driver's license.
Arrange a pickup location with the renter. Be sure to verify their license, check the mileage and the amount of fuel you have, and hand over the keys.
When the rental period is over, arrange a pickup time and location. Check the condition of the vehicle, mileage and fuel when you take back the keys.
Keep in mind that some people who use this platform, such as Uber or Lyft drivers, can put a lot of miles on a car. If you choose to rent through HyreCar, you should be prepared to see your odometer go up quickly.
4. Getaround
Known as a car-sharing marketplace, Getaround promotes using your own car or even purchasing one or more cars to run your own car-sharing business.
If you have two or more cars on Getaround, they assign you a fleet business manager to help you manage your business.
Getaround provides the technology to connect with drivers, charge for rentals and arrange drop-off and pickup. They also offer a device that lets renters unlock your vehicle with their phone, eliminating the need to physically hand off keys.
Pros and Cons of Renting Out Your Car
There are advantages and disadvantages to renting out your car. Make sure the money you make is worth the miles put on your car as well as other risk assessments.
Make Your Money Work Better for You
Pros
If you're going to have a car anyway, renting it out will generate more money than having it sit in the driveway.
If your car sits too long without being driven, you can face a host of problems, from flat tires and a dead battery to rust and cracked belts and hoses.
Using a rental company like the ones listed above means you don't have to vet the drivers, and often makes drop-off and pickup easier.
Some companies have daily mileage limits, so you'll earn more if your car is driven further, offsetting some of your wear and tear costs.
Cons
Renting out your car will rack up the miles, so you need to be sure to keep up with the maintenance for the added wear and tear.
While the rental companies vet the renters, there is always the possibility that someone won't return your car. Insurance will replace your vehicle if this happens, but it is a possibility.
Accidents happen, and even though all of these rental companies provide insurance against accidents while your car is being rented, having to get your car repaired is an inconvenience and means you could be without it for a while.
Even if the company you rent through offers cleaning, you may still find your car is messier when you get it back than it was when you rented it out.
Final Take To GO
Renting out a car you rarely use can be a good source of passive income and can help to offset that monthly car payment that never seems to go away. Just be sure you are okay with the additional mileage and wear and tear on the car, and that you have another plan in the event of an emergency. There is no guaranteed amount you can make renting out your car; however, any extra cash you bring in without inconveniencing yourself too much may be worth it. 
FAQ
Is Turo a good way to make money?

Though what you make on Turo will vary, it's estimated that the average annual income generated by renting out one car is $10,516. If you have multiple cars to rent, even better. For example, if you and your partner both work remotely, you could each rent out your car, helping you bring in an additional $21,032 in income for your household.

Can I put a financed car on Turo?

Yes, you can put leased or financed cars up for rent on Turo.

How can I make money with my car?

You may be familiar with popular rideshare apps such as Lyft or Uber, which you can use when going for a night out or for rides to the airport. If you don't want to completely hand over your keys to a stranger, you could drive for a rideshare company instead of renting out your car to make some extra money on the side.
Make Your Money Work Better for You
Karen Doyle contributed to the reporting for this article.
Our in-house research team and on-site financial experts work together to create content that's accurate, impartial, and up to date. We fact-check every single statistic, quote and fact using trusted primary resources to make sure the information we provide is correct. You can learn more about GOBankingRates' processes and standards in our editorial policy.