Bobby Brown's Net Worth Sits at $2 Million on His 47th Birthday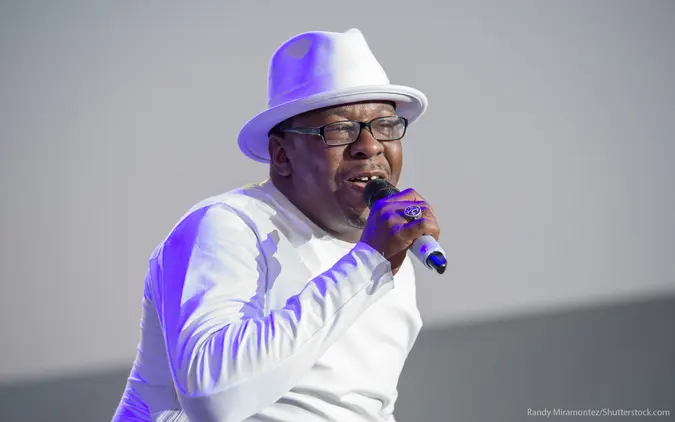 Singer Bobby Brown's birthday is Feb. 5, and the former husband of Whitney Houston will be 47 years old. In 2015, he heartbreakingly spent his birthday by the hospital bed of his now-deceased daughter, Bobbi Kristina Brown. Later in the evening, around 20 of Brown's family members gathered at a restaurant near the hospital for a somber birthday celebration. However, the night took a violent turn when police were called after two of Brown's relatives got into a bloody altercation.
See how Bobby Brown came upon his fortune, career and troubled past with Whitney Houston.
Related: North West, Blue Ivy: 29 of the Richest Celebrity Children
Bobby Brown Net Worth: $2 Million
Bobby Brown's net worth is $2 million, according to Celebrity Net Worth. However, his wealth will likely increase in 2016, as he's slated to release the memoir "My Prerogative" in June and has musical performances scheduled in the coming months. The singer might also receive money from the estate of his late daughter.
Bobby Brown Music
Much of singer Bobby Brown's net worth stems from his musical achievements. In 1978, when he was just nine years old, Brown co-founded the R&B group New Edition with Ricky Bell and Michael Bivins. The group released its first single, "Candy Girl," in 1983, when Brown was just 14 years old — and the song was a smash success. MCA Records quickly signed New Edition, and the group went on to release the hit songs, "Cool It Now" and "Mr. Telephone Man."
After becoming discontent with the group, Brown quit New Edition in 1986 to pursue a solo career. His debut album, "King of Stage," was met with lukewarm response but did contain one hit in "Girlfriend." In 1988, Brown enlisted the help of L.A. Reid and Babyface to create his sophomore album, "Don't Be Cruel," which was an overwhelming success. That same year, the singer earned $7.9 million from sales of the certified seven-time platinum album, according to TheRichest. By 1989, four of Bobby Brown's songs from the record had made it to the top 10, including "My Prerogative," "Roni," "Every Little Step" and "Rock Wit'cha."
Make Your Money Work Better for You
In the summer of 1992, Brown released his third studio album, "Bobby," which contained the hit songs "Humpin' Around," "Good Enough," "Get Away" and "That's the Way Love Is." His earnings for the certified two-time platinum record totaled $2.1 million. Brown released his fourth studio album, "Forever," in 1997, but it was a flop.
Brown returned to New Edition in 2005 and has since toured on and off with the group. He also released his fifth solo album, "The Masterpiece," in 2012. In 2016, Brown is scheduled to perform three "Valentine's Super Love Jam" shows alongside Tank, Mint Condition, After 7 and 112 over Valentine's Day weekend.
Bobby Brown Television Career
In addition to being a successful musician, Bobby Brown has also enjoyed fame as a television actor. In 2005, he starred in the Bravo reality show "Being Bobby Brown," which offered viewers an inside look at his life with then-wife Whitney Houston and their daughter. The heavily-criticized reality show was cancelled after just one season.
In 2008, Brown joined the cast of the Country Music Television reality show "Gone Country," where he competed with several stars — including Sisqo, Twisted Sister's Dee Snider and Julio Iglesias, Jr. — to become the next big country music sensation. He later partnered with his "Gone Country" castmates Maureen McCormick and Carnie Wilson for the spinoff show "Outsider's Inn," in which he helped run a bed and breakfast in rural Tennessee.
Brown joined the season seven cast of "Celebrity Fit Club" in 2010. In 2013, he appeared on "Real Husbands of Hollywood," where he worked on an album with Nelly in order to stage another comeback.
Whitney Houston and Bobbi Kristina Brown Estates
Despite his success in the music and television arenas, Bobby Brown has suffered great turmoil in his personal life. On Feb. 11, 2012, Brown's ex-wife Whitney Houston was found dead in a bathtub at The Beverly Hilton hotel in Beverly Hills, Calif. The 48-year-old diva died from a combination of drowning, heart disease and cocaine. She left her $20 million estate to the couple's daughter, Bobbi Kristina.
Make Your Money Work Better for You
Under the terms of Houston's will, her fortune was placed in a trust until Bobbi Kristina turned 21. At that time, she received 10 percent of her mother's estate and was set to gain another sixth of the estate when she was 25, with the remaining balance coming at age 30. Sadly, Bobbi Kristina passed away on July 26, 2015, after being in a coma for more than six months since she was found unresponsive in her bathtub — a circumstance eerily similar to her mother's death.
Since the death of Bobby Brown's daughter, there has been much speculation about who will inherit the remaining 90 percent of Whitney Houston's estate. Houston's will was drafted in 1993, when she was still married to Brown. However, since the couple was divorced at the time of Houston's death, it's likely that the rest of the fortune will go to her other named beneficiaries — namely her mother Cissy Houston and two brothers.
While Bobby Brown will probably not receive any of his ex-wife's remaining fortune, he might be entitled to the 10 percent of her estate distributed to Bobbi Kristina — an estimated $2 million.
Related: What Bobbi Kristina Brown's Death Means for Whitney Houston's Estate
Bobby Brown Personal Life
Bobby Brown married Whitney Houston in 1992, and the couple divorced in 2007. The pair's tumultuous marriage was plagued by infidelity, domestic abuse and rampant drug use. For years, notorious bad boy Brown was thought to have introduced Houston to drugs but, following the singer's death, her brother Michael admitted to Oprah Winfrey that he was actually the one responsible.
Brown — who claims he has been sober for 13 years as of 2015 — has admitted to struggles with cocaine, heroin, marijuana and alcohol during his marriage to Houston. In 2002, Houston notoriously denied being addicted to crack cocaine in an ABC News interview with Diane Sawyer.
Make Your Money Work Better for You
After the divorce, Houston claimed that Brown lashed out at her during their marriage because he was insecure about her career success. In a 2009 interview with Winfrey, Houston recounted a time when Brown spit on her in front of Bobbi Kristina; Houston responded by hitting him on the head with a phone. Although Houston confessed that Brown slapped her once, she said his abuse was largely emotional rather than physical.
Houston also accused Brown of being a mean alcoholic while they were together and told Winfrey he was "her drug." The late singer also admitted that the couple's favorite drug was marijuana laced with cocaine. Their high-profile marriage was featured in the 2015 Lifetime movie, "Whitney."
Bobby Brown has been married to Alicia Etheridge since 2012. The couple welcomed daughter Bodhi Jameson Rein Brown on July 9, 2015. They also have a 6-year-old son named Cassius. In addition to Bodhi, Cassius and Bobbi Kristina, Brown has three other adult children: Landon, LaPrincia and Bobby, Jr.
Related: New Kids on the Block and 4 Other Boy Bands That Made a Financial Comeback