How Much Is Kate Winslet Worth?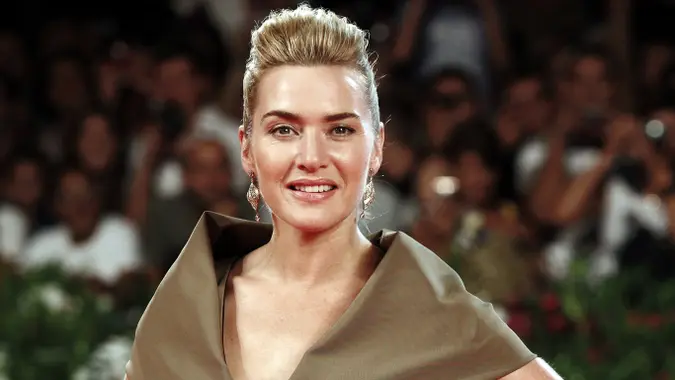 Andrea Raffin / Shutterstock.com
Best known for her performance as Rose opposite Leonardo DiCaprio in "Titanic," Kate Winslet has an impressive acting resume. Yet her roles have brought her more than critical acclaim: Winslet has a net worth of $65 million, according to Celebrity Net Worth.
Learn More: 30 Celebrities Who Went From Rags to Riches
Kate Winslet's Net Worth: $65 Million
Kate Winslet has shown the world that sticking with what works can pay off. She's made her $65 million fortune from starring in historical dramas like "Titanic," "Sense and Sensibility," "Finding Neverland" and "The Reader." Her performance in that World War II drama won her an Oscar.
Net Worth: $65 million
Date of Birth: Oct. 5, 1975
Primary Sources of Wealth: Acting
Career Highlights: Played Rose in "Titanic" and Hanna in "The Reader"
See: Critically Acclaimed Movies That Bombed at the Box Office
Kate Winslet's Career Timeline
Kate Winslet started acting as a child, appearing in commercials, made-for-TV movies and British TV shows. After catching the eye of critics for her performance in the film "Heavenly Creatures," Winslet won roles in "Sense and Sensibility," "Jude" and "Hamlet."
In 1997, she landed the role that changed her life. James Cameron cast her as Rose in the blockbuster "Titanic." The movie's success gave Winslet the freedom to choose roles that helped expand her acting abilities. Among these were "Holy Smoke!," "Eternal Sunshine of the Spotless Mind," "Finding Neverland" and "The Holiday."
Make Your Money Work Better for You
Kate Winslet's Philanthropy
Winslet has shared her time, money and talent with charitable foundations for years. She participated in a fundraising campaign with the Leukemia Research Foundation, and other charities she supports include the Children's Hospital of Los Angeles, PETA, Afghanistan Relief Organization and Small Steps Project. Winslet also founded the Golden Hat Foundation to raise awareness about autism.
Read: Celebrities Who Are Not as Rich as You Think
Kate Winslet's Real Estate
Kate Winslet used part of her "Titanic" salary to buy some property in a Cornish village. She paid £200,000 for it and sold it three years later for a £50,000 profit. Later, she owned a home in Treyford that she eventually sold for £2 million. In 2013, she spent £3.3 million for a home in West Sussex that is now worth £4 million.
In addition to her homes in the United Kingdom, she also owns a penthouse in New York City. She paid $5 million for the home in 2004 and it recently listed for $5.7 million.
More From GOBankingRates
Make Your Money Work Better for You
Make Your Money Work Better for You