Prince's Net Worth on What Would Have Been His 58th Birthday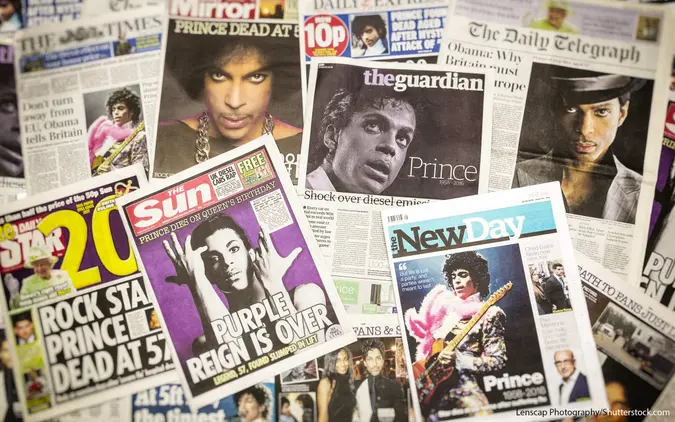 Music icon Prince died Thursday, April 21, at the age of 57. A report released by the Midwest Medical Examiner's Office on June 2 revealed the music icon died from accidental overdose of opioid fentanyl.
In death, the music superstar joins the ranks of late music superstars Michael Jackson and David Bowie. Here's a look back at Prince's fame, fortune and controversies on what should have been his 58th birthday.
In the News: Johnny Depp, Amber Heard Headed for Divorce: How Their Net Worths Will Be Divided
Prince's Net Worth: $300 Million
Prince Rogers Nelson was found dead at his Paisley Park residence in Chanhassen, Minn. He was found in an elevator. The report released by the examiner's office said he self-administered fentanyl, a drug used to treat severe pain and known for overdoses.
"It is with profound sadness that I am confirming that the legendary, iconic performer, Prince Rogers Nelson, has died at his Paisley Park residence this morning at the age of 57," said his publicist, Yvette Noel-Schure.
At the time of his death, Prince had a $300 million net worth, owed to more than 100 million album sales worldwide and successful concert tours. Forbes reported the late musician earned over $270 million over 14 years. The value of his estate is expected to increase as the late singer reportedly has several hundred unreleased songs.
Controversy Over Prince's Estate and Will
Without a will, Prince's estate will be divided by the state. Estimates reported by Forbes put the value of his Paisley Park studio at $7 million. His 187-acre home in Chanhassen is valued at $16 million. Reliable estimates for Prince's music catalog and the commercial rights to his name and image could not be found.
Make Your Money Work Better for You
Since Prince's death, his family and the courts have been working to determine who will inherit his estate. Under Minnesota law, his estate, including control over NPG Records, will go to his sister, Tyka Nelson, and half-siblings.
Also See: Michael Jackson Net Worth — What His Estate Looks Like Now
Prince Music and Record Sales
Prince's unique combination of R&B, rock, soul, funk, disco, jazz and pop helped launch his career as the pioneer of "the Minneapolis sound" and a legendary musician who collaborated with the likes of Stevie Nicks, Madonna, the queen of pop, and collaborator Sheila E., among others.
Throughout his decades-long career, Prince had five chart-topping songs and 14 singles in the Top 10, along with 30 Grammy nominations and seven Grammy Awards. He also took home the Oscar for Original Song Score with his 1984 semi-autobiographical musical drama "Purple Rain." The soundtrack sold more than 25 million copies.
See: 3 Songs That Made Adele Millions of Dollars
Some of the most recognizable and popular Prince songs topping the Billboard charts include "When Doves Cry," "Kiss," "Raspberry Beret," "Little Red Corvette" and "1999."
Songs Written by Prince
Although Prince was largely known for the music he performed, the late musician was also a talented songwriter. A few of the songs he wrote that became hits include:
Alicia Keys "How Come You Don't Call Me"
Chaka Khan "I Feel for You"
Morris Day and the Time "Jungle Love"
Sheena Easton "Sugar Walls"
Sheila E. "The Glamorous Life"
Sinead O'Connor "Nothing Compares 2 U"
Stevie Nicks "Stand Back" (co-written)
The Bangles "Manic Monday"
Tevin Campbell "Round and Round"
TLC "Get It Up"
Make Your Money Work Better for You
How to Listen to Prince Music
In the summer of 2015, Prince pulled his music from all streaming services except for Tidal, the Spotify rival co-owned by Jay Z, Beyoncé, Rihanna and other artists. A Tidal Premium subscription costs $9.99, or $19.99 for a HiFi subscription.
Without Tidal, fans will need to buy his music at retailers and online to listen — the late singer an opponent of Spotify and most other streaming services. Prince disliked Spotify so much, in fact, he tweeted a quote from The Daily Beast that claimed record labels owned 20 percent of the company's stock.
Find Out: Are You Blowing Money on Subscription Services Like Tidal and Spotify?
Best-Selling Prince Songs on iTunes, Amazon
Following Prince's death, forty five of Amazon's 50 best-selling songs belonged to The Artist Formerly Known as Prince. Topping Amazon's chart at No. 1 was Prince's "Purple Rain." "When Doves Cry" came in at No. 2 and "Raspberry Beret" at No. 5.
Songs from his album "Royal Badness" accounted for 17 of the top 20 best-selling songs on iTunes, with Prince's "When Doves Cry" appearing three times, "Let's Go Crazy" showing up twice and "Purple Rain" showing up twice, due to the songs appearing on multiple albums.
Prince Tours
Prince's touring strategy was a boon to music fans who enjoyed intimate club environments and big arena shows.
Make Your Money Work Better for You
In 2013, Prince played a handful of small-venue shows, taking multi-day residencies at venues like the Hard Rock Hotel in San Diego and The Showbox in Seattle. Tickets for these shows went for a few hundred dollars apiece.
In 2011, he played 21 nights at venues across Los Angeles including a dozen performances at The Forum, where tickets were as low as $25. Performances featured a multitude of guests including Stevie Wonder and Gwen Stefani.
Prince's final performances were at two sold-out shows at the Fox Theatre in Atlanta.
Prince's Legal Battle With Warner Bros.
Prince was a firm proponent of artists controlling how labels make and profit off their music. In August 2015, when speaking to a group of reporters from the National Association of Black Journalists, he compared the relationship between labels and artists as indentured servitude, saying:
"Record labels are just like — I'm gonna say the word — slavery. I would tell any young artist … don't sign."
Prince was famously involved in a legal battle with his former label, Warner Bros., over the artistic and financial control of his music. It was during this time that he changed his name to a symbol and was referred to as The Artist Formerly Known as Prince. His first record label, Paisley Park Records, was distributed and funded by Warner Bros., which cut ties with Paisley Park after the legal dispute.
Prince eventually went on to found NPG Records. He used the record label to distribute his music.
Prince Remembered Worldwide
Following Prince's death, fans and A-list celebrities around the world paid tribute. Videos of Prince's Super Bowl performance in 2007 and a Dave Chappelle skit on Prince went viral.
Make Your Money Work Better for You
Prince's ex-wife, Mayte Garcia, the inspiration behind the hit song "The Most Beautiful Girl in the World," said in a statement:
"This man was my everything, we had a family. I am beyond deeply saddened and devastated."
The couple had one child together, who tragically died one week after his birth. Boy Gregory was born to Mayte Garcia on Oct. 16, 1996, and passed away from complications of Pfeiffer syndrome, a rare birth defect.
Musicians, MTV Pay Tribute to Prince
Stevie Wonder played a rendition of Prince's "Purple Rain" on the piano in honor of the artist. In an interview with CNN, he said, "I'm just glad I was able to say to him 'I love you' the last time I saw him."
When Mariah Carey took the stage at Paris' AccorHotels Arena to perform for her Sweet Fantasy World Tour, she sang "One Sweet Day" in his honor. Justin Timberlake, Katy Perry and Madonna, among other musicians, commented on the late singer's death over social media.
MTV aired an impromptu marathon of Prince music videos. Slate reported Prince had most of his music videos removed from YouTube, so the marathon was a rare opportunity to see the musician's work.
Fans Remember Prince
Social media lit up with tributes, with some fans posting videos and photos from Prince's sold-out shows at the Fox Theatre in Atlanta. Boston's Zakim Bridge was lit purple on April 21 and Gov. Charlie Baker directed other landmarks be lit purple, as well.
Make Your Money Work Better for You
Even Barack Obama took to social media, calling the famed musician "a creative icon":
Autumn Rose contributed to this article.