Which Costs More, the Democratic or Republican National Convention?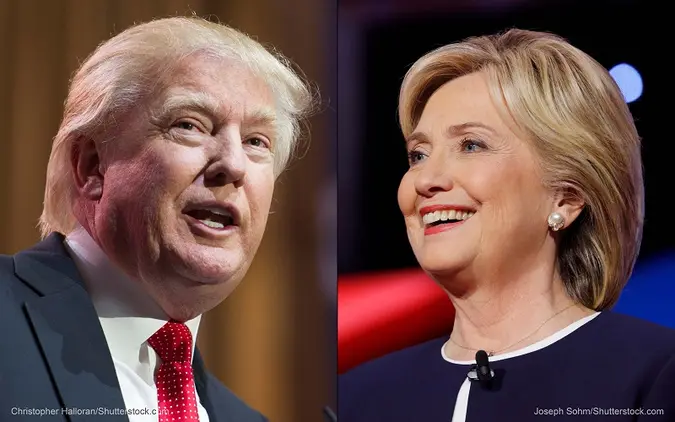 The Republican National Convention will take place July 18 to July 21 at the Quicken Loans Arena in Cleveland. There, the GOP is expected to nominate Republican frontrunner Donald Trump, who shocked the political world when he outlasted every Republican presidential candidate in a field that once contained 16 hopefuls. Nothing is certain, however, as scorned party insiders have repeatedly tried to stage a coup, which still could play out at the convention.
Following the RNC, the Democratic National Convention falls between July 25 and July 28 at the Wells Fargo Center and the Pennsylvania Convention Center in Philadelphia. There, Democrats are expected to nominate presumed Democratic presidential nominee Hillary Clinton.
The Price, Cost and Financing of the Conventions
Conventions are big business, and cities compete ferociously for the right to host them. This year's Republican convention is expected to cost Cleveland $60 million, and Philadelphia is expected to spend as much as $84 million. But in return for their investment, the cities are likely to receive massive economic windfalls that could be triple the amount they spend.
An estimate from DNC Chairwoman Debbie Wasserman Schultz said hosting national conventions can be a boon for cities: "Past conventions have injected approximately $150 million to $200 million directly into the host city's economy," she wrote in a note to city mayors.
The 2016 presidential conventions will be the first since 1976 not to be supported with public taxpayer funds, according to the Congressional Research Service. The 113th Congress passed a law eliminating the Presidential Election Campaign Fund (PECF) used for these conventions. The 114th Congress, however, passed one law allowing $100 million — $50 million for each convention — for security funding.
Previously, taxpayers had subsidized nominating conventions by choosing to contribute $3 of their federal tax obligation to the PECF, $6 for married couples filing jointly.
Make Your Money Work Better for You
After the 113th Congress eliminated the PECF, both the Republican National Committee and the Democratic National Committee petitioned the Federal Election Commission, which allowed them to establish separate political committees dedicated solely to convention fundraising. In 2014, the president signed into law a bill that tripled convention contribution limits for individuals to $100,200 and $97,200 for contributions from political action committees.
How Much Will the DNC and RNC Cost?
Aside from the $50 million promised to each convention for security, figures for spending on the 2016 conventions is not available. However, records for the RNC held in Tampa, Fla. in 2012 show the city alone spent nearly $677,000 on convention expenses, over half of which went toward overtime for city employees, reported Northeast Ohio Media Group. $260,010 went toward lost revenues for downtown parking.
In 2014, Cleveland City Council and Cuyahoga County Council voted to donate $2.5 million each to host the RNC. Cuyahoga County will also provide an estimated $2.5 million in law enforcement services, reported Cleveland.com. The estimated total cost for the RNC this year will be more than $60 million.
Also See: Here's Presidential Candidate Donald Trump's Plan for Your Wallet
In Philadelphia, spending on the DNC is ramping up. One April 2016 estimate from Philly.com put the total cost of the convention at $85 million, with $50 million going toward equipment, lighting and food. In 2015, the convention committee said they expect the DNC to bring in $350 million.
Hillary Clinton Net Worth vs. Donald Trump Net Worth
Hillary Clinton has a net worth of $45 million. For both herself and her husband, former President Bill Clinton, politics is a way of life. Combined, the two have a net worth of $125 million.
Make Your Money Work Better for You
Both made five- and six-figure salaries in their early years when Bill Clinton was a governor and Hillary Clinton was a lawyer, but the real money came from the duo's skill at parlaying their political fame into vast wealth, reported Fortune. Hillary Clinton received an $8 million advance for authoring a book and in 2013, she gave 36 speeches for a combined $8.5 million. In 2014, she earned another $4.6 million from her books.
Although he has repeatedly claimed to be worth at least $10 billion, Donald Trump's net worth is estimated to be $4.5 billion. He earned $60 million per year for his role on "Celebrity Apprentice" and he maintains a vast business and real estate empire, reported Celebrity Net Worth. His campaign reported sales for Trump's businesses jumped to $557 million.
Donald Trump Policies vs. Hillary Clinton Policies
Trump and Clinton are starkly different presidential candidates, and their policies reflect this difference.
Trump, for instance, is calling for a simplified tax code, plus tax relief for middle-class Americans and the discouragement of corporate inversions. The Clinton tax plan also calls for tax relief for middle-income Americans, but she also aims to close tax loopholes and provide tax relief for small businesses.
When it comes to Clinton on education, she seeks renewed investment in early childhood programs like Early Head Start and expanding preschool access. On education, Trump said in an ad he favors returning control over schools to local municipalities.
Among the biggest contrasts are the differences between Clinton and Trump's views on health care. Clinton vows to protect and expand the Affordable Care Act. Trump, on the other hand, has promised to repeal and replace it.

Make Your Money Work Better for You
Related: 9 Ways Hillary Clinton's Financial Plan Will Affect Your Wallet
The country's two major political parties both have scheduled summer conventions following one of the most unpredictable nominating seasons in a generation. There is still talk that both conventions might be contested, promising to make these expensive and sometimes chaotic affairs even more exciting than usual.
Net worth figures are indicative of assets versus liabilities. All net worth figures are according to CelebrityNetWorth.com unless otherwise noted.