A Look at Sen. Kamala Harris' Finances After Her First Democratic Presidential Debate
The rising political star's wealth is also growing.
Sen. Kamala Harris shared the debate stage with other 2020 democratic candidate hopefuls on June 27.
The California senator officially announced her candidacy for president on Martin Luther King Jr. Day.
Her personal financial disclosures do not include her multimillion-dollar Brentwood home.
California senator Kamala Harris — equipped with her slogan, "For the People" — took to the debate stage on June 27 for the second round of 2020 democratic presidential debates. In a highlight of the night, she shared a heated exchange with former Vice President Joe Biden about his past record of working with Democratic segregationist senators.
The Associated Press reported that Harris received the second-most debate time (12:01) after Biden (13:25).
Sen. Harris also shared the stage with Sen. Michael Bennet, D-Colo.; South Bend Mayor Pete Buttigieg; Sen. Kirsten Gillibrand, D-N.Y.; former Colorado Gov. John Hickenlooper; Sen. Bernie Sanders, D-Vt.; Rep. Eric Swalwell, D-Calif.; Marianne Wilson and Andrew Yang.
The Democratic 2020 primaries have been crowded since Harris officially announced her candidacy for president on Martin Luther King Jr. Day on Jan. 21. The former state attorney general ranks consistently high in popularity polls, although she currently has a 43% approval rate, according to Morning Consult, a research and data company. Should she be elected, Harris would be the first black woman president in U.S. history.
Sponsors of
But what sort of financial outlook does Sen. Harris have as she gears up for a presidential run? Here's a closer look at the net worth of Kamala Harris.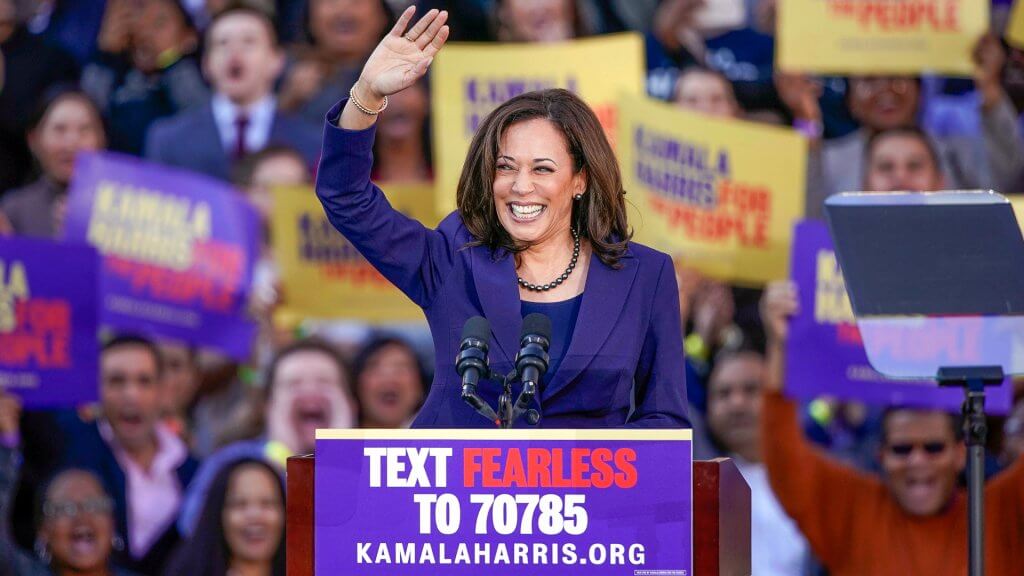 Kamala Harris Net Worth: $581,010-$1.8M
Kamala Harris' net worth falls between $581,010 and almost $2 million at its highest. She keeps a significant portion of that in cash, with a Wells Fargo savings account that has between $250,001 and $500,000 in it. However, the biggest chunk of her reported wealth would come in the form of her retirement plan through the city of San Francisco. Her City & County of San Francisco 457(b) Deferred Compensation Plan could be worth as much as $800,000. She also has between $115,002 and $300,000 in debt from a mortgage — 30 years with a 3.75% APR — and a home equity line of credit — 20 years at a 4.75% APR.
Focusing just on Harris' personal reported wealth does not paint a complete picture, however. The California senator's disclosure also includes assets held by her husband — Los Angeles attorney Douglas Emhoff — that could add up to as much as $3.5 million. Mostly in the form of mutual funds and other investments, Emhoff might have earned over $182,000 last year in interest and dividends alone.
Sponsors of
Related: The 5 Highest- and Lowest-Paying Jobs in Government
Kamala Harris' Pricey Properties Add to Net Worth
It's also worth noting what's not included in the disclosures, namely any properties for which Harris and her husband aren't earning rent. That would include the multimillion-dollar Brentwood, Calif., home where they live. Properties that are listed in the disclosure are two mortgages of at least $1 million held independently.
So although it's unclear how much Harris is really worth without a better understanding of her homes, it could be safe to assume that Harris and Emhoff have a combined net worth in the millions.
Read: Trump, Putin and the Richest World Leaders, Ranked
Kamala Harris' Rise in Politics
Kamala Harris was raised in Oakland, Calif., and attended Howard University for her undergraduate degree and then received her law degree from the University of California, Hastings. After leaving law school, she took on her first job in government at Alameda County District Attorney's Office.
Sponsors of
In 2003, Harris became the district attorney for the City and County of San Francisco, where she served two terms before becoming the first African-American woman to fill the role of California's attorney general.
After serving as the state's attorney general, she ran to fill the Senate seat vacated by the retirement of Barbara Boxer and won the election in 2016, defeating Rep. Loretta Sanchez to become the first Indian American and only the second African-American woman to serve in the Senate.
Keep reading to learn about Kamala Harris' stance on marijuana legalization.
More on Politicians
Sean Dennison contributed to the reporting for this article.
Financial figures are accurate as of Oct. 4, 2018.