How Much Is Sen. Lisa Murkowski Worth?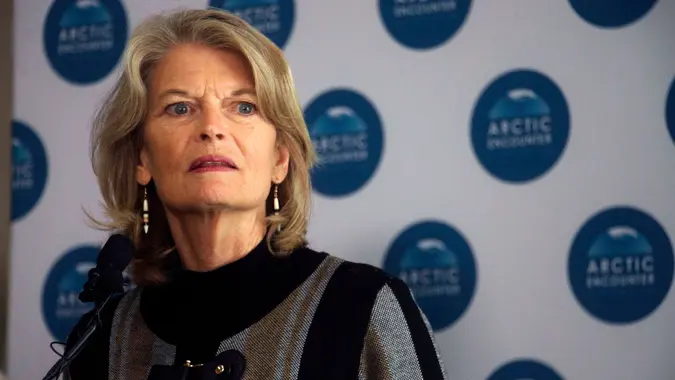 Mark Thiesssen/AP/Shutterstock / Mark Thiesssen/AP/Shutterstock
Republican Sen. Lisa Murkowski from Alaska is seeking re-election in 2022, hoping voters send her back to Washington again after 20 years in the Senate. It looks like she is in a good place to achieve her goal, having received 44.2 percent of the already-tabulated results of the Alaska special election and primary, which took place on Tuesday, Aug. 16, 2022.
See: How Rich Is Former President Donald Trump?
Find: How Much is Paul Manafort Worth?
In her current term, Murkowski has been part of a small group of Republican senators to cast themselves as centrists, willing to work with Democrats to advance bills that they've determined to be in the best interests of Americans. She also was one of seven Republicans who voted to convict then-President Donald J. Trump in his second impeachment trial in 2021, after the Jan. 6 insurgency at the U.S. Capitol. As a result, Trump threw his support in the Alaska senate primary toward Murkowski's challenger Kelly Tshibaka.
Murkowski, along with Republican Sarah Palin, the former governor of Alaska, and Democrat Mary Peltola, a former state lawmaker who is ahead of Palin during these early days of tallying the ballots, are the three women who appear to be in good spots for the November 2022 election.
Murkowski, a native of the Alaskan city of Ketchikan, is the first Alaska-born person to serve in the U.S. Senate, and she became the body's 32nd female member with her appointment in 2002. Before becoming a senator, she served three years in the Alaska state legislature. But, how have more than two decades of public service left her financial picture? Here's a close look at the net worth of Lisa Murkowski as a pivotal election in her career fast approaches.
Make Your Money Work Better for You
Lisa Murkowski's Net Worth: $1.2 Million to $2.9 Million
As a senator, Lisa Murkowski earns $174,000 a year as salary. But her net worth is made up of more than just her paycheck.
Murkowski's financial disclosure form for the 2021 calendar year revealed assets that totaled between $1,190,036 and $2,877,000 held by her and her husband, Verne Martell. Of the assets, $505,505 to $1,166,000 was held jointly and $3,003 to $45,000 was held by her husband. The remainder of the assets were solely in Murkowski's name.
The disclosure includes a variety of assets, but it mostly was limited to stock holdings in the form of exchange-traded funds and bank accounts. Murkowski does hold up to a half-million dollars in Wells Fargo stock that paid her dividends of $5,001 to $15,000 in 2021. While most of her accounts returned dividend or interest income, the Wells Fargo account was the biggest income producer.
Another income producer may come as a surprise to some. The Alaskan senator and her husband rent out the basement apartment of their Washington, D.C. residence, earning an income between $5,001 and $15,000 a year from a property valued between $500,001 and $1 million. They also maintain a 15-year mortgage with Wells Fargo with a balance between $15,001 and $50,000 and an interest rate of 3.75%. The mortgage loan was taken out in 2011.
For the Murkowskis, Politics Run in the Family
Murkowski's father, Frank Murkowski, was a fixture in Alaska politics prior to his daughter's successful career, serving as the state's senator from 1981 to 2002 and then as its governor from 2002 to 2006. Lisa Murkowski was born in May of 1957. She earned a bachelor's degree in economics from Georgetown University in 1980 and a law degree from Willamette University in 1985.
Make Your Money Work Better for You
See: How Much is Former GOP House Member Liz Cheney Worth?
Find: The Trump Children and 14 Other Heirs and Heiresses Getting Rich Off Family Money
After practicing law in Anchorage, she was elected to the Alaska State House of Representatives and served for three years. She was appointed to the U.S. Senate to fill the seat that her father left vacant when he entered office as the state's governor. She was elected to a full term in 2004 but failed to defeat tea party challenger Joe Miller in the 2010 Republican primary. Murkowski then staged the first successful write-in campaign for the U.S. Senate since noted segregationist Strom Thurmond won via write-in in 1954.
More From GOBankingRates
Jami Farkas & Michelle Tompkins contributed to the reporting for this article.
Make Your Money Work Better for You