Meghan Markle Net Worth: From Actress to Duchess of Sussex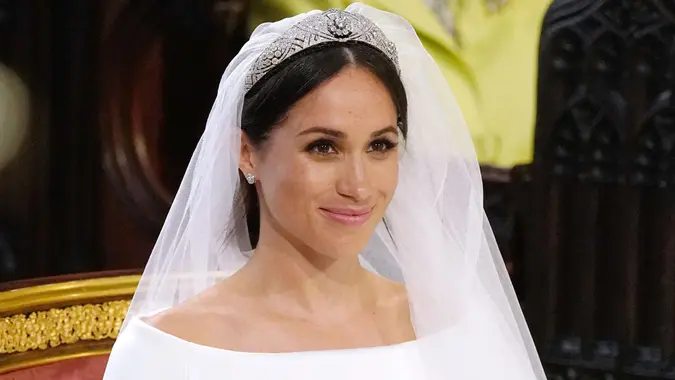 ©REX/Shutterstock
Many little girls dream about someday becoming a princess. The idea of royalty — and finding a Prince Charming — has been Hollywood fodder for as long as they've been making movies out of fairy tales. For Meghan Markle, the American-born Tinseltown native, that fantasy came true when she married Prince Harry on May 19, 2018. Although she's not your typical royal, she did have the typically expensive royal wedding.
On Oct. 15, 2018, the couple announced that Markle was pregnant with a royal baby. The news came as the couple arrived in Sydney at the start of a 16-day tour of the South Pacific and Australia, NBC news reported .
Click to read more about Meghan Markle and her net worth since joining the list of Americans who were made royal through marriage.
Meghan Markle Net Worth: $5M
Born on Aug. 4, 1981, in Los Angeles, Meghan Markle is the daughter of Thomas Markle, a former camera operator on TV shows like "Married With Children," and Doria Ragland, a yoga instructor and social worker. Markle had a fortunate upbringing thanks in part to her father winning the lottery to the tune of $750,000 when she was 9, which reportedly enabled her to attend prestigious private schools and graduate from Northwestern University in 2003.
Markle has an estimated net worth of $5 million, according to Celebrity Net Worth, largely due to her income from her acting career. Upon her marriage, she now has access to considerably more wealth — Prince Harry's net worth is an estimated $40 million.
Make Your Money Work Better for You
Meghan Markle's Acting Career
Unlike most royals, Prince Harry decided to choose a bride who had already made a name for herself in the world of showbiz. Markle's first acting gig in the U.S. was on the popular soap opera "General Hospital" in 2002, after which she landed roles on other hit shows such as "CSI," "Without a Trace" and "Fringe."
In addition to having her name attached to some box-office hits like "Horrible Bosses," "Get Him to the Greek" and "Remember Me," Markle is best-known for her role as Rachel Zane on the legal drama "Suits." Starring in the show since 2011, Markle confirmed she would not return to the show for its eighth season once her royal engagement was announced.
Keep Reading: These Are the Richest Princesses in the World
Meghan Markle's Personal Life
Markle has been an advocate for social change through speaking engagements, blogs and interviews. She also has been shaking things up at Buckingham Palace.
Prince Harry isn't Markle's first husband — she was married to film producer Trevor Engelson in 2011 but divorced him two years later. Despite being romantically linked since 2004, her marriage to Engleson deteriorated quickly and left him feeling like "a piece of something stuck to the bottom of [Markle's] shoe," according to a new book about Markle written by Princess Diana's former biographer Andrew Morton.
Markle also garnered attention for her commitment to women's empowerment and feminist issues — as noted in her official biography updated after her wedding to Prince Harry — as well as for the modern and American aspects of her wedding.
Make Your Money Work Better for You
Check Out: Meghan Markle's Due Date Approaches: How Much Does It Cost to Have a Baby in the UK vs. the US, Anyway?
Meghan Markle's Wedding
Prince Harry and Meghan Markle's wedding took place on May 19, 2018, at St. George's Chapel at Windsor Castle. The new Duchess of Sussex wore a dress designed by Givenchy's Clare Waight Keller and a tiara on loan from Queen Elizabeth II.
Markle and Prince Harry paid tribute to the late Princess Diana during the ceremony in several ways, such as incorporating one of her favorite flowers into the wedding bouquet. After the wedding, the Duchess was seen wearing Diana's aquamarine cocktail ring by Asprey on the way to the couple's reception. Markle's engagement ring includes two diamonds from Diana's collection, and the ring has been estimated by experts to be worth about $350,000, according to Time.
Related: Here's How the British Royal Family Spends Their Money
The Saturday wedding went against normal royal tradition — typically, royals marry on a weekday — but tradition-breaking is something the couple seems to be keen on. The couple's nuptials made history — Markle holds quite a number of firsts within the British royal family: first American, first actress and first biracial person to be bestowed a "Her Royal Highness" title, just to name a few.
The couple wasted no time beginning their royal duties together. Following their nuptials, flowers from the elaborate royal ceremony were donated to various charities and hospices. They did not immediately leave for their honeymoon but remained in London for Prince Charles' 70th birthday and other engagements.
Make Your Money Work Better for You
Click to keep reading about Prince Harry and Meghan Markle's royal wedding.
More on Net Worths
We make money easy. Get weekly email updates, including expert advice to help you Live Richer™.