See How Much Sen. Susan Collins Has Earned After Decades in the Senate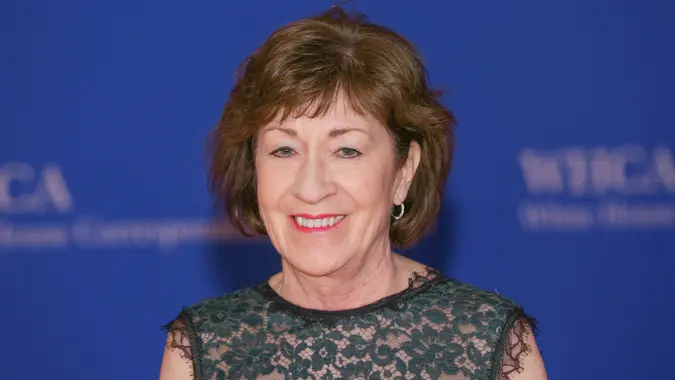 Brent N. Clarke/REX / Shutterstock.com
Sen. Susan Collins hasn't missed a vote in her entire political career, totalling more than 6,700 in a row.
The majority of her assets are held by her husband, Thomas A. Daffron.
Collins lost her 1994 bid for governor of Maine to Angus King, with whom she currently serves in the U.S. Senate.
With the potential for another contentious vote over the nomination of Brett Kavanaugh to the Supreme Court looming over the U.S. Senate, several senators whose votes should prove crucial to the future of the court have been in the spotlight of late, including Republican Sen. Susan Collins of Maine. As a moderate Republican, Collins has been viewed as a key potential swing vote who could make or break Kavanaugh's nomination. Collins is no newcomer, though, with over 20 years under her belt representing Maine in the Senate.
So how much wealth does she have after her long career in politics? Here's a closer look at Collins' net worth before she might be the one casting the key vote on Brett Kavanaugh.
Find Out: Why Candidates Are Spending a Record $4 Billion on the Midterms
Susan Collins Net Worth: -$119,994 to $450,000
On paper, Susan Collins herself might actually be in considerable debt, based on her financial disclosure for the 2017 calendar year. Collins reported personal assets between around $265,000 and $650,000 with another $115,000 to $300,000 held jointly by her and her husband, Thomas A. Daffron. Meanwhile, her mortgage with Wells Fargo — a 7/1 ARM at a 3.125% APR — valued between $250,001 and $500,000 is held in her name. That liability means her net worth could actually be negative, assuming the debt on her mortgage is on the high end of that range.
Make Your Money Work Better for You
That report would present an incomplete picture, however. Between Collins and her husband, they hold at least $2.1 million in assets and possibly as much as $5.9 million. That's because the vast majority of the couple's holdings are in Daffron's name. These consist of a variety of assets, including around 25 different municipal and corporate bonds, and — since Mr. Daffron apparently hasn't heard of the advantages of an ETF — more than 60 different corporate stocks that include Apple, Boeing and Google, among others.
Be a Better Investor: 8 ETF Investing Strategies to Boost Your Portfolio
All told, the combined income from coupon payments on those bonds and dividends from their stock holdings mean the couple earned between $65,000 and $212,500 in investment income in 2017 on top of the $174,000 Collins would have received as her salary for her Senate seat.
Collins' Career as the Longest-Serving Republican Woman Senator
Susan Collins is currently the 13th-most senior U.S. senator and the longest-serving Republican woman in the body. She hasn't missed a vote in her 21 years in office, exceeding 6,700 in a row.
Keep Reading: 5 Stocks Booming Thanks to the Midterm Elections
Born in Caribou, Maine, Collins was the president of her high school class and participated in the U.S. Senate Youth Program. After graduating magna cum laude from St. Lawrence University with a degree in government in 1975, she began working in the office of U.S. Rep. William Cohen, who would then move to the Senate in 1979. It was in Cohen's office that Collins would meet Daffron, her future husband.
Make Your Money Work Better for You
She left Cohen's office in 1987 to work in the cabinet of then-Governor John R. McKernan Jr. as the Commissioner of the Department of Professional and Financial Regulation. She ran for governor in 1994, losing to Angus King — who now serves alongside her in the Senate — only to run for her Senate seat in 1996 and win, holding the seat since then.
More on Net Worth and Politicians