Trump and Biden Campaigns Fundraise Ahead of Anticipated Legal Battles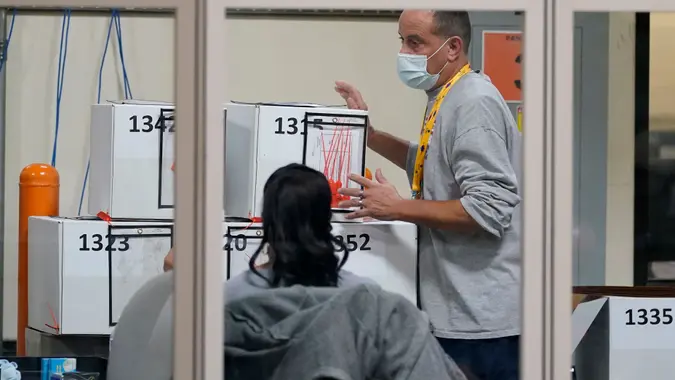 John Locher/AP/Shutterstock / John Locher/AP/Shutterstock
Americans who thought the presidential candidates' pleas for donations would end once the election did were sorely mistaken. On Wednesday, both the Trump and Biden campaigns hit up respective supporters with requests for financial support. They're not asking for money to advance in the race, to be clear (the race is indeed over), but to fund anticipated legal battles around a contested win. 
We already know that President Donald Trump, who could still technically win but has a much narrower path to victory than former Vice President Joe Biden, is bent on litigation. Trump's campaign has filed lawsuits in Georgia, Nevada, Wisconsin, Pennsylvania and Michigan, beginning the process of contesting election results in these swing states where Biden is pulling ahead or getting close to doing so. The lawsuits were filed after the "red mirage" dispelled and it became clear that Biden was actually building a sharp edge over the incumbent nominee.
Each state has its own approach to handling a contested election, but it's an expensive process across the board. Some states cover the costs of a recount, while others bill the contesting candidate, reimbursing them only if the recount results in a changed outcome. Even if a candidate's demands for a recount in various states are not accepted (this too depends on the state and what it requires to conduct a recount), there are steep legal fees involved to initiate the process.
The Trump campaign, which was likely to run out of cash by Election Day, has been aggressive in its asks for financial support, sending a blitz of messages that plead for money while Trump tweets demands to "STOP THE COUNT." The Biden campaign, warning against Trump trying to steal the election, has asked for money to fuel the new "Biden Fight Fund." Both parties are determined to prevent the other from "stealing" the election.
Make Your Money Work Better for You
However it plays out, it may have cost whoever wins an awful lot to become president.
More From GOBankingRates