Trump's Donor Money Just Plummeted by $101 Million — What Happens to Election Funds If They Go Negative?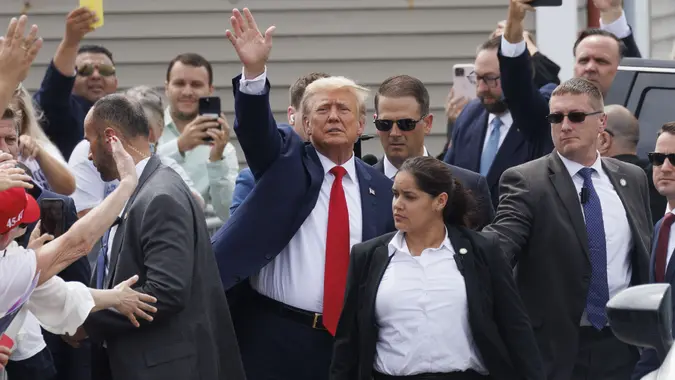 CJ GUNTHER / EPA-EFE / Shutterstock.com
As his legal peril intensifies, so do Donald Trump's legal fees. Most of these lawyer charges have been paid by draining funds from his political action committee (PAC), Save America, and shifting funds from Trump-supporting Super PACs.
Save America, the leadership PAC founded by former President Donald Trump, has less than $4 million cash on hand, after siphoning over $101 million to pay legal fees for Trump and his allies since the beginning of 2022, reports the New York Times. 
Mid-year tax filings for PACs provide awareness about presidential campaign funding and how those funds are being used. In Save America's case, money that could be going to necessary campaign needs or political work, is being spent overwhelmingly on the former president's and his associates' pending legal cases.
According to its mid-year Federal Election Commission (FEC) filing, the Save America PAC has spent approximately $25 million in the first half of 2023, $21.6 million of that went to legal fees. 
A PAC is a tax-exempt, 527 political organization created to raise and spend money to elect and defeat candidates. PACs have donation limits for individuals ($5,000 per year) and can't accept donations from corporate or labor union treasuries.
PACS differ from Super PACs, which can gather unlimited funds from people, corporations, unions and other PACs to finance campaign expenditures independently. They can help finance travel and events and often pay for advertising to support a candidate or cause (or to oppose another candidate) but can't coordinate directly with candidates or contribute money to political parties or campaigns.
Make Your Money Work Better for You
The pro-Trump super PAC, Make America Great Again Inc., has sent back $12.25 million of the $13.1 million it raised in 2023 to Save America. "The extraordinary shift of money from the super PAC to Mr. Trump's political committee, described in federal campaign filings as a refund, is believed to be larger than any other refund on record in the history of federal campaigns," claims The New York Times.
Although donors would want to know where their contributions are being spent, PACs can use their wealth in any legal way they see fit, including paying for the litigation costs of their candidate. And just like any other organization or entity, political action committees can have negative funds.
PACs are subject to financial ups and downs like businesses or individuals. A negative fund balance indicates that the PAC owes more money than it currently has on hand. This situation can arise for various reasons, such as overspending, insufficient fundraising, unexpected expenses, or financial mismanagement.
However, it's important to note that PACs, like all political organizations, are subject to financial regulations and reporting requirements. They are required to disclose their financial activities regularly to the appropriate regulatory agencies, such as the FEC. If not appropriately addressed, negative fund balances and financial issues can lead to regulatory scrutiny and potential penalties.
While the drop in fundraising by the Save America PAC might suggest that the small-dollar donor operation that has helped the former president and his allies could be running out of steam, experience tells us that Trump will continue to bet on his legal troubles supplying big donations from his supporters.
Make Your Money Work Better for You
More From GOBankingRates