Living Paycheck to Paycheck: The Reality of Some Six-Figure Earners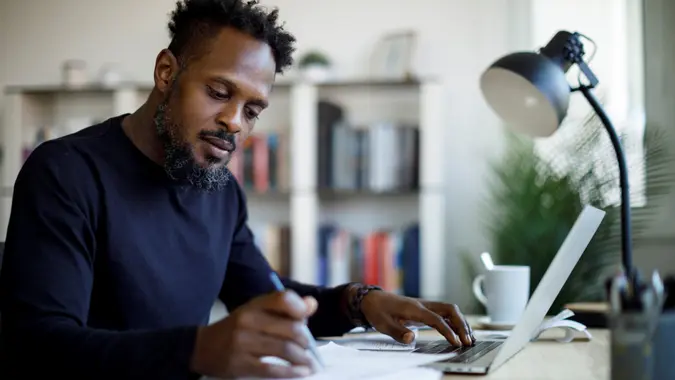 damircudic / Getty Images
With the high cost of living ever-increasing and the national average of incomes not being able to keep up, it doesn't come as a surprise that many people in the United States are having financial difficulties. You may expect this if you live in an expensive city, but some people earning a six-figure income are having trouble filling their savings accounts. Many are even living paycheck to paycheck. 
Act Poor To Live Richer: 5 Ways
It seems that as interest rates and bills have gotten more expensive, your wages tend to cover less. Even high earners with six-figure salaries are feeling the pressure of not being able to both pay off debt and the rent. Whether it's just your current state of affairs, or a method of madness to save more, acting poorer than you are now can enrich your life later.
In order to better prepare for your future, sometimes it helps to go without in your present. Here are five tips to help you live leaner now to fatten up your financial outlook later: 
Live beneath your means
Maximize your tax deductions
Take advantage of credit card points
Automate your bills as much as possible
Consistently add to your retirement savings
1. Live Beneath Your Means 
This may seem like a tall order when money is already tight but sometimes it helps to budget out your paycheck into percentages. This can help you save and also see where you can cut back on expenses. For example, the 50/30/20 budgeting rule is a great way to optimize your income. The three categories included in a 50/30/20 budget are broken down like this:
50% is allocated to needs such as mortgage, rent, utilities, credit card bills and food.
30% goes to wants or nonessentials such as dining out, shopping and travel.
20% is put into savings like emergency funds, deposit accounts or retirement plans. 
Make Your Money Work for You
2. Maximize Your Tax Deductions 
As you have to pay both federal and state income taxes, you might as well try to get the most back or at least take advantage of deductions available to you. Here are a few tricks to help you pay less or get more from your tax bill:
Take every credit available. If you aren't sure about credits, it might be worth having a tax professional look over your information since there may have been credits you missed or didn't know about.
Make sure to add to your retirement account. Since your 401(k) contributions are taken from your paycheck before taxes, they lower your taxable income before you file your tax return.
Fund a health savings account, also known as an HSA.
3. Take Advantage of Your Credit Card Points 
Though you always want to be cautious about overspending and don't want to add to unnecessary credit card debt, if you are responsible with your card, you can reap some rewards. One of the best ways to maximize your credit card points is to charge all of your expenses and then pay your bill early or on time so you don't get dinged for added interest.
You can take advantage of credit card rewards but put them toward other purchases. You might be able to get airline tickets with points or cash back on every dollar you spend. The more you charge, the more points you get. Just be sure to pay your bill quickly so it doesn't get out of hand.
Make Your Money Work for You
4. Automate Your Bills as Much as Possible 
When it comes to necessary expenditures, such as student loan repayment or even your electricity bill, sometimes out of sight, out of mind is the best motto. By putting your bills on auto-pay, the money is automatically taken from your account or paycheck.
Paying bills this way, you never think you have it to spend in the first place. Your bills are automatically taken care of, and you don't have to worry about spending money you don't have.
5. Consistently Add to Your Retirement Savings
There's an old chestnut piece of advice — saving now pays off later. This may seem tedious but it couldn't be more true. No matter if it is a 401(k) or some other type of retirement plan, storing away what you can now may mean going without in the short term, but serves you better in the long term.
Every penny you put towards your retirement is one less expense you have to worry about after you stop working. 
Make Your Money Work for You
Final Take To GO
Even if you are a high earner, whether it feels that way or not, it always makes good financial sense to not spend every dollar you earn. To stop living paycheck to paycheck, try to create and stick to a budget, pay down any existing debt and put any additional money you get outside of normal income towards a saving regime. 
FAQ
Here are answers to frequently asked questions about six-figure income earners living paycheck to paycheck.
Are 58% of Americans living paycheck to paycheck?

Yes, according to a CNBC survey conducted in partnership with Momentive, an estimated 58% of all Americans are living paycheck to paycheck. This means that even families earning above the national average are having trouble financially.

How do I stop living paycheck to paycheck?

A few good rules to follow to stop living paycheck to paycheck include the following:

Create and stick to a budget.
Pay down any existing debt.
Put any additional money you get outside of normal income -- like tax refunds or an inheritance -- towards a savings account or retirement plan.

What is living paycheck to paycheck like?

Living paycheck to paycheck, for low-income to higher earners alike, typically feels like you don't have enough money to put towards savings or nonessential expenses. This is more than a feeling, but is a state of being for over half of all Americans in this current economic state.
Our in-house research team and on-site financial experts work together to create content that's accurate, impartial, and up to date. We fact-check every single statistic, quote and fact using trusted primary resources to make sure the information we provide is correct. You can learn more about GOBankingRates' processes and standards in our editorial policy.