Looking for the Best Car for the Money in 2021? Go for a Toyota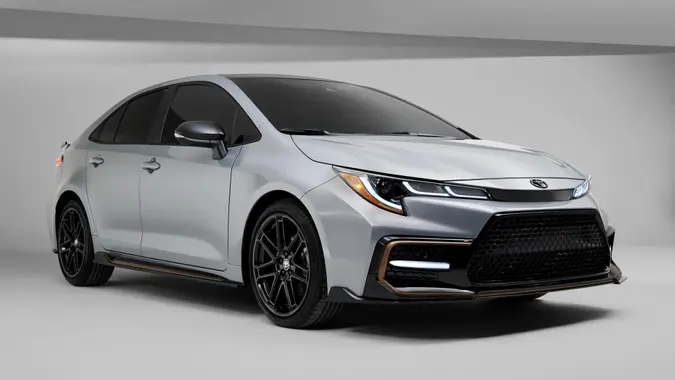 ©Toyota
When it comes to car shopping, the lowest-priced car isn't necessarily the best value — there's way more to that than the sticker price.
"With cars, the price tag doesn't even come close to telling you if a car is a good value or not," said Jamie Page Deaton, executive editor of U.S. News & World Report Best Cars. "You need to look at the total ownership costs — go online and see how much repairs, gas and insurance cost, and make sure that you're including those numbers in your car budget. There's also no way that a bad car can be a good value. If the car doesn't meet your needs or you don't enjoy owning it, it doesn't matter how little it costs: it's not a good value. So in addition to checking ownership costs, make sure the car has the space, features and performance you need. That will get you a car that's the best value for you."
Find Out: Auto Expenses You Can Expect If You Haven't Driven During Quarantine
Although your personal best car for the money may be different than someone else's, it's always useful to get some expert insights. U.S. News & World Report developed its list of the 2021 Best Cars for the Money based on the vehicle's overall quality — based on expert reviews, fuel economy, cargo space, and safety and reliability — and value — the five-year total ownership costs from Vincentric plus its current pricing.
Make Your Money Work for You
Based on these metrics, U.S. News & World Report picked six winners in the SUVs and minivans category and five in the car category — and four of those winners were Toyotas.
Watch Out: 17 Hidden Auto Costs Your Dealer Will Never Tell You About
"Toyota cars, trucks and SUVs tend to be very reliable, and that makes them less expensive to own than cars from competitors," Deaton said. "With a reliable car, you're not spending a lot of time and money on repairs. Toyota also has a large presence in the U.S. market, so they're easy to get parts for and easy to work on. This not only brings down your repair costs but can also help you save on car insurance, since your insurer will likely pay less for repairs than with other brands. Finally, Toyotas tend to be fairly fuel-efficient, so you save money at the gas station, which brings down your total ownership costs as well."
Here's a look at this year's winners.
Be Careful: Don't Get Suckered Into Paying For These 25 Useless Things at Car Dealerships
Best SUVs and Minivans for the Money
Best 2-Row SUV: 2021 Honda Passport
MSRP: Starting at $32,790
Best 3-Row SUV: 2021 Kia Sorento
MSPR: Starting at $29,390
Best Compact SUV: 2021 Honda CR-V
MSRP: Starting at $25,350
Get More: 25 Freebies To Ask For When Buying a New Car
Best Hybrid and Electric SUV: 2021 Toyota RAV4 Hybrid
MSRP: Starting at $28,650
Best Minivan: 2021 Honda Odyssey
MSPR: Starting at $31,790
Make Your Money Work for You
Best Subcompact SUV: 2021 Kia Soul
MSRP: Starting at $17,590
Read More: The 29 Biggest Car Mistakes That Will Cost You
Best Cars for the Money
Best Compact Car: 2021 Kia Forte
MSRP: Starting at $17,890
Best Hybrid and Electric Car: 2021 Toyota Corolla Hybrid
MSPR: Starting at $23,600
Best Large Car: 2021 Toyota Avalon
MSRP: Starting at $35,975
Best Midsize Car: 2021 Toyota Camry
MSRP: Starting at $24,970
Best Subcompact Car: 2021 Hyundai Accent
MSRP: Starting at $15,395
More From GOBankingRates
Last updated: April 1, 2021
Make Your Money Work for You