Best Arenas in Every State To Watch a Basketball Game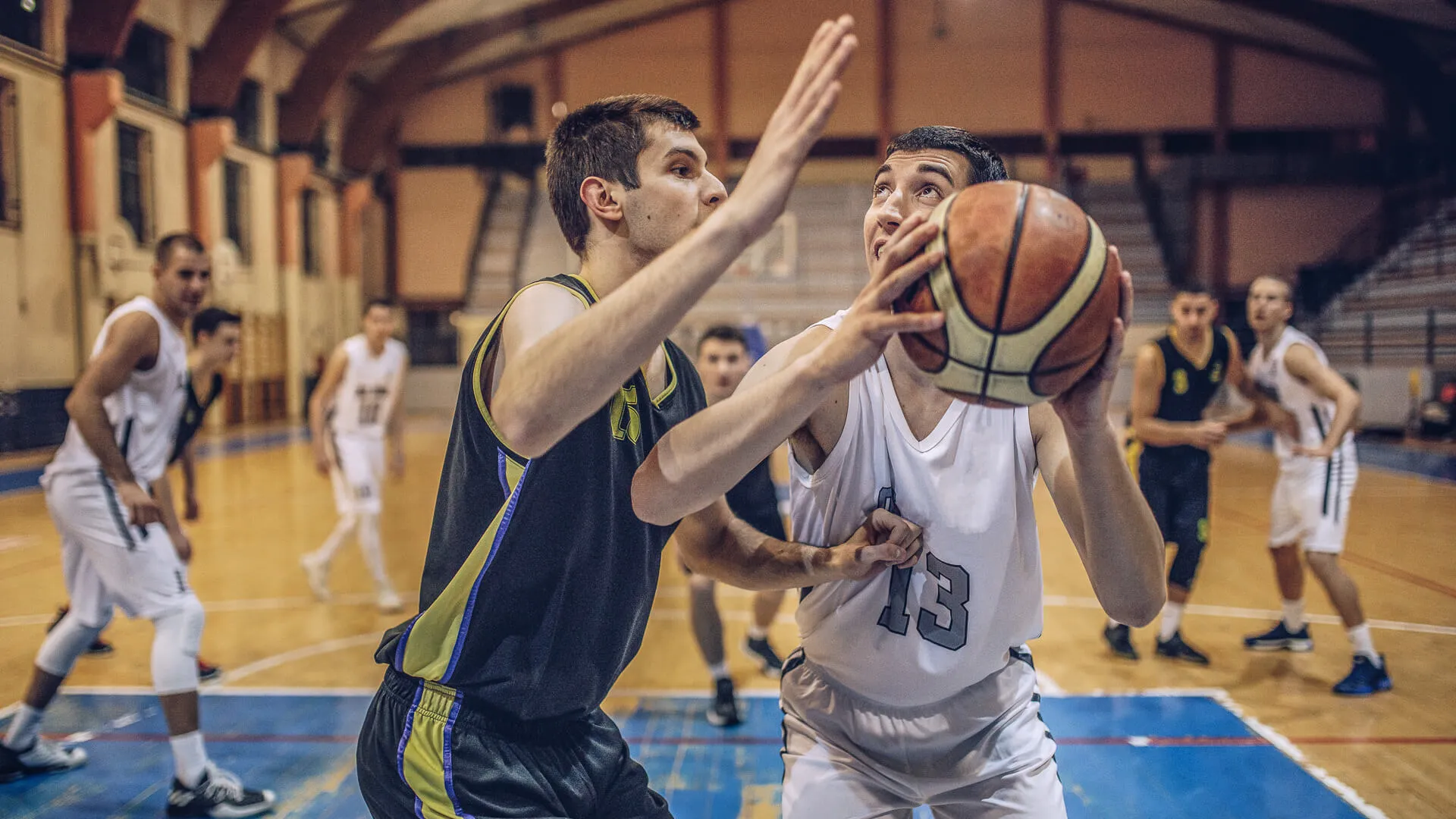 Basketball is, in many ways, one of the only true American sports. While baseball and football each originated with European games, basketball's creation myth puts its invention firmly on American shores. And when it comes to spectator sports, few sports are more fun to see in person. The right arena can create a raucous atmosphere but also a surprisingly intimate view of a game where the biggest stars are up-close-and-personal and not wearing any pads or helmets. However, that depends greatly on which basketball stadium you've procured tickets to. Whether you prefer catching your favorite NBA team or taking in the thrills of high stakes NCAA basketball, the right venue can make all the difference.
That's why GOBankingRates has conducted a study to identify the best basketball stadiums in each state. Spanning the college and professional ranks alike, the study took the six venues with the largest stadium capacity in each state and then used the average rating from reviewers on Google to determine which gets the most love from its home fans. The result is a closer look at the venues — college and pro alike — that represent the best place in each state to watch a basketball game.
Alabama: Auburn Arena
City: Auburn
Capacity: 9,121
League: NCAA
Google Rating: 4.8
It may have cost $86 million to build, but parking at Auburn Arena — home of the Auburn Tigers — won't cost a dime as it's completely free. And with the farthest seat still just 43 feet from the court and two-thirds of the arena less than 27 feet off the ground, odds are good that you'll be getting a decent seat wherever you end up.
Alaska: Alaska Airlines Center
City: Anchorage
Capacity: 5,000
League: NCAA
Google Rating: 4.4
While Alaska hardly has the reputation as a basketball hotspot, the Alaska Airlines Center is home to the University of Alaska Anchorage Seawolves and provides the best chance in the state to take in a game. And with free parking and $10 general admission tickets, there's all the more reason the local community should be able to catch the Seawolves even when their budget is a little tight.
Make Your Money Work for You
Arizona: McKale Arena
City: Tucson
Capacity: 14,655
League: NCAA
Google Rating: 4.7
For University of Arizona Wildcat fans, McKale Memorial Center isn't just about remembering late athletic director and coach J.F. "Pop" McKale. It's also about remembering all of the Arizona basketball histories that have taken place within those walls since the arena's opening in the 1972-73 season. The team won 71 straight games there from 1987-92 and played there during their national championship season of 1996-97. Just know that the average ticket cost of $69 — with the cheapest seats still going for $26 — could make it a little costlier to take all that history in.
Arkansas: Bud Walton Arena
City: Fayetteville
Capacity: 19,368
League: NCAA
Google Rating: 4.7
The stadium is named for Bud Walton who co-founded Walmart with his brother Sam. In 1990, the University of Arkansas team was still playing in the 9,000-seat Barnhill Arena, but Walton offered to pony up the $30 million to build the new stadium that has been the Razorbacks' home since November 1993. But its first season remains the best for Arkansas fans — they won the national title in their first season playing at Bud Walton Arena. Something you can learn about if you visit the deluxe museum on the ground level that includes the history of both the men's and women's basketball programs at the University of Arkansas.
Make Your Money Work for You
California: Staples Center
City: Los Angeles
Capacity: 19,079
League: NBA/WNBA
Google Rating: 4.7
It might not be quite right to refer to Staples Center as a "basketball arena" given that it's also home to the Los Angeles Kings and is a popular concert venue throughout the year. However, it does host three different professional basketball teams — the Lakers, Clippers and Sparks — and ranked the highest in Google reviews, so here it is. The arena is still just 19 years old, but the surrounding area has undergone a thorough rebuild to create L.A. LIVE, an entertainment and sports district carved out of downtown Los Angeles.
Colorado: Pepsi Center
City: Denver
Capacity: 19,099
League: NBA
Google Rating: 4.6
The Pepsi Center is home to both the NBA's Denver Nuggets and the NHL's Colorado Avalanche, though with a little over 1,000 fewer seats at the hockey games. The $180 million stadium has a top-tier sound system to go with its 35-ton Daktronics scoreboard hanging over the court. While anyone can use the free Wi-Fi, the best amenities are reserved for those in the pricier seats, like VIP parking, gourmet caters and the exclusive Club Level. Too bad the average ticket runs you over $50 and parking will cost $15.
Connecticut: Mohegan Sun Arena
City: Uncasville
Capacity: 8,000
League: WNBA
Google Rating: 4.6
The WNBA's Connecticut Sun play their home games at the 8,000-seat Mohegan Sun Arena. Fans can enjoy the pretty reasonable $10 rate for parking as well as catering and concessions provided by SAVOR… at Mohegan Sun Arena. While the stadium dates its origins to the minor league Wilkes-Barre/Scranton Penguins in 1999, it's also been a major concert destination with shows there by Simon and Garfunkel, Elton John and Janet Jackson.
Delaware: 76ers Fieldhouse
City: Wilmington
Capacity: 2,500
League: NBA (G-League)
Google Rating: 4.5
Delaware's best basketball venue is home to games for the NBA's lesser-known G-League, a training ground for players looking to develop their skills. In this case, it's the Philadelphia 76ers' affiliate that's been renamed the Delaware Blue Coats. The 76ers Fieldhouse has a seating capacity that's about half of the Bob Carpenter Center where the team had been playing its home games prior to moving to the East Coast.
Make Your Money Work for You
Florida: American Airlines Arena
City: Miami
Capacity: 19,600
League: NBA
Google Rating: 4.7
Designed by architecture firms Arquitectonica and 360 Architecture, the $213 million American Airlines Arena, home of the Miami Heat, is known as AAA or A-cubed to the locals. The massive $5 million scoreboard that hangs over the center of the court is nicknamed "Medusa," and in addition to the main venue is the Waterfront Theater that can seat up to 5,800 fans for concert and theater events. But, with an average ticket cost of nearly $73 and the $13 price tag for a beer, one place you might feel the "heat" is in your wallet.
Georgia: McCamish Pavilion
City: Atlanta
Capacity: 8,600
League: NCAA
Google Rating: 4.7
Named for insurance executive Hank McCamish, whose family provided the largest chunk of the building's $50 million price tag, McCamish Pavilion has been in use since September 2012. In fact, the dome and its 32 steel ribs are a holdover from the Alexander Memorial Coliseum that it replaced. And while $15 for parking is a bit steep, Georgia Tech fans will want to see the courtyard outside the West entrance dedicated to legendary football coach William Alexander, and nonsports fans can still enjoy the building that the American Institute for Architects of Atlanta noted for its positive impact on the city's landscape.
Hawaii: Stan Sheriff Center
City: Honolulu
Capacity: 10,300
League: NCAA
Google Rating: 4.5
The Stan Sheriff Center has been hosting University of Hawaii basketball home games since it opened in 1994, a period that included a home winning streak of 24 games from 2001 to 2003. The two concourse levels have a combined 187,000 square feet of space, and the new scoreboard installed in 2011 is a $2 million LED device that includes four HD-quality video boards for replays and other game action.
Idaho: Holt Arena
City: Pocatello
Capacity: 8,000
League: NCAA
Google Rating: 4.6
The classic field-house design of Holt Arena speaks to the era when it opened in September 1970. The price tag of just $2.8 million then seems like a solid investment given that it's still in use nearly 50 years later. The current basketball floor where Idaho State University plays was provided by the Idaho Central Credit Union in 2010, but the stadium hosts a lot more than just hoops. It's also a track facility that's seen a number of world records set there.
Make Your Money Work for You
Illinois: United Center
City: Chicago
Capacity: 20,917
League: NBA
Google Rating: 4.6
United Center doesn't just play home to the city's beloved Bulls and Blackhawks, it's also working to cultivate a real Chicago experience for anyone visiting the stadium. And nowhere is that more apparent than with the wide array of food options. There are 26 different restaurants within the stadium, including Chicago's Plate and Chicago Pours, to bring some of the Windy City's distinct flavor into the stadium.
Indiana: Simon Skjodt Assembly Hall
City: Bloomington
Capacity: 17,222
League: NCAA
Google Rating: 4.8
Few states are as mad for basketball as Indiana, and the Hoosiers of Indiana University are among the state's most beloved teams. The Simon Skjodt Assembly Hall originally opened in 1971 under the name Assembly Hall, adding the Simon Skjodt in 2016 after Cindy Simon Skjodt made a gift to provide a round of renovations to this cathedral to college basketball.
Iowa: Carver-Hawkeye Arena
City: Iowa City
Capacity: 15,000
League: NCAA
Google Rating: 4.7
Fans of University of Iowa Hawkeye basketball are most likely still enjoying the fruits of a major renovation in 2011 that helped bring Carver-Hawkeye Arena — originally opened in January 1983 — into the 21st century. The updates and changes were mostly focused on the addition of athletic facilities, but it also included improved services for the general public in terms of improved concessions offerings, better restrooms and hospitality and meeting spaces for Iowa fans.
Kansas: Allen Fieldhouse
City: Lawrence
Capacity: 16,300
League: NCAA
Google Rating: 4.9
Kansas has no shortage of Rock Chalk Jayhawk fans who spend much of the year looking forward to the chance to see their beloved team play at the Allen Fieldhouse. Named for Dr. F.C. "Phog" Allen, who coached at the University of Kansas for nearly 40 years, the arena was originally dedicated in the spring of 1955 and has seen 14-straight Big 12 Championships and just 13 home losses in the last 15 years. Reserving some 4,000 seats for students, Allen has gained a reputation as one of the truly incredible college basketball atmospheres in the country. As such, it might not be surprising that it tied for the highest average score in its Google Reviews.
Make Your Money Work for You
Kentucky: KFC Yum! Center
City: Louisville
Capacity: 22,090
League: NCAA
Google Rating: 4.5
One does have to wonder the degree to which Google users were factoring the facility's name into their reviews based on this result. However, the KFC YUM! Center is the top location in the state and the spot where many Kentuckians enjoy taking in a University of Louisville Cardinals game when they get the chance. Of course, for University of Kentucky fans, the idea that the storied Rupp Arena has lost out to a stadium with an exclamation mark in its name is going to ruffle some feathers, but the people have spoken.
Louisiana: Smoothie King Center
City: New Orleans
Capacity: 18,000
League: NBA
Google Rating: 4.6
Speaking of awkward names, both "Smoothie King Center" and "the Pelicans" aren't exactly the most elegant. However, if you don't get caught up on the aesthetics of what you call it, the Smoothie King Center has a lot to offer New Orleans Pelicans fans — particularly in terms of prices. At $35.61, it comes in third for the lowest-average ticket price at an NBA stadium appearing in this study.
Maine: Portland Exposition Building
City: Portland
Capacity: 3,000
League: NBA (G-League)
Google Rating: 4.3
That's right, the other Portland. Or, as they would probably rather you put it, the original Portland. Another G-League arena, the Portland Exposition Building is home to the Maine Red Claws, an affiliate of the nearby Boston Celtics. And not only is parking free but if you're not a fan of the Maine Red Claws, you could even just play your own pick-up game there if you're relatively well off. The Exhibit Rate for a full day of renting the building is just over $3,000.
Make Your Money Work for You
Maryland: Alumni Hall
City: Annapolis
Capacity: 5,710
League: NCAA
Google Rating: 4.7
While the popularity of United States Naval Academy basketball likely pales in comparison to the Big Ten's Maryland Terrapins, the reviews on Google indicate that fans still prefer the under-6,000-seat arena that houses the Midshipmen cagers. The $30 million facility includes parking for just $5, but you can also park at Navy-Marine Corps Memorial Stadium and take the shuttle bus to and from events.
Massachusetts: TD Garden
City: Boston
Capacity: 19,600
League: NBA
Google Rating: 4.6
The "garden" that TD Garden replaced in the 1990s is the legendary Boston Garden that was originally built in 1928, but now it's home to both the Bruins and the Celtics. However, your visit to see a game isn't likely going to be cheap. The average ticket price is over $100, and the $12.50 price for a beer is tied for the second-highest in this study.
Michigan: Crisler Center
City: Ann Arbor
Capacity: 12,707
League: NCAA
Google Rating: 4.8
Michigan is another state where this question is bound to raise controversy. If you tell a Michigan State fan that the best place to watch a basketball game in the state is Crisler Center, your next move should be to duck. However, Google reviews do give Crisler — home to University of Michigan basketball since 1967 — a strong 4.8 rating. With parking running as high as $20, it's among the pricier to drive to.
Minnesota: Target Center
City: Minneapolis
Capacity: 18,500
League: NBA/WNBA
Google Rating: 4.4
The home to the Timberwolves and Lynx wins out as the top stadium in the land of 10,000 lakes. And with an average ticket price of just $43.58 and $10 beers, it's among the more affordable NBA stadiums featured in this study. Located in downtown Minneapolis, you can find 12,000 parking spaces within a five-block radius — expect to pay about $10. The stadium is also adjacent to Target Field, home to baseball's Minnesota Twins.
Make Your Money Work for You
Mississippi: The Pavilion at Ole Miss
City: Oxford
Capacity: 9,500
League: NCAA
Google Rating: 4.6
The Pavilion at Ole Miss — where the University of Mississippi plays — is one of the newest stadiums in this study, with the doors of this $96.5 million arena opening to the public in January 2016. A two-story garage with 800 parking spaces offers free parking to anyone attending a game, and you can also visit the C Spire Speedzone — an interactive lounge with high-speed Wi-Fi and social media displays.
Missouri: Mizzou Arena
City: Columbia
Capacity: 15,061
League: NCAA
Google Rating: 4.6
Mizzou Arena has just over 15,000 seats with 60% located in the lower bowl. Fans of the University of Missouri Tigers basketball team can stop into the Hall of Fame lobby area that includes the MU Athletic Hall of Fame. And in addition to a hospitality room, novelty sales and concessions, you can park at the arena for free.
Montana: Worthington Arena at Brick Breeden Fieldhouse
City: Bozeman
Capacity: 10,000
League: NCAA
Google Rating: 4.5
Worthington Arena can hold some 10,000 cheering fans of Montana State University's basketball team, but the larger Brick Breeden Fieldhouse complex houses a lot more. It's also the location of the Bill Ogle Hall of Fame Room, the Academic Success Center, the D'Agostino Strength Training Center and the All-American Cafe. When it was first constructed in 1956, it was the largest domed structure in the Western Hemisphere without central support.
Nebraska: Pinnacle Bank Arena
City: Lincoln
Capacity: 15,500
League: NCAA
Google Rating: 4.6
This is one arena that represents the, ahem, pinnacle of basketball venues in the Cornhusker State — at least according to Google users. The $179 million arena is actually the central piece of a much larger $344 million redevelopment project for the West Haymarket area. In addition to hosting University of Nebraska games, the arena is home to a wide variety of entertainment events.
Make Your Money Work for You
Nevada: Thomas & Mack Center
City: Paradise
Capacity: 17,923
League: NCAA
Google Rating: 4.5
The Thomas & Mack Center has a lot to compete with locally in terms of entertainment as UNLV basketball home games are taking place in Las Vegas. However, with just $7 needed for parking, you might be tempted to skip another evening at the casino or forgo a pricey stage show in favor of plopping down a modest bet at the sportsbook and then taking in a game.
New Hampshire: Lundholm Gym
City: Durham
Capacity: 3,000
League: NCAA
Google Rating: 4.5
The University of New Hampshire's field house Lundholm Gym was dedicated to 1921 graduate and former athletic director Carl Lundholm and has been the home to Wildcat basketball for decades. With a major restoration in 2001 and new bleachers as of 2007, it's the top-rated basketball venue in the Granite State. And in this case, New Hampshire's state motto of "live free or die" could also apply to their parking, which will cost you nothing.
New Jersey: L. Stockwell Jadwin Gymnasium
City: Princeton
Capacity: 6,854
League: NCAA
Google Rating: 4.7
The L. Stockwell Jadwin Gymnasium has been used for Princeton Tigers basketball games since its formal dedication in 1929, but the current facility is likely to feel a lot newer than that. That's because it underwent a major renovation prior to the current season that included the installation of chair backs and a center-hung Daktronics video display. And for those ivy leaguers who think basketball itself is just a little too gauche, worry not: the facility also includes 10 international-sized squash courts and one of the largest fencing rooms in the world.
New Mexico: Dreamstyle Arena
City: Albuquerque
Capacity: 15,411
League: NCAA
Google Rating: 4.5
Dreamstyle Arena — affectionately known as "The Pit" by Lobos fans — is the home venue for the University of New Mexico cagers. The arena's nickname derives from the fact that it was built in a 37-foot hole in Albuquerque's southeast mesa. The facility features upgraded concessions, the Lobo Den Store for UNM-branded merchandise and $10 parking.
Make Your Money Work for You
New York: Madison Square Garden
City: New York City
Capacity: 19,812
League: NBA
Google Rating: 4.7
There isn't a lot to be said about Madison Square Garden, home of the New York Knicks, that hasn't already been observed repeatedly over the venue's storied past. But, that actually depends on which venue you're referring to as there have been four different "Gardens." The first was actually a museum of oddities opened by P.T. Barnum in 1874 at a cost of $35,000. Garden II replaced the building in 1890 and hosted the 1924 Democratic Convention. Garden III — also known as the "Old Garden" — opened with a six-day bicycle race in 1925 and hosted the New York Rangers for some 42 seasons. The fourth and final Garden was built over Penn Station and opened in 1968.
North Carolina: Dean Smith Center
City: Chapel Hill
Capacity: 21,750
League: NCAA
Google Rating: 4.8
Once again, this is a case where a lot of Duke fans are going to be really unhappy with what the Google reviews have to say, but the Dean Smith Center edges out Cameron Indoor Stadium by 0.1 in the final tally. University of North Carolina Tar Heels fans are likely pretty happy to see some recognition for the college basketball arena with the fourth-highest capacity in the NCAA, home to their beloved team since 1986. It has since ranked among the top five for attendance every season it's been open save for one.
North Dakota: Scheels Center
City: Fargo
Capacity: 5,700
League: NCAA
Google Rating: 4.9
While you might be forgiven for having not heard of Scheels Center — home to the basketball teams of the North Dakota State University Bison — maybe you should have. With an average review of 4.9 on Google, it's tied with Kansas' Allen Fieldhouse for the top-rated basketball venue in this study. The arena is part of the $50 million Sanford Health Athletic Complex and — combined with the Nodak Insurance Basketball Performance Center — has 12 different hoops available to train on.
Make Your Money Work for You
Ohio: Fifth Third Arena
City: Cincinnati
Capacity: 12,012
League: NCAA
Google Rating: 4.7
The University of Cincinnati Bearcats play home games at Fifth Third Arena, which seats just over 12,000 fans. Located just north of the intersection of I-75 and I-71 in the southern Ohio city, you can catch the Bearcats there every fall/winter, but it'll cost you $10 to park. And new amenities there include two 360-degree concourses, lower level bowl with new padded chairback seating and cupholders, 542 new club seats with access to the Champions Club and 16 luxury suites.
Oklahoma: Gallagher-Iba Arena
City: Stillwater
Capacity: 13,611
League: NCAA
Google Rating: 4.8
While the Oklahoma City Thunder represents the state's only team in the four major professional sports, it's the home o the Oklahoma State Cowboys that takes the top spot. Gallagher-Iba Arena was built in 1938 but underwent a major renovation in 2001 and has seen the team compile a 328-47 record in the building. The arena has some 14 luxury suites on its west side that provide views of Eddie Sutton Court and Boone Pickens Stadium, and you can see exhibits glorifying Cowboy athletic achievements at Heritage Hall, the in-house museum.
Oregon: Gill Coliseum
City: Corvallis
Capacity: 9,604
League: NCAA
Google Rating: 4.7
Located in Corvallis, the home to Oregon State Beavers basketball is the 9,604-seat Gill Coliseum. The venue's undergone some major improvements heading into the current season, including installing a center-hung video board with two 14.5-by-26-foot screens facing the sidelines and 9.5-by-16.5-foot screen facing the ends. So, while there have been over 3,000 Beaver wins at Gill since its opening in 1949, the experience today is likely going to be a new one.
Pennsylvania: The Palestra
City: Philadelphia
Capacity: 8,700
League: NCAA
Google Rating: 4.7
Opening in 1927, the Palestra is the oldest major college arena that's still in use today and has hosted more NCAA tournaments than any other venue in the country. Located just five minutes from Philadelphia's city center, it's home to the University of Pennsylvania men's and women's basketball teams and is often cited by college basketball pundits as one of the best places to catch a game in the country. And while there are only 8,700 seats, the arena's age means that none of them are in pricey luxury boxes.
Make Your Money Work for You
Rhode Island: The Thomas M. Ryan Center
City: Kingston
Capacity: 8,000
League: NCAA
Google Rating: 4.6
Located in South Country, home games for the University of Rhode Island's basketball programs are hosted at the Ryan Center with 8,000 seats in its three tiers. Seven luxury suites overlook the Meade Stadium football field and the Alex and Ani basketball court, and anyone willing to shell out the cash for one can expect the full VIP treatment. With an audience of over 1.4 million people within 40 miles of the venue, it originally opened its doors in 2002 and offers free parking to anyone making the drive.
South Carolina: Jerry Richardson Indoor Stadium
City: Spartanburg
Capacity: 3,300
League: NCAA
Google Rating: 4.8
The prosaic front entrance to Jerry Richardson Indoor Stadium is an elegant feature that might have played a role in helping this cozy, 3,300-seat stadium win over the hearts of reviewers on Google. The home to NCAA tournament regulars Wofford College, the arena is a relatively new one having opened its doors in September 2017. It's named for Jerry Richardson, former owner of the Carolina Panthers, who is a Wofford alumnus and provided the financial gift that paid to build it.
South Dakota: Sanford Coyote Sports Center
City: Vermillion
Capacity: 6,000
League: NCAA
Google Rating: 4.8
The Sanford Coyote Sports Center opened before the start of the 2016-17 season and hosts volleyball games in addition to men's and women's basketball. It's actually located inside the University of South Dakota's science, health and research lab, placing it right next to the college's kinesiology and sports medicine facilities. All this with free parking to boot.
Tennessee: FedEx Forum
City: Memphis
Capacity: 18,119
League: NBA/NCAA
Google Rating: 4.6
Memphis' FedEx forum is the $250 million facility that plays host to both the NBA's Memphis Grizzlies and the NCAA's Memphis Tigers, making it one of just two stadiums that plays host to both amateur and professional basketball competitions. Another unique aspect is likely to win over more fans, though: its prices. At just $34.27, it has the lowest average ticket price among the NBA venues covered here, and the $8.50 for a beer or $5 for a soft drink represent the lowest beverage prices on this list.
Make Your Money Work for You
Texas: Ferrell Center
City: Waco
Capacity: 10,284
League: NCAA
Google Rating: 4.8
There's plenty of basketball to be had in the Lone Star State, from the Dallas Mavericks, Houston Rockets and San Antonio Spurs of the NBA to the University of Texas Longhorns and Texas Tech Red Raiders in the NCAA. As such, coming in as the top-ranked basketball venue in the state is a major win for Baylor University's Ferrel Center. Originally opening in 1988, the stadium most recently underwent renovations with the installation of a new hardwood floor prior to the 2014-15 season.
Utah: Marriott Center
City: Provo
Capacity: 19,000
League: NCAA
Google Rating: 4.7
It's more than just the name Marriott that will make you want to stay at this 19,000-seat arena. Home to the Brigham Young University basketball programs, it represents the third-largest on-campus arena in the country behind Syracuse's Carrier Dome and Tennessee's Thompson-Boling Arena — neither of which make this list.
Vermont: Patrick Gymnasium
City: Burlington
Capacity: 3,266
League: NCAA
Google Rating: 4.4
Home to the University of Vermont Catamounts, this cozy stadium has been in use since the early 1960s. Named for the longtime benefactor of the university Roy L. Patrick, it got new bleachers in the early 1980s and a new floor in 1990. Meanwhile, it's played home to luminaries like Bruce Springsteen, Sugar Ray Leonard, Bob Dylan and even former President Barack Obama.
Virginia: Cassell Coliseum
City: Blacksburg
Capacity: 10,052
League: NCAA
Google Rating: 4.7
Virginia Tech's sprawling 229,297-square-foot basketball facility frequently draws capacity crowds to see Hokies basketball. With a roof supported by laminated wood arches, it was built in 1964 at a cost of $2.7 million. Among the stadium's perks is its free parking, and it has also been used for everything from commencement exercises to concerts.
Washington: McCarthey Athletic Center
City: Spokane
Capacity: 6,000
League: NCAA
Google Rating: 4.7
Gonzaga University has long had a reputation as an NCAA basketball powerhouse, and during the regular season, home games take place at the McCarthey Athletic Center. Completed in 2004, the arena is named for the McCarthey brothers Phil and Tom who pledged their support for a new venue during an Elite Eight run by the Zags. Anyone wanting to take in a game will be happy with the free parking.
West Virginia: WVU Coliseum
City: Morgantown
Capacity: 14,000
League: NCAA
Google Rating: 4.7
The University of West Virginia plays its home games at the WVU Coliseum, the top-rated basketball venue in the state. Opening in 1970, it received an award as the outstanding concrete structure of the year in 1971 from the Pittsburgh chapter of the American Concrete Institute. In 2004, the arena completed renovations that included a club seating area with private space for concessions, and a state-of-the-art video scoreboard was added in 2008.
Wisconsin: Fiserv Forum
City: Milwaukee
Capacity: 17,341
League: NBA/NCAA
Google Rating: 4.7
The only other stadium in this study that plays host to both an NBA team and the men's and women's teams of an NCAA program is Fiserv Forum in Milwaukee. The Milwaukee Bucks play there in addition to the Marquette Golden Eagles, making for a busy schedule each winter. Unfortunately for Bucks fans, though, a game can be expensive to take in, with the average ticket price topping $60 and $15 for parking.
Wyoming: Arena Auditorium
City: Laramie
Capacity: 11,612
League: NCAA
Google Rating: 4.7
There's a certain lack of originality in calling your basketball stadium Arena-Auditorium, but that clearly doesn't bother the reviewers on Google. Likewise, it doesn't seem to stop fans of the University of Wyoming Cowboys and Cowgirls from enjoying their time visiting the "Dome of Doom." Open since 1982, the stadium's capacity clears 10,000 and features free parking.
How To Watch Basketball Games for Cheap
While the basketball game you go to will likely be that of your favorite team, you can save money here and there if you try. If there is free parking, take advantage. And if there isn't, consider getting to the arena in another, more affordable way.
If you want to partake in concessions and other treats, know that it'll cost you quite a bit anywhere you g, so choose wisely.
Keep reading to find out the dumb reasons these athletes had to pay $1.67 million in fines.
More on Entertainment
Methodology: GOBankingRates analyzed American basketball stadiums in all 50 states to find the best basketball stadium to watch a game in each state. GOBankingRates ranked the stadiums for each state by finding the Google rating for each state's stadiums in terms of capacity with a limit of 6. GOBankingRates only ranked NBA and NCAA Division 1 stadiums. Supplemental information included 1) average ticket price sourced from the 2018-2019 NBA Fan Cost Index from Team Marketing Report and each team's website for the NCAA (where available); 2) capacity for each stadium sourced from each stadium's website; 3) cost of parking sourced from stadium websites; and 4) concessions sourced from the 2018-2019 NBA Fan Cost Index from Team Marketing Report. All data uses 2018-2019 data unless noted. Only the Google rating for each stadium was factored into the final rankings.
Photo disclaimer: Photo for Vermont's Patrick Gymnasium is for representational purposes only.

BEFORE YOU GO
See Today's Best
Banking Offers