Chess Sets Are Suddenly This Year's Hottest Holiday Gift, Thanks to Netflix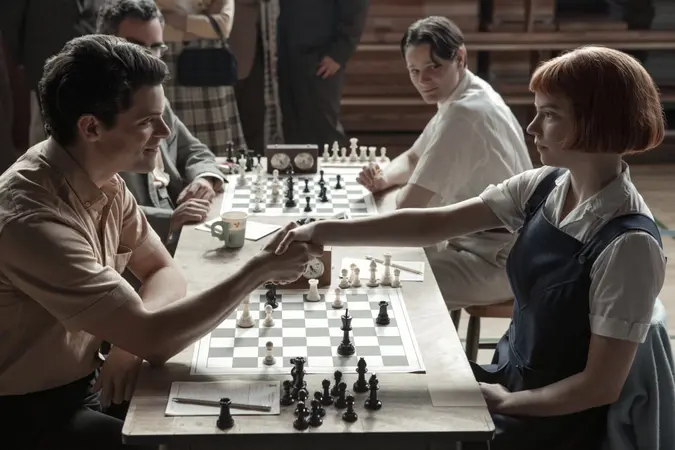 PHIL BRAY/NETFLIX / Phil Bray/Netflix
The game of chess is hardly new, with origins dating back to at least the 6th century, but for many the classic board game is only now being discovered — and purchased. Following the release of Netflix's hit miniseries "The Queen's Gambit", which centers on the journey of Beth Harmon, a fictional female chess prodigy (played with unblinking intensity by Anya Taylor-Joy), chess set sales are through the roof.
When Games Pay Off: A $180K Pokémon Card and the Geekiest Stuff That Could Make You Rich
The NPD Group found that as viewing time for the show soared, so too did sales of chess sets. During the three weeks following the series' debut on Oct. 23, unit sales of chess sets spiked 87%. Books on chess have also been flying off shelves, thanks to the show, with U.S sales rising 603% during that time period.
Mary Higbe, director of marketing at Goliath Games, which manufactures various chess sets, is seeing the boom of interest firsthand.
"Our October sales for chess were up 178% over the same period last year," Higbe told NPR, adding that sales have only gone up since then. As of mid-November, Goliath's chess set sales were up 1,048%, Higbe said.
On the Hunt?: Where To Get Unique Holiday Gifts Without Leaving Your House
Retailers can hardly keep up with the spiking demand, and many will likely run out of inventory ahead of the holidays.
Make Your Money Work for You
"As Covid-19 hit, board games became more popular, and I've consistently commented in my reports that the basics will do well, chess being one of them," Gerrick Johnson, an analyst at BMO Capital Markets who covers the toy industry, told NBC News. "But again, no one knew chess would explode. Now it's kind of too late. Retailers can increase orders and the makers can ship what they have from the warehouses, but they won't be able to make more and satisfy demand until next year."
Spoil Them: Why I Never Deny My Kids a New Toy
Hopefully another show will come along to spark interest in a different game or toy, at least until retailers can restock to meet consumer demand. Until then, find out how much Netflix is worth.
More From GOBankingRates