Donald Trump Calls Bernie Sanders 'Weak' Over #BlackLivesMatter Protest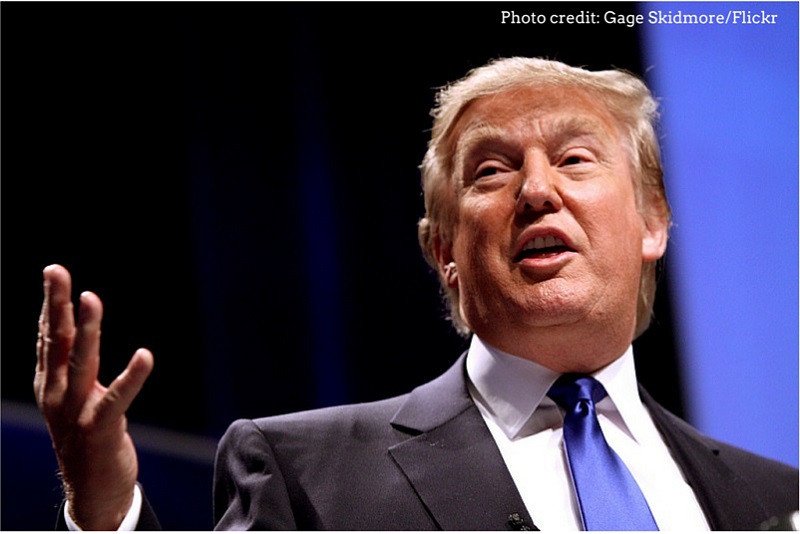 With his scuffle with Fox News reporter Megyn Kelly dying down, Republican presidential candidate Donald Trump is looking to find a new target for his fighting words. Trump took aim at Democratic presidential candidate Bernie Sanders over a #BlackLivesMatter protest at Sanders' rally in Seattle over the weekend.
Donald Trump Said Bernie Sanders 'Showed That He's Weak'
In the incident Donald Trump refers to, two protesters interrupted Bernie Sanders' rally and took to the stage and the mic to speak out on police brutality and holding Sanders "accountable" to address racism and other issues within the U.S.
The incident doesn't, however, seem to have hurt Bernie Sanders. In fact, the Vermont senator shot past long-time front-runner Hillary Clinton in the polls Tuesday, favored 44 to 37 percent, according to the Boston Herald.
But Trump was unimpressed. On Tuesday, the billionaire said that he thought the moment was one of weakness for Sanders. "I would never give up my microphone," Trump said, according to CNN. "I thought that was disgusting. That showed such weakness, the way he was taken away by two young women — the microphone; they just took the whole place over."
Read: 9 Donald Trump Quotes From the Republican Debate: Will His Comments on Rosie O'Donnell, Megyn Kelly Cost Him?
Amal Clooney in Talks to Replace Donald Trump on 'The Celebrity Apprentice'
Donald Trump might be leading national polls, but there's no doubt that Trump's presidential campaign has done some harm to his business prospects. NBC, which used to air Trump's Miss USA and Miss Universe pageants as well as "The Apprentice," said in late June that the network would cut ties with Trump in response to his controversial remarks on Mexican immigrants.
But NBC is reportedly looking for a new host to bring "The Celebrity Apprentice" back. According to some reports, Amal Clooney is the front-runner to replace Trump. The international human rights attorney and spouse to actor George Clooney has an air of mystery that could draw in a big audience and boost ratings, while her commanding presence is a sign she could do the job well and keep audiences coming back.
Former "The Apprentice" Contestants Omarosa Manigault and Katrina Campins Defend Trump
Two former contestants from "The Apprentice" appeared on CNN and spoke in defense of Donald Trump. They referred to Megyn Kelly's question to Trump, which addressed his disparaging comments about women, during the Republican debate last Thursday.
"Donald Trump does not have a women problem," said Manigault. "… Just because he doesn't like Rosie O'Donnell, doesn't mean he hates all women. I think it's ridiculous to paint with such a broad brush."
"I have a great working relationship with Trump to this day — for over a decade," said Campins. "… As a woman who still works with him today, I don't think Donald Trump has a problem with women … I think that it's petty, and I think that focusing on this is really losing sight of so many of the other important issues that we should be discussing like health care, and immigration, and other things that are more important to the American people."