Majority of Americans Prioritize Social Media Over Their Finances, Survey Finds
Americans would rather while away the hours on social media than manage their money.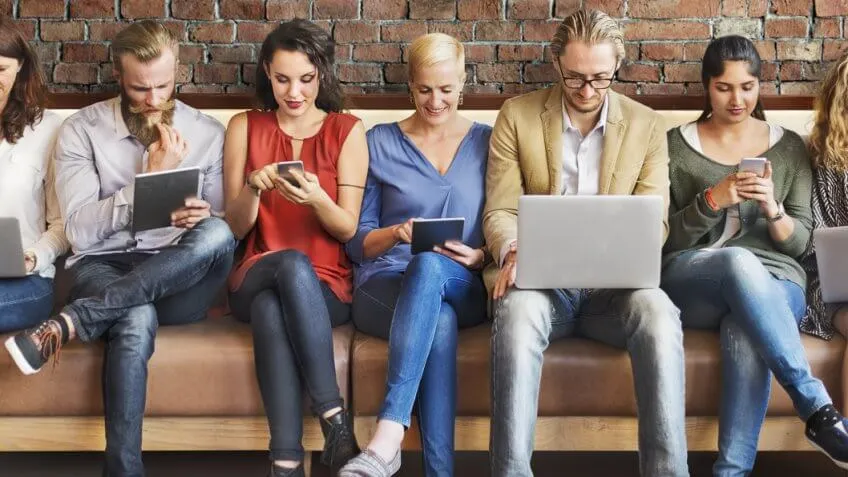 Rawpixel.com / Shutterstock.com
Americans worry about money.
They worry about money a lot, according to a GOBankingRates' Life and Money survey.
The question is whether they're actually doing something to improve their finances.
To find out, GOBankingRates asked 2,000 adults one of two open-ended questions:
How many hours each week do you spend on your finances doing things like budgeting, investing and paying bills?
How many hours each week do you spend on social media platforms like Facebook, Instagram and Snapchat?
An analysis of the findings shows that personal finances take a huge backseat to social media for many Americans. See the full results below, as well as some tips to form new money habits.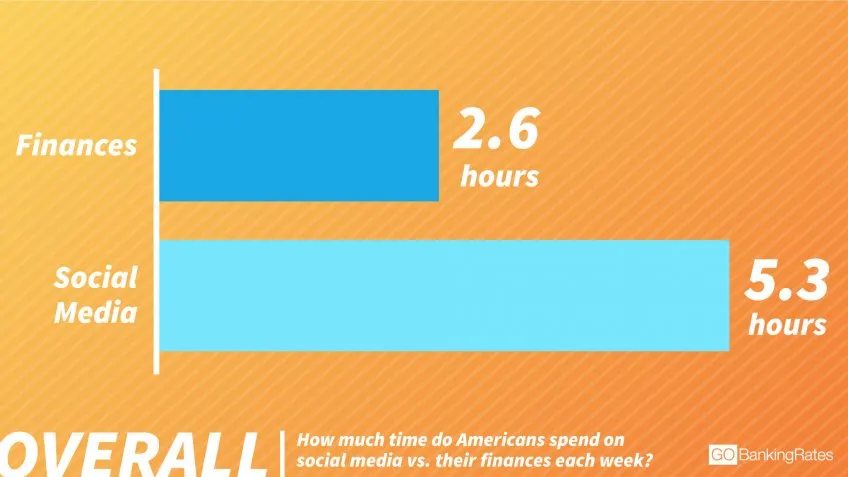 Americans Spend Half as Much Time on Their Finances as on Social Media
On average, survey respondents said they spent 2.6 hours per week on their finances. However, they reported spending twice as much time, on average, on social media — 5.3 hours.
"It makes complete sense that people would spend more than twice as much on social media than on their finances," said Clint Haynes, a certified financial planner and founder of NextGen Wealth in Lee's Summit, Mo. "Let's face it, social media is a lot more fun and entertaining than working on your finances."
In fact, there's a good chance respondents underestimated the time they spend on social media. Research by advertising agency Mediakix found that users spend an average of 40 minutes on YouTube, 35 minutes on Facebook, 25 minutes on Snapchat, 15 minutes on Instagram and 1 minute on Twitter... every day.
Did You Know: 1 in 3 Americans Don't Know These Basic Finance Terms
On the flip side, respondents might be overestimating how much time they're devoting to managing their money. Haynes said he was surprised that respondents said they were spending 2.6 hours per week on their finances. "I would have thought it was less," he said.
Even if the estimate is accurate, Haynes said people likely aren't spending their time productively. "We still have a major issue in the U.S. with the lack of basic financial education," he said. "If that 2.6 hours were being spent on deliberate financial action items, I think we would begin to see a shift. However, I am assuming it includes a number of various things that don't produce much of a return on your time."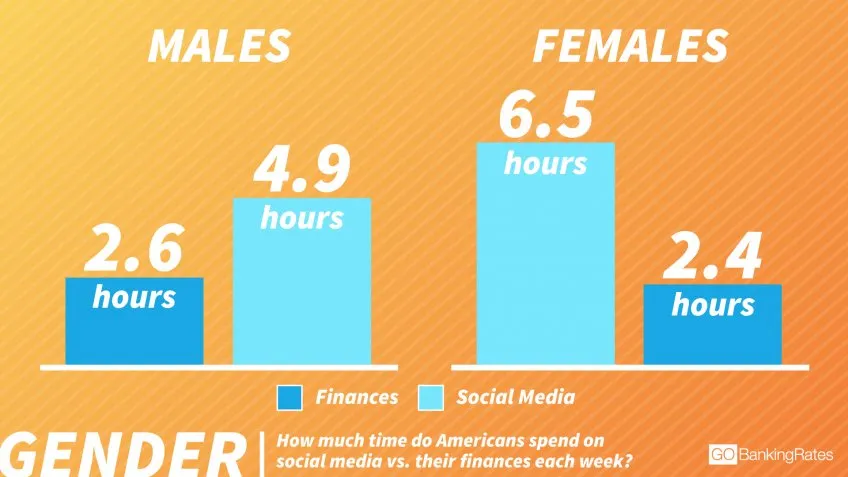 Women Spend 33% More Time Than Men on Social Media
According to the survey, women spend more time on social media than men and less time on their finances.
On average, women said they spent 6.5 hours per week on social media and 2.4 hours on their finances.
On average, men said they spent 4.9 hours per week on social media and 2.6 hours on their finances.
Women might be spending less time on their finances because they may be reluctant to own their financial future. A survey by Fidelity Investments found that 92 percent of women want to learn more about financial planning. Three-fourths want to learn more about investing and money. And 83 percent want to get more involved in their finances. They could start by reducing their time on social media and using those hours to learn more about money, instead.
"When you're learning about money and ways to improve your financial situation, you're not spending time, you're investing it towards a better future," said Jason Vitug, bestselling author of "You Only Live Once: The Roadmap to Financial Wellness and a Purposeful Life." "It doesn't matter if you're in a bad financial situation or in a good one, everyone can benefit from more financial knowledge," he said.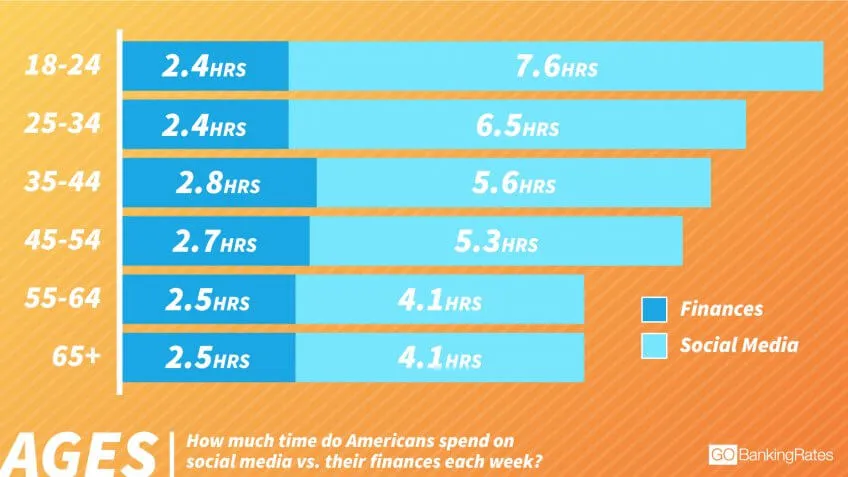 Millennials Spend More Time on Social Media Than Other Generations
It's not surprising millennials spend the most time on social media. After all, this age group grew up with social media as a primary channel for communication and information, said Vitug, who is a millennial himself. However, they're spending less time on their finances than older generations.
"Millennials, like other generations, know the importance of financial education but aren't compelled to learn about finances until they are forced to learn due to circumstances and events — things like graduation, a car breakdown, debt collection calls or buying a home," Vitug said. However, millennials — and older generations — should be more proactive.
"People should spend more time understanding their financial standing, learning ways to improve and implementing changes to achieve their life goals," Vitug said. "The more people know how money works and can work for them, they can get back more of their time and use that time to do some amazing things or have new experiences."
Related: A Look at the Financial Gap Between Millennials and Boomers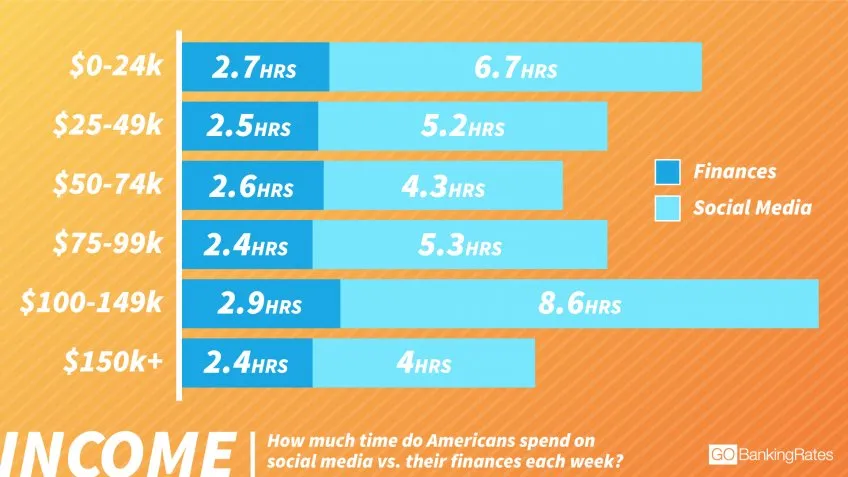 High-Income Earners Spend the Most Time on Social Media and Finances
The survey found that respondents who earn $100,000 to $149,000 spend more time on social media than any other income group: 8.6 hours per week. However, they devote more of their time to managing their money than respondents who earn less — an average of 2.9 hours per week.
In general, higher-income adults are more likely to use social media than lower-income adults. According to the Pew Research Center, 78 percent of adults who earn $75,000 or more use at least one social media site. In contrast, 60 percent of adults who earn $30,000 or less use at least one social media site.
However, the GOBankingRates' study found that the only other income group that comes close to spending as much time on social media as high-income adults are respondents who earn $0 to $24,000. They reported spending 6.7 hours per week, on average. They also spend the second-longest amount of time on their finances: 2.7 hours per week.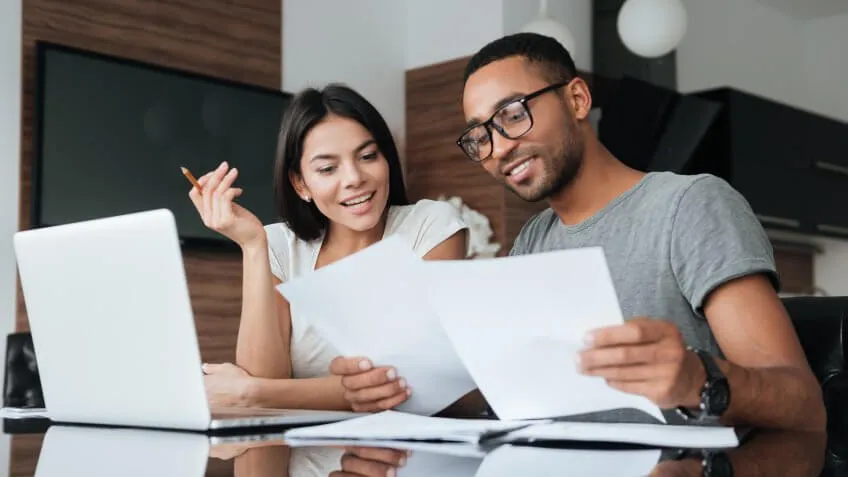 Dean Drobot / Shutterstock.com
How to Spend Your Time Better to Improve Your Finances
Spending some time on social media can be a good way to keep up with friends or stay informed. However, a social media obsession can cost you valuable time and money. You'll be better off devoting some time spent on social media to taking a more active role in your finances. Here are some smart ways to spend your time.
Review your spending. The best way to get control of your financial situation is to know your spending habits, Haynes said. Take the time to figure out where your money is going by reviewing your bank and credit card statements. You might be surprised to find that you're spending a lot on things you don't need and could be putting that money toward debt or retirement savings.
Once you know where your money is going, you'll be able "to redirect your spending to where it should be going and have the most impact," Haynes said.
Related: How to Read Your Bank Statement
Review your overall financial situation. "I suggest people start their financial journey by understanding where they are today," Vitug said. To get a clear picture of where you stand can take time, though. Take on tasks one by one.
To start, ask the human resources department at work questions about your benefits and perks to make sure you're maximizing them. "Then, review your bank statements and assess if you're getting the services you need and if you're paying fees that you probably don't need to," Vitug said. "Review your credit card statements, student loans and mortgage. There's a lot that people can do that may take one to two hours a week. You don't have to do it all — just take one step."
Related: What is 401k Matching?
Devote time to reading articles about personal finance. There's an abundance of free information about personal finance online. Spending time each week reading personal finance articles will expose you to information you probably didn't know you needed to know, Vitug said.
You also can read about other people's personal finance journeys on blogs. "Their journey will often inspire you to start yours," Vitug said.
Read personal finance books. "Articles and blogs are good sources of information, but reading a personal finance book can give you all the basic information you need in one sitting," Vitug said. There are plenty of great personal finance books from which you can choose. "I encourage those seeking to improve their lives to read at least one book a month," he said.
Follow money experts on social media. If you spend a lot of time on social media, you can get the most out of this time by following personal finance experts. "This is helpful when you're sifting through your friend's vacation photos or political rants, you'll increase the likelihood that personal finance information comes to you," Vitug said. For example, his company Phroogal is a crowd-sourced financial information site.
Up Next: Signs You Should Start Taking Your Finances More Seriously

Methodology: GOBankingRates conducted two surveys to find out how much time Americans spend on social media and their finances. Respondents were asked either "How many hours each week do you spend on your finances (budgeting, investing, paying bills, monitoring your credit, checking account balances, etc.)?" or "How many hours each week do you spend on social media (Facebook, Twitter, LinkedIn, Instagram, Snapchat, etc.)?" The two surveys were conducted from May 12 to May 14, 2017, with a margin of error of 2.7 percent and 2.8 percent. Each survey included a sample of at least 1,000 respondents.