Food Stamps: 25% To Lose SNAP Under New Bill — Are You One of 10 Million at Risk?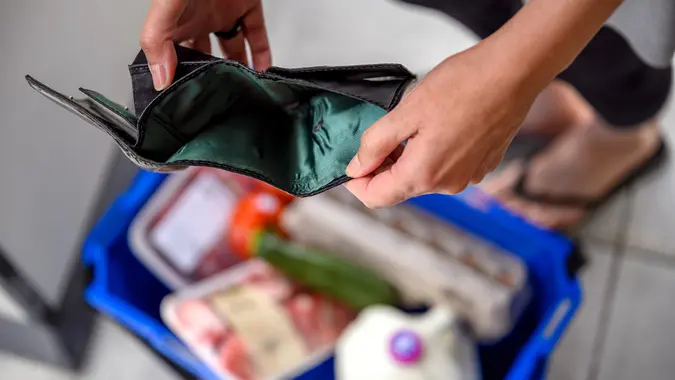 Ferenc Cegledi / iStock.com
Republican efforts to expand work requirements for SNAP recipients could mean 1 in 4 people currently receiving food stamps losing access to food aid.
According to a new analysis by the Center on Budget and Policy Priorities (CBPP), America Works Act would expand work requirements to adults over 50 and to some families with children, CBS MoneyWatch reported. Currently, there are two sets of work requirements for SNAP; however, eligibility rules vary by state.
The proposal would affect able-bodied adults without dependents, or ABAWDs. Currently, adults ages 18 to 49 who aren't disabled and don't have children or dependents must work 20 hours a week or enroll in a work training program to receive food stamps. The bill would increase work requirements for adults 50 to 65 years old.
CBS reported that people in every state would be impacted, but the analysis showed that recipients in Alaska, South Carolina and Oklahoma would be the most affected. The study found that one-third of SNAP recipients in these three states would be at risk of losing their benefits.
Make Your Money Work for You
Also, about 4 million children between 7 and 18 who live in households receiving food stamps could be at risk of losing food aid, the analysis found and as reported by CBS.
The analysis pointed out that the bill's approach is based on several false assumptions. The first is that people who receive benefits do not work and must be compelled to do so. In fact, most SNAP recipients who can work are working. Another overlooked reality is that it ignores the low-paid labor market, including the lack of child care and paid sick and family leave, health and disability issues and labor market discrimination.
Food Stamps: What is the Highest Income Level for SNAP Payments
Explore: Can You Use SNAP EBT Card To Purchase Hot Food?
"It's painting a picture of low-income people that is very inaccurate," Dottie Rosenbaum, senior fellow at the CBPP, told CBS MoneyWatch. CBS noted that the proposal is unlikely to make it into law considering the Senate is controlled by Democrats.
More From GOBankingRates
Make Your Money Work for You
Make Your Money Work for You