Food Stamps: New AI Safeguards Proposed To Prevent SNAP Benefits Fraud Would Save States Billions of Dollars — But Time Is Critical Factor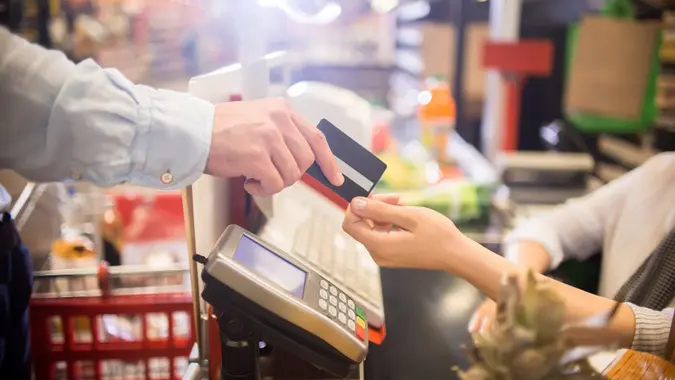 SeventyFour / iStock.com
Advances in technology usually lead to advances in fraud and that's been the case with the Supplemental Nutrition Assistance Program (SNAP), formerly known as food stamps. Fraud and theft involving food stamps are on the rise, mainly due to "skimming" of electronic benefits transfer (EBT) cards used to pay for SNAP purchases.
With skimming, thieves use a device to steal the card number and PIN off of someone else's EBT card. The cards are designed to work like debit cards but don't have the same built-in protections as bank-issued debit or credit cards.
One possible solution to the SNAP fraud problem is artificial intelligence, according to Ali Solehdin, the Chief Product and Strategy Officer at INETCO, an online fraud detection and cybersecurity software firm. The company's BullzAI platform is used by government agencies and payment administrators to detect and block fraudulent EBT transactions due to card skimming and account takeovers.
In a recent op-ed for the Banking Exchange website, Solehdin cited Government Accountability Office data showing that EBT fraud costs taxpayers up to $4.7 billion a year and called it a "criminal epidemic."
"Billions of dollars of SNAP/EBT benefits payments [are] now being siphoned away from their intended recipients through card skimming and other forms of fraud on an annual basis," Solehdin wrote.
Make Your Money Work for You
In addition to card skimming, fraudsters can also steal EBT funds through account takeovers, he added, thanks to a "wealth of data and ill-gotten account information" available through channels like the Dark Web.
One potential fix is to overhaul the SNAP/EBT program to ensure chips are included in all benefits cards, Solehdin noted. But while this solution is being reviewed in several states, it would likely take years to implement.
"Even if this was achieved in a best-case scenario time frame of around two years, states could still be susceptible to $9 billion more damage in EBT fraud during that window," Solehdin wrote.
A better solution, he said, is for states and their SNAP/EBT distributor partners to "rapidly deploy" fraud prevention technology that can detect anomalies in real-time, bolstered by artificial intelligence and machine learning.
In fact, the technology already exists. As Solehdin pointed out, AI-driven machine learning models can create individual profiles for each EBT card. The systems can then apply behavioral analytics to automatically detect fraudulent activity related to EBT cards in real time.
"This technology can also train itself to evolve over time to detect new schemes and forms of payments fraud and does not require data scientists or deep technical expertise to operate," Solehdin wrote. "This is a far more efficient means of detecting, deterring and mitigating SNAP/EBT fraud than replacing millions of benefits cards or setting up sting operations to capture criminals, both of which are extremely costly and require enormous manpower."
Another benefit of fraud prevention tools underpinned by AI and machine learning is that they can be deployed in only 60 to 90 days.
Make Your Money Work for You
"Applying this type of solution would have the potential to save taxpayers billions of dollars a year, while also freeing up significant funds and resources for states and government agencies to direct to other areas of need," Solehdin wrote.
For now, the U.S. Department of Agriculture — which oversees the SNAP program — recommends taking these steps to avoid theft and fraud:
Keep your PIN secret. Don't share it with anyone outside your household, and cover the keypad when you enter your PIN on a machine. You also should change your PIN frequently.
Check your EBT account regularly for unauthorized charges. If you notice any unfamiliar charges, change your PIN immediately to stop the thief from making any new purchases.
Double-check card reading machines. Make sure there's nothing suspicious overlaid or attached to the card swiper or the keypad. Overlays can be difficult to detect but are often bigger than the original machine and might also hide parts of the machine.
If you believe you've been the victim of a skimming or phishing scam, contact your local SNAP office immediately. You also can report SNAP fraud by state on the USDA's fraud page.
More From GOBankingRates