Gopuff vs. Instacart: Which Grocery Delivery Service Is Better?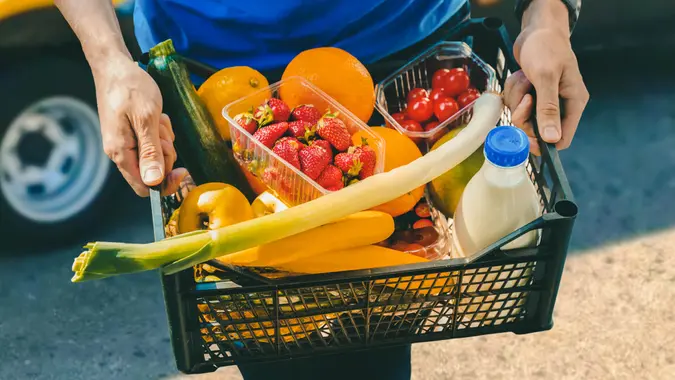 ronstik / Shutterstock.com
The pandemic has led to increased use of grocery delivery services, such as Instacart and Gopuff. Both Instacart and Gopuff deliver groceries and household essentials across the US.
While Instacart partners with existing retailers to provide products to consumers' doorsteps, Gopuff makes a lot of its products in-house and delivers them to customers through its micro-fulfillment centers.
In hopes of making grocery delivery available to everyone, both services are forging partnerships with convenience stores and grocers. But which of the two is better? How are they different?
In this Gopuff vs. Instacart comparison, you'll find the pros and cons of both services along with how they compare in terms of services and pricing models.
What Is Gopuff?
Gopuff is a digital delivery service headquartered in Philadelphia, Pennsylvania that delivers daily essential products to customers. The delivery service stores nearly 4,000 products in every micro-fulfillment center. When a customer orders something from Gopuff, it comes directly from the company.
Background
Gopuff was founded by Yakir Gola and Rafael Ilishayev. Both of them were Drexel University sophomores who realized that stocking their favorite snacks and essentials was becoming too much of a hassle.
After three months of brainstorming, the duo began delivering convenience items around campus in their Plymouth Voyager. Eight years down the line. Gopuff now has more than 500 fulfillment centers, hires thousands of employees and delivers to customers in over 1,000 cities.
Make Your Money Work for You
Pros
Delivers items from its fulfillment centers in different regions
Delivers 24/7 in most areas
Has a flat delivery fee
Cons
Offers a limited selection of products
What Is Instacart?
Instacart is a grocery delivery service that provides customers with non-perishable food and household essentials. 
With its headquarters in San Francisco, California, Instacart partners with retailers like Albertsons, ALDI, Costco, CVS, Kroger, Loblaw, Publix, Sam's Club, Sprouts and Wegmans to provide products to consumers' front doors.
Deliveries start as early as 9 a.m. and stop at midnight. Customers can get their orders delivered in an hour or schedule the delivery for later in the day or week.
Background
Instacart was founded by Apoorva Mehta, a former Amazon employee, in 2012. He had previously worked at Qualcomm and Blackberry before taking his position at Amazon. At Amazon, his job was to develop fulfillment systems to deliver packages from the company's warehouses to consumers' doorsteps.
Putting that knowledge and expertise to use, Mehta founded Instacart as a delivery service to help simplify grocery shopping for busy people.
Pros
Available throughout the U.S.
Offers same-day delivery
Partners with large grocery store chains
Has an Express subscription plan for cost-saving
Cons
Unavailable in rural areas
Charges both a service fee and a delivery fee unless you have a membership
Good To Know 

In September 2021, Walmart announced that it would partner with Instacart to deliver groceries to customers in the Bronx, Queens and Brooklyn. If you live in these areas, you can buy groceries from Walmart through Instacart. 
Gopuff vs Instacart: Services
Gopuff delivers everyday essentials, such as household items, snacks, toiletries and drinks to customers. In some regions, the company also serves beer and wine.
Make Your Money Work for You
Meanwhile, Instacart offers a wider variety of products, since the company partners with popular retailers.
Gopuff vs Instacart: Delivery Fee
Gopuff has a $1.95 flat delivery fee for all orders. Irrespective of the size of your order, you have to pay this delivery fee. Orders with alcohol come with an additional $2 delivery fee. 
Instacart's pricing model is different. The company charges $3.99 for same-day orders worth $35 and up. Fees will differ when shopping club store purchases, one-hour deliveries and orders under $35.
When you place an order, Instacart will inform you of the delivery fee. If you order heavier items, such as pet food and cases of beverages, Instacart charges a heavy order fee. The fee is applicable on orders with a weight of over 50 pounds.
All Instacart customers pay a service fee on each order, which is meant to support the company's operating costs. These operating costs include insurance, customer support, shopper operations and background checks on drivers. 
Customers also have to pay a priority fee if they choose a priority delivery window when checking out. This fee ranges from $2 to $4 and lets customers get their orders in under 60 minutes.
Gopuff vs Instacart: Membership
Gopuff offers the Fam Subscription Plan, which is a monthly or yearly subscription that offers free delivery for all orders over $10.95. It costs $5.95 a month. 
Instacart Express is Instacart's subscription plan and costs $99 a year or $9.99 a month. As an Express customer, you pay a lower service fee and may be able to pay a reduced alcohol service fee. 
Make Your Money Work for You
Final Take
Both Instacart and Gopuff are reliable services for online grocery shopping. If you want to purchase items from familiar retailers like Kroger or Costco, you should opt for Instacart. But if you have smaller orders and don't want to pay Instacart's high service and delivery fees, Gopuff is the best option for you. 
Our in-house research team and on-site financial experts work together to create content that's accurate, impartial, and up to date. We fact-check every single statistic, quote and fact using trusted primary resources to make sure the information we provide is correct. You can learn more about GOBankingRates' processes and standards in our editorial policy.