SNAP Schedule: When Massachusetts Food Stamps Are Sent in February 2023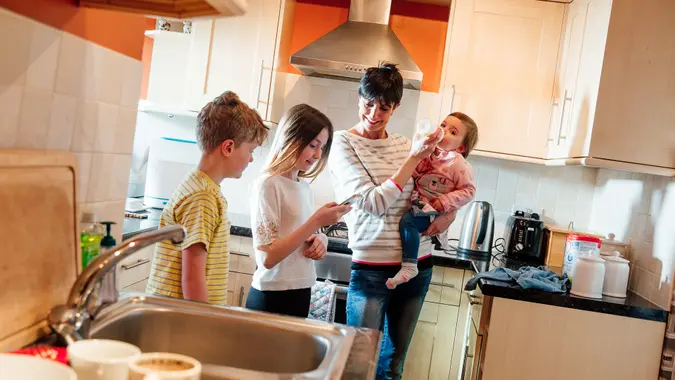 DGLimages / Getty Images/iStockphoto
SNAP, which stands for Supplemental Nutrition Assistance Program, is run by the Department of Transitional Assistance (DTA) in Massachusetts. SNAP helps low-income households supplement their food budget by sending out monthly benefits through the Massachusetts EBT card. Payments go out according to the same monthly schedule. Massachusetts SNAP recipients can expect their February payments over the first 14 days of the month, based on the last digit of their Social Security number.
Explore: Do You Have Too Much Money in Your Checking Account?
See: 3 Smart Ways People Save When Filing Taxes
Know: Could a Higher Social Security Payment Lead to Reduced SNAP Benefits?
February benefits are sent out based on the last digit of your SSN. For instance, if your SSN ends in a 2, then you will receive SNAP benefits on Feb. 4th. Here is the Massachusetts SNAP deposit schedule for February 2023:
| | |
| --- | --- |
| SSN ends in: | Benefits available: |
| 0 | Feb. 1st |
| 1 | Feb. 2nd |
| 2 | Feb. 4th |
| 3 | Feb. 5th |
| 4 | Feb. 7th |
| 5 | Feb. 8th |
| 6 | Feb. 10th |
| 7 | Feb. 11th |
| 8 | Feb. 13th |
| 9 | Feb. 14th |
Make Your Money Work for You
According to the DTA, SNAP eligibility in Massachusetts is based on household size, income and certain expenses. For a family of four, the maximum monthly income before taxes cannot exceed $4,625 (before taxes). If you're curious as to whether you qualify, you can instantly check your eligibility for SNAP benefits by filling out the online screener.
To apply for Massachusetts SNAP, visit DTAConnect.com or call the DTA assistance line at 877-382-2363 (press 7 to apply for SNAP). If you prefer paper, mail, fax or deliver the completed SNAP application to a local DTA office or community kiosk.
SNAP comes with additional perks. For example, Massachusetts SNAP recipients can sign up for an Amazon Prime EBT discounted subscription at 50% off, which is $6.99 per month. Your EBT card can also be used for free or discounted admission to hundreds of museums, aquariums and zoos nationwide via the Museums For All initiative. Discounts on your utility bill through National Grid's Low Income Discount Rate are one of many utility programs available to Massachusetts SNAP recipients.
Massachusetts EBT cards can be used at any store displaying the Quest logo, typically found on the door or window. You can use your EBT card to purchase most foods, including seeds and plants which produce food for the household to eat.
Make Your Money Work for You
SNAP cannot be used to purchase alcoholic beverages, tobacco products, vitamins, medicines, supplements, live animals or any nonfood items. Massachusetts does not participate in the Restaurant Meals Program, so you can't use SNAP to purchase food that is served hot at the point of sale.
SNAP Benefits: Can You Use Your EBT Card To Purchase Soda?
Find: 10 Places You Didn't Know You Could Use SNAP Payments
EBT cards can be used in grocery stores and some retailers. SNAP benefits can also be used at farmers' markets. The DTA says that either $40, $60 or $80 a month is put back on your EBT card when you use SNAP to buy local produce via the Healthy Incentives Program (HIP).
More From GOBankingRates
Make Your Money Work for You