How To Say 'No' To Holiday Gift Exchanges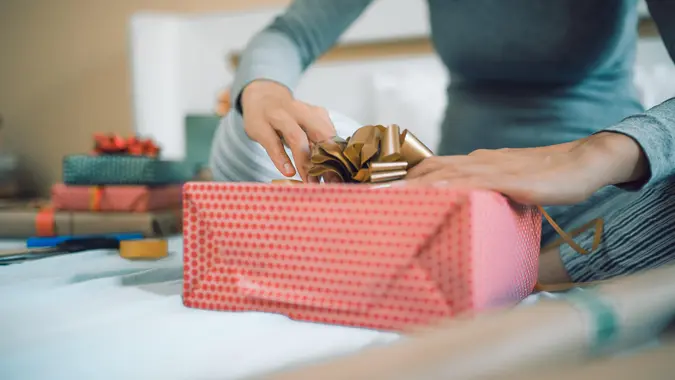 NoSystem images / Getty Images/iStockphoto
Buying gifts for loved ones can be stressful enough, let alone buying them for strangers you never anticipated spending money on. It can sometimes feel like you're obligated to participate in a holiday party's gift exchange, even if you don't have the time or money to do so. Fortunately, there are ways to tactfully decline the invite to participate without hurting anyone's feelings or your pride.
Student Loan Forgiveness: Mark These 4 Dates on Your Calendar Now
Read: If Your Credit Score Is Under 740, Make These 4 Moves Now
Set Expectations as Early as Possible
If you'd like to get out of your work's gift exchange, you'll want to let people know well ahead of time. These events are organized with a certain number of people in mind, so letting those in charge know you won't be participating helps keep everyone on the same page. You can do this by sending an email to the person in charge of leading events at least two weeks before the gift exchange. It doesn't have to be a long or detailed email, but it should be courteous and clear.
Make Your Money Work for You
Consider: "I wanted to let you know that I won't be participating in the gift exchange portion of the party this year but would be happy to help set up the party or provide any other help you might need!" This keeps things vague as to why you're not participating, but lets the organizer know you're still interested in contributing in another way, so you don't seem like you're reaching bah humbug levels of low holiday spirit. 
If you're trying to get out of another type of gift exchange, like one with extended family, it's still smart to send an email depending on expectations. Does your family usually meet up for Christmas? Do certain relatives always send you a gift? If there's some sort of tradition in place, it's best to let family know that you're opting out of giving gifts–and that they can opt out of giving you one as well.
Make Your Money Work for You
The best time to do this is around Thanksgiving, when most people have not started their holiday shopping, but the sooner you let them know, the better. Again, a short but sweet email explaining how you're not giving or anticipating gifts this year but wish everyone a happy holiday season will do the trick. You can be honest about why (budget, environmental issues), but if you prefer to keep it vague, that's okay, too.
Take Our Poll: Do You Believe in Quiet Quitting?
Offer an Alternative 
Service can sometimes be just as valuable of a gift and costs absolutely nothing. As in the holiday party example above, you don't necessarily need to give a physical gift to get into the spirit. Besides offering to help host a party, you can also offer to make food, run errands, put together goodie bags or whatever else the organizer of your holiday party has on their to-do list — as long as it's reasonable and won't inconvenience you too much. 

With your friends and family, you can offer your time. Suggest a hike or a coffee date. If you do like to bake, you can bring them cookies or other sweets to spread some holiday cheer. Think about what you're good at and what you love to do, and how that can transform into a gift other people would enjoy. Maybe you don't want to spend money, but you can make gifts that people like. People always appreciate a personal gift, and something you made yourself or spending time with a person can feel a lot more thoughtful.
Make Your Money Work for You
Accept Gifts Gracefully
Even though you had agreed to not give gifts this year, some people love giving gifts no matter what. If someone in your circle of family or friends chooses to give you despite you letting them know you won't be reciprocating, that person made the choice to give you a gift because it brings happiness to them. At that point, you just need to accept their gift with gratitude, rather than remind them that they didn't need to give you one, or point out that you didn't give them a gift. In the end, gifting should not be about who got you what but about the thought involved. Sometimes, a warm and genuine "thank you" is a better gift than any money can buy. 
More From GOBankingRates
Make Your Money Work for You