Protecting Your Packages Is a Major Way To Save Money This Holiday Season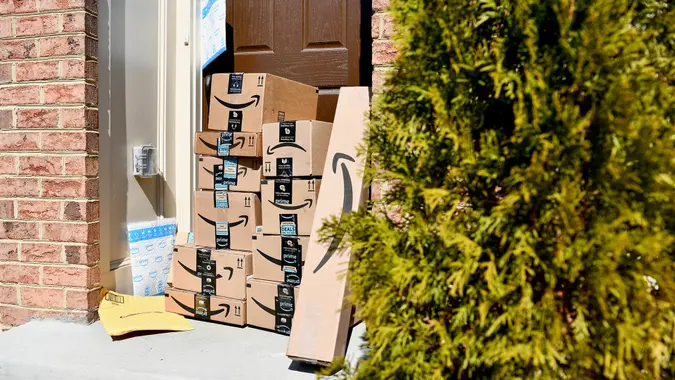 Jeramey Lende / Shutterstock.com
Cheers! It's National Package Protection Day! If you're wondering why you should be celebrating, keeping your deliveries protected is actually a huge way to save money-especially during the holiday season. One in three Americans report having at least one package stolen. In 2020, 1.7 million packages were stolen or lost every day in the U.S., according to researchers at Rensselaer Polytechnic Institute, resulting in $25 million of lost goods. So raise a glass and toast to these ways to keep all of your prized presents for yourself and others safe from package thieves. 
Budget: 20 Ways to Pay Less at Costco
Find Out: How Much Does a Costco Membership Really Save You?
Schedule Deliveries 
Many retailers and shipping companies — like FedEx — allow you to either schedule deliveries or at least get notifications for when the package is arriving. If you're able to schedule the delivery, make it a time when you know for sure you'll be home and able to retrieve the package as soon as it arrives. If you can't directly schedule the delivery, turn on notifications so you know when the package comes and you can get it as soon as possible to reduce the likelihood of a person taking it. 
Make Your Money Work for You
Leave Specific Delivery Instructions
Most of the time, when you order something online, there's space for delivery notes. Is there a place that's slightly out of view from the street that might be safer for the courier to leave a package? Or if you live in an apartment, can you have the package dropped off at the management office? Indicate those areas in your delivery notes so your package isn't dropped right in front of your house or apartment.
Require a Signature
Home most of the day? It's worth opting for a signature to receive your packages. That way, there's no way the delivery person will leave a package on your doorstep. You can receive the delivery as soon as it comes and store it inside. 
Have the Package Delivered to a Storefront or Locker
If you're gone most of the day and want some peace of mind, have your packages delivered directly to the post office, UPS or FedEx or the retailer you ordered from so you can pick them up when it's convenient for you. You can also opt to pick up Amazon packages at one of the 900 locker locations they have in the United States so you don't have to worry about someone swiping packages off your porch.
Make Your Money Work for You
Ask a Trusted Neighbor or Friend To Get the Delivery
If you're out of town for an extended period of time and are expecting some deliveries, ask a neighbor or a friend to come by and pick up the packages while you're gone. They can keep them safe at their home until you return. This also prevents a pile of packages from building up in front of your door, which tips off criminals that you're out of town, enabling them to potentially target your house for theft.
Use Amazon Key 
Amazon has developed a safe way for you to get packages and groceries from the retail giant delivered inside your home, garage or car trunk. You link your garage to Amazon using the myQ app, then the driver scans your package when dropping it off, enabling the door to open. You also have the option of monitoring the delivery using a camera. It's a free service if you're a Prime member. If you're worried about security, Amazon promises to verify the driver, package, and package location via multi-step authentication before granting them temporary access to your garage.
Make Your Money Work for You
Install a Doorbell With a Camera
Purchasing a video doorbell like Ring lets you communicate with those who ring the doorbell so you can tell them where to put packages whether or not you're there to get them. Some can even detect motion without the bell even ringing so you can get an alert whenever someone is on your doorstep. Though this doesn't outright stop theft, it could discourage thieves from taking things off your porch once they see there's a camera watching their moves. Using the app associated with your doorbell, you can also take videos and pictures of those at your door in case you do have to report them for any reason. 
More From GOBankingRates
Make Your Money Work for You