Rising Prices: What Holiday Shoppers Are Most Concerned About in 2022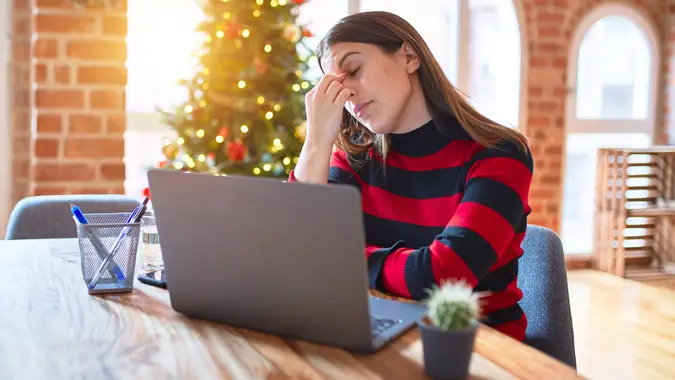 AaronAmat / iStock.com
Along with the holidays comes not only the pressure to buy gifts for loved ones, but also the pressure to host dinner gatherings, decorate your home and make extensive travel plans.
Holiday Spending: Get Top Holiday Shopping and Savings Tips
Advice: If Your Credit Score Is Under 740, Make These 4 Moves Now
This year, these pressures are shaping up to be extra heavy thanks to rising prices from inflation. According to a new GOBankingRates survey on holiday spending, shoppers are most concerned about rising prices in the following areas.
Gifts 
According to the survey, 32.98% of Americans are purchasing fewer gifts this year to dodge rising prices, and 6.93% will not do any holiday shopping. Among those surveyed, 72.68% have noticed that gifts are more expensive this year.
"For many families this is the only time of year that they're able to give gifts," said Julie Ramhold, consumer analyst with DealNews.com. "Obviously for kids it's an incredibly exciting time of year, so parents don't want to feel like they're letting them down, but this year it's important to manage expectations if budgets will be tighter than usual."
Make Your Money Work for You
Food for Entertaining 
More than three quarters of Americans (78.15%) are noticing that prices are higher on food for entertaining this year. Some (8.68%) are skipping the Thanksgiving turkey this year due to rising costs. 
"Food is a huge part of the holidays, and considering that many consumers have felt the pinch of inflation during just their regular grocery shopping trips, it's no wonder they're worried about the holidays," said Ramhold. "We've already seen trends of consumers buying less overall at the grocery store in order to cut back on their bills, and this could potentially extend to buying food for gatherings."
Décor
Among those surveyed, 42.63% say that they've seen a spike in prices of holiday décor.
Discover: Costco Black Friday Deals You Shouldn't Pass Up
"Very often décor is one of those items that help people get into the holiday spirit, whether it's putting up garlands, festive trees, candles or even inflatables on the front lawn," Ramhold said. "For a lot of families, putting up holiday décor every year is the official start to the season; for example, a lot of families will put items up the day after Thanksgiving. For those that use the same pieces each year, an increase in cost might not be much of a concern this year. But if consumers are eyeing a new tree — real or artificial — or other kinds of décor, including lights, ornaments, and other pieces, this is another thing to add to their holiday budget." 
Make Your Money Work for You
Travel 
More than half of Americans (51.02%) have observed increasing prices in the travel sector, and 15.51% will not be traveling for the holidays due to rising costs. 
"Traveling is very often required for families and friends to visit each other for the holidays, so it can take up a huge part of budgets depending on how far one has to travel," Ramhold said. "And considering that booking holiday flights should've come months ago to find the best price, if you're just now starting to book your travel, it might be time to consider alternative arrangements."
Though it's perfectly reasonable to dial down spending this year because of concerns over rising costs, there are ways to navigate inflation so that your traditional holiday plans don't suffer. Here's where some retail expertise comes into play. 
Ways To Save on Gifts 
"Saving on gifts may mean taking a different approach this year," Ramhold said. "For example, consumers may want to embrace gift-swap games like Secret Santa or White Elephant for big groups, rather than trying to buy something for every single attendee."
Make Your Money Work for You
Shoppers may also want to reevaluate their gift-buying approach. 
"This might be the year to share the cost of a large present for your parents, or to choose one larger gift or several smaller ones for the kids rather than opting for both," Ramhold said. "It could also be a great year to embrace DIY gifts, especially if you know it's something your family and friends will appreciate. If you're already crafty, this might be the year to crochet hats for everyone, for example, or knit scarves, rather than buying something brand new for the whole group."
Ramhold added, "It's also a good idea to employ browser extensions like Rakuten to earn cash back on your purchases. That way, even if discounts are lackluster, you'll still be earning something back and by the end of the season you may have a significant check of earnings to deposit."
Ways To Save on Food 
"In order to shop smart, consider adjusting your approach," Ramhold said. "If you're going to handle the entire menu yourself, consider streamlining your dishes to offer a smaller menu. You can also potentially shrink your guest list so that you have fewer people to feed, or opt for dishes that use cheaper ingredients. You can also use shortcuts when it makes sense to, as well, by using ready-made pie crusts, fillings and canned ingredients rather than making everything from scratch."
Ramhold added to be sure to shop for generics as well, as this can help to cut your costs way back.
"Finally, if you're going to be hosting a gathering for a decent-sized group of people, consider hosting a potluck instead of handling the whole meal yourself. That way, everyone can bring one or two things to participate and it'll take the stress of doing all the work yourself off of one person," Ramhold said. "You can also use cashback apps like Ibotta and Checkout51 to help save on your purchases."
Ways To Save on Décor
"In order to save on [décor], it's best to look for sales, especially during Black Friday and Cyber Monday sales," Ramhold said. "It's one of the rare times when we could see seasonal items discounted by 50% or more and still have plenty of time to display them before the season ends."
Ways To Save on Travel 
"If you're driving, be sure to consider apps like Checkout51 which allow you to earn cash back on groceries as well as gas," Ramhold said. "If you're planning to fly and haven't booked a ticket yet, consider skipping budget airlines; what you seem to save up front is usually spent in other ways, like paying for carry-ons or inflight refreshments.
"You can also consider carpooling with family or friends if you have some that live nearby and are planning to travel at the same time as you," Ramhold said. "You can also look to cut travel costs in other areas, such as lodging, by staying with family or friends during your trip. Also consider traveling during the week if you're able, as on holidays like Thanksgiving there will be more traffic in general and can therefore cause things to be more expensive as well as time-consuming."
More From GOBankingRates
Make Your Money Work for You