These 5 Home Upgrade Trends Won't Last — How To Spend Your Money Instead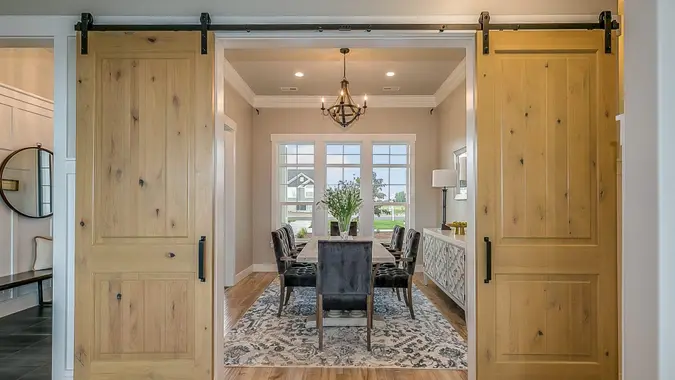 PC Photography / Getty Images/iStockphoto
You're really into a new home upgrade trend, but you're not sure how long it will be stylish. As a savvy homeowner, you know it doesn't make sense to invest in a project that will soon be considered dated, so you're interested in an alternative with staying power.
Read More: 20 Home Renovations That Will Hurt Your Home's Value
Find Out: How To Renovate Your Kitchen for Less Than $10K
Here's a look at some trends that might be on their way out and what you could use your money toward instead.
Rustic Barn Doors
If you're thinking about taking on a DIY rustic barn doors project, Jennifer Amsler, a real estate agent with The Agentcy by Tarek El Moussa at eXp Realty in Vancouver, Washington, said you might want to reconsider joining the bandwagon on this trend.
"They have issues with closing correctly," she said. "The wood can warp and cause the door to literally be crooked or there are gaps in the side that you can see through.
Make Your Money Work for You
Learn More: 20 Insider Tips To Save Money on Every Part of Your Home
You can still replicate the barn door style, but she recommended using a different material, such as a glass door panel, for a more polished look. If you want to reuse old doors, she suggested visiting a second-hand shop like Habitat for Humanity's ReStore to find one, then hanging them on the metal hardware.
"The old doors will not warp further, like with new wood," she said. "Plus, you are helping to reduce waste, and adding long-term character and value to your home."
A ready-to-install kit for DIY barn doors starts at $239 at Home Depot. Glass barn doors are more expensive in the short term — starting at $276.74 per door — but will be a better long-term investment if you can keep them up for years to come.
Plus, as she mentioned, you might be able to find glass door panels at a local thrift store, which will likely cost a fraction of buying brand new ones.
Prepare: Renovations To Make — and Skip — Before Selling Your Home
Make Your Money Work for You
Shiplap
Shiplap is another trend Amsler said is on its way out.
"While shiplap can add visual interest to a room, I've found that buyers are not as excited about them as they used to be," she said. "Buyers get the sense that it's cheap, which doesn't bode well for increasing market value."
Instead, she suggested opting for wood slat walls or textured wallpaper.
The average cost of shiplap interior installation for one room is $1,000, according to HomeAdvisor. Conversely, The Spruce's estimated cost of a DIY wood slat wall is $75-$200, while putting up wallpaper is a roughly $513 expense on average, according to HomeAdvisor.
Read: Craziest Things That Kill Your Home's Value
Learn: 26 Home Makeover Ideas That Each Cost Less Than $500
Floating Kitchen Shelves
Another trend Amsler said isn't worth buying into is floating shelves in the kitchen.
"While floating shelves open up the kitchen visually, many consumers are frustrated with how they collect dust and grime, and it's difficult to keep all the dishes visually pleasing and organized," she said. "Buyers are trending back toward cupboards they can shut for that nice clean look."
Make Your Money Work for You
If you're set on open shelving, she suggested opting for just one or two shelves to display décor.
"To add value in your kitchen, opt for functionality instead with things like adding soft close doors and drawers, spice rack storage, hidden garbage pull-out, pull-out shelving and organizing bins inside your cabinets," she said. "Most of these upgrades can be added to your current kitchen affordably."
Floating shelves start at $26.75 per shelf at Home Depot. You can add soft-close hardware to existing kitchen drawers, with hardware starting around $7.58 per drawer. Additionally, pull-out trash cans start at $37.99, while pull-out shelves start at $71.95.
Did You Know: Who Pays For Home Renovations on Your Favorite HGTV and Other Shows — and What Do They Cost?
Double Islands
Another current kitchen trend, Beth R. Martin, founder and designer at bethrmartin.com, said double islands are one style that she believes will be dated sooner rather than later.
"Often this design element looks like a space filler and has a hefty price tag," she said. "A better furniture layout or extra space for a butler's pantry would be a better long-term solution for your kitchen layout."
The national average price to add a kitchen island is $6,000, according to Thumbtack. Conversely, adding a walk-in pantry costs approximately $2,010, according to HomeAdvisor, making it a much more economical option as well.
Save Money: 5 Affordable Ways To Make Over Every Room in Your House

Extra-Large Showers
While insanely large showers seem luxurious, Martin said this is another trend she believes won't last.
"If the shower footprint is too large, the space does not stay warm from the steam, and who wants to feel chilly in the shower?" she said. "These designs look beautiful in photos, but that's not enough to have staying power."
Instead, she suggested choosing a smaller footprint for your shower, then using any leftover room in your budget for more lavish materials and fixtures.
A prefabricated walk-in shower costs approximately $500-$2,000, while a custom shower will set you back roughly $3,500-$7,000, according to HomeServe. With the extra money, you could accessorize your bathroom with a chandelier at Lamps Plus for $149.99, a heated toilet seat at Lowes — starting at $129.91 — or a waterproof mirror TV at Walmart for $699.
Upgrading your home is a big deal, so you want to be sure you're making investments that will truly add value. Take the time to really think renovations through before getting started, to make sure you're not wasting your money on an update that will only work in the short term.
More From GOBankingRates
Make Your Money Work for You