10 Best Expense Tracker Apps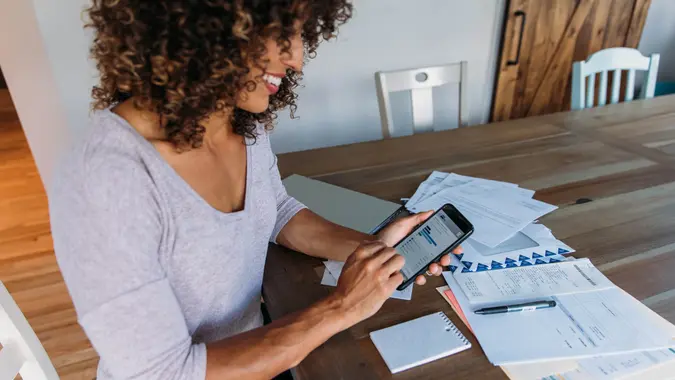 RichVintage / Getty Images
It may sound a little on the nose, but one of the best things you can do for your personal finances is to keep track of them. When you see what, how and where you spend your money month to month it can help you edit how you use your cash flow. 
Read: 3 Ways Smart People Save Money When Filing Their Taxes
Tracking your spending is the best way to get control over your bank account, and hopefully, begin to build it. To get started with your expense reporting, look into an expense tracker app to help you and your financial accounts get organized on your savings journey. 
Best Personal Expense Tracker Apps
Whether you are a small business owner or just want to track and categorize what you are spending with your credit cards, a personal tracking app is a great tool. Here are 10 recommended apps:
1. 1Money 
As personal expense trackers go, 1Money offers an extremely user-friendly interface where you can add new transactions instantly with just a single tap. Each time you enter the amount, you can see all your transactions and expenses for the day, and then the app will automatically chart that information for you. This budgeting app also allows you to do the following: 
Budget your income and expenses
Track debts and savings
Use multiple currencies with an updated exchange rate
Make Your Money Work for You
1Money is available for Android devices and has a Google Play rating of 4.5 stars.
2. AndroMoney 
This personal finance tool is great for Android and iOS devices on both mobile and web platforms. Better wealth management can lead to better wealth generation. With AndroMoney you can manage your money in the following ways:
Track daily expenses
Manage and categorize your budget
Real-time expense reporting
Set up and link multiple accounts
AndroMoney has a rating of 4.5 stars on the App Store and 4.6 stars on Google Play.
3. EveryDollar 
With a zero-based budget plan, EveryDollar essentially accounts for every dollar spent and categorizes its purpose. EveryDollar also offers a free trial to start your budgeting journey. It helps put you in control of your financial situation by offering the following options:
Personalize, categorize and customize your budget
Set up sinking funds and savings goals
EveryDollar has a rating of 4.7 stars on the App Store and 3.4 stars on Google Play.
4. Expensify 
When you are trying to get a hold of your spending, paying for an expense-tracking app may seem counterintuitive. Though many are worth the investment, it is good to know that some, like Expensify, are free. Not only is it free but it is well designed for those trying to combine and track their personal and business spending. Here is what else Expensify can help you with:
Make Your Money Work for You
Expensify has a rating of 4.7 stars on the App Store and 4.5 stars on Google Play.
5. LendingTree 
More than just a loan referral platform, LendingTree also has expense-tracking software integrated into its app. This means it can show you your expenses in real time but also has capabilities for the following:
Free credit score checks
Personalized savings recommendations
Aggregate account balances
LendingTree has a rating of 4.8 stars on the App Store and 4.4 stars on Google Play.
6. Mint 
One of the heavier hitters in the expense-tracking game, Mint is by far one of the most popular apps of its kind for both Android and iOS users. It is owned by Intuit which also developed both Quickbooks and Turbo Tax, so they know their way around some financial software. Mint is free and does a little bit of everything including, but not limited to the following:
Transaction tracking
Cash flow monitoring
Net worth calculating
Budget managing
Credit score evaluations
Mint has a rating of 4.8 stars on the App Store and 4.3 stars on Google Play.
7. Money Manager 
The Money Manager app has many customizable options as well as a clean and uncluttered way of presenting your account information. Money Manager has many features for both Android and iOS users including the following:
Easy content access and comprehension
Photo save for receipts
Simultaneously manage savings, insurance and real estate
Monthly budgeting
Money Manager has a rating of 4.8 stars on the App Store and 4.6 stars on Google Play.
Make Your Money Work for You
8. Rocket Money 
One of the biggest sneaky expenses you'll encounter without necessarily realizing it is unused subscription costs, especially when on autopay. Rocket Money, formerly Truebill, identifies these unneeded subscriptions in your expenses and helps you to stop paying them. You might not even be aware of how much you are spending on things you don't use, and Rocket Money allows you to see all subscriptions on one screen as well as any upcoming bills.
Rocket Money has a rating of 4.4 stars on the App Store and 4.3 stars on Google Play.
9. Wallet 
Keep track of all your personal expenses and finances in one place with Wallet. This app by BudgetBakers is intuitive and easy to use. Here are some key features:
Automatically updates bank account details
Categorizes downloaded transactions
Budgeting and expense control
Wallet has a rating of 4.6 stars on the App Store and 4.6 stars on Google Play.
10. YNAB
The app YNAB, which aptly stands for You Need a Budget, has a 34-day free trial to let you see if you like its platform. YNAB allows you to build your budget and manage your money with its patented four-step plan.
Rule one: Give every dollar a job
Rule two: Embrace your expenses
Rule three: Roll with the punches 
Rule four: Age your money
YNAB has a rating of 4.8 stars on the App Store and 4.6 stars on Google Play.
Final Take
Building your net worth starts with gaining control over your personal finances. Once you have built a budget and can monitor your spending, you can then move towards growing your wealth. The best and easiest way to start today is by choosing the right expense tracker app for you. 
FAQ
Here are the answers to some of the most frequently asked questions about expense tracking apps.
What is the best app for tracking daily expenses?

There are many apps designed to help you track your daily expenses, some of the best, and most highly recommended include 1Money, AndroMoney, EveryDollar, Expensify and LendingTree.

How do you keep track of all your expenses?

One of the best ways to keep track of your expenses is to download an expense-tracking app on your Android or iOS device. Here are some examples:

-Mint
-Money Manager
-Rocket Money
-Wallet
-YNAB

Is Mint a good expense tracker?

Yes, Mint is a reputable expense tracker app and has a rating of 4.8 stars on the App Store and 4.3 stars on Google Play.

Is there an app to keep track of tax expenses?

Most expense tracker apps offer the option to scan in or upload your tax receipts into your account to budget those into your expenses and include them in your whole financial picture.
Information is accurate as of Feb. 8, 2023. 
Make Your Money Work for You