Here's How To Live Frugally and Not Look Totally Cheap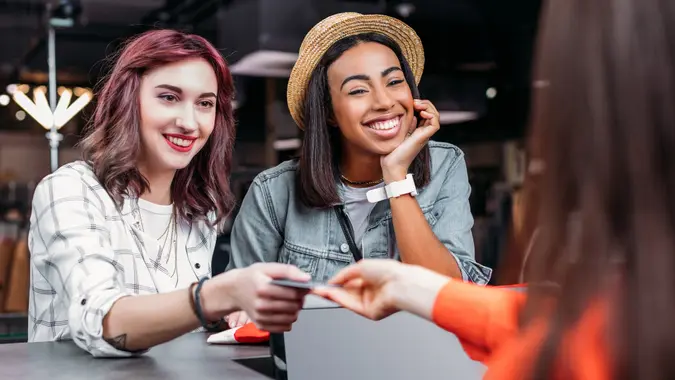 LightFieldStudios / iStock.com
Looking like a million bucks is a great expression but not great financial advice. There are many tips and tricks to save money without sacrificing fun, style and substance. With a few budgetary edits here and there, and just a general game plan for where you can stretch your spending, you can both live frugally without looking cheap. 
10 Tips for Saving Money and Living Frugally
Sometimes it takes some quick math, and sometimes it takes exercising some caution, but either way, there are multiple options for how you can live like a baller and still stick to your budget. Just because you want to live frugally does not mean you have to advertise that fact. Here are 10 tips for saving money:
Get thrifty with used items
Rent high-end clothing instead of buying
Cancel unused subscriptions
Remove shopping temptations from your scroll
Improve your credit score
Try money-saving challenges
Negotiate your bills to pay less
Attend free events
Try DIY projects
Invest in high-quality items
1. Get Thrifty With Used Items 
Upcycling clothing is one of the best ways to not only save money but also find great deals on gently used designer clothing. You can find formerly expensive clothing at a fraction of the price. It's great for your wallet, your look and the environment.
Many of these stores will also buy your old clothes or put them on consignment. If you have a bunch of apparel you no longer need or wear, this can also be a great way to make some money back. You could spend only what you make on your old clothes when buying new items to help keep your expenses in check.
2. Rent High-End Clothing Instead of Buying 
If you are trying to make a statement for just one upcoming special event, there is no need to buy an expensive garment. With so many rental possibilities, you don't have to buy to wear only once.
Make Your Money Work for You
Renting clothes has come a long way with such sites as Rent the Runway where you can get designer clothes for your event or special occasion. You can get these items for a fraction of the cost for a set number of days.
3. Cancel Unused Subscriptions 
Subscriptions, often set on autopayment, just tend to leak out of your bank account every month. If you take some time and edit these down you may be surprised as to how much you can save.
One quick way to edit them is to go through your phone subscriptions and see what is on autopay and then remove permissions for subscriptions you don't use or didn't realize you were still paying. 
4. Remove Shopping Temptations From Your Scroll 
Much of your discretionary spending can be impulsive. Sometimes it helps to unfollow accounts on Instagram, TikTok or other social media platforms where you often find yourself influenced to buy things. You can always revisit them if you have a little extra money to spend, but it will take the impulsive day-to-day temptation away which can add up in savings.
5. Improve Your Credit Score 
Having a good credit score is more than just a necessity for acquiring a loan, it can also be the key to saving money on payments in the long run. By paying bills on time and creating a solid credit history, you will be more likely to not only save on credit bills in general but also pay lower interest rates.
Make Your Money Work for You
6. Try Money-Saving Challenges
An added challenge can be a fun way to put some money aside or save those funds for something specific. Money-saving challenges can be motivational and fruitful. Here are some examples that can jumpstart your new frugal lifestyle:
The 100 envelope challenge
The 52-week challenge
The 26-week challenge
The $2,023 in 2023 challenge
The change your grocery store challenge
The pantry challenge
No-spend challenge
The kick a bad habit challenge
No eating out for a month challenge
7. Negotiate Your Bills to Pay Less 
You may think your insurance or utility bills are set in cement, however, there may be more wiggle room in what you're paying than you think.
For example, by calling your credit card service provider you could negotiate your payment to a lower APR or have late payment fees waived. You can also double-check your insurance cost and get quotes from other providers as you may be paying too much. You could even use this information to lower your payments with your current provider. 
8. Attend Free Events
Living frugally doesn't mean you have to become a hermit. In fact, there are many ways you can get out and about without spending a dime. Check the social media pages or community boards of local libraries, music venues, bars and restaurants that are promoting free events. 
9. Try DIY Projects 
If you're crafty, you can add some customized designs to spruce up basic pieces. If you're more artistically challenged, you can go to YouTube or TikTok to get some free tutorials on DIY projects. DIY doesn't just have to mean making something, it can also just mean handling tasks you would usually outsource yourself such as:
Wash your own car instead of going to the car wash.
Paint your own nails instead of paying for a manicure.
Work out at home with free videos instead of a gym membership.
Iron your shirts instead of getting them pressed and dry-cleaned.
Make Your Money Work for You
10. Invest In High-Quality Items
If you are going to spend the money anyway, instead of going cheap in the short-term, you may want to invest in the long-term. This advice can be for clothing, appliances, cars and more.
Though the price tag is a little bit more expensive upfront, often the product will last longer or have to be fixed or replaced fewer times. This can end up costing you much more when all added up.
Final Take To GO 
There are many corners you can financially cut without impacting the end product. Living frugally is more than just organizing your finances, it is a mindset of how you approach the balance of living, spending and saving. By using just a few of these tips for saving money, you can make some major changes.
FAQ
Here are the answers to some of the most frequently asked questions about living frugally.
What does it mean to live frugally?

Living frugally generally applies to people who do not spend a lot of money on food, clothing or housing. It can also mean people who make savvier financial decisions and know where to save money and where to spend it.

How do you live life frugally?

Here are a few tips on how to live frugally:

Get thrifty with used items
Rent high-end clothing instead of buying
Cancel unused subscriptions
Remove shopping temptations from your scroll
Improve your credit score
Try money-saving challenges
Negotiate your bills to pay less
Attend free events
Try DIY projects
Invest in high-quality items
Make Your Money Work for You