10 Most Expensive Baseball Cards in the World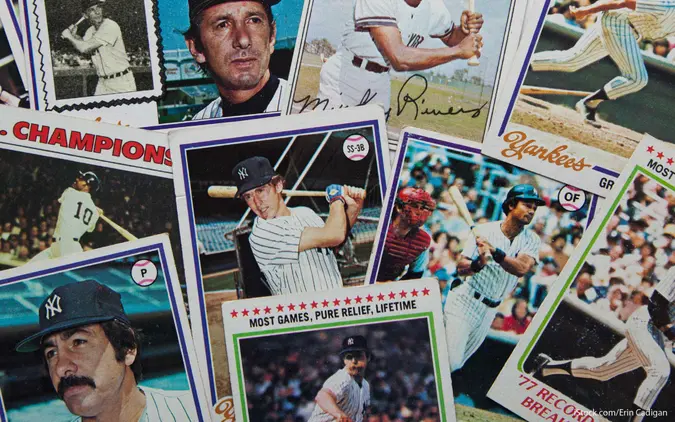 Erin Cadigan / iStock.com
One of the unique aspects of the sport of baseball is how it embraces its history. No other sport values the statistics and numbers of past players like baseball.
Read More: This Credit Score Mistake Could Be Costing Millions Of Americans
Baseball cards are a perfect manifestation of this. Cards commemorating teams and players have been around since the 1860s, and have been marketed to adults, in cigarette packs, and later kids. At the height of its popularity, baseball trading cards generated $1 billion in sales per year, although it has dropped to around $200 million today.
So it's no surprise that a hot market developed for rare baseball cards. A card in "mint" condition can go for millions at auction — we'll pause while you go rooting through your basement for your long-forgotten collection of cards.
In fact, the most expensive baseball card ever sold went for more than $12 million at an auction on Aug. 22, 2022. Read on to learn about that card and the other most expensive cards in the world.
10. Roberto Clemente, 1955 Topps
Cost: $478,000
Make Your Money Work for You
Clemente was a legendary player from Puerto Rico who hit for average and power, and he had a fantastic outfield arm as well. He reached the 3,000-hit mark but was killed in a plane crash Dec. 31, 1972, while on his way to Nicaragua to help earthquake victims.
Clemente's rookie card sold for $640,000 in 2016.
9. Willie Mays, 1952 Topps
Cost: $478,000
This card isn't technically Mays' rookie card, but it's the first baseball card to feature the superstar. Mays hit 660 homers in his career with the Giants and Mets and is considered one of the greatest players of all time.
8. Babe Ruth, 1914 Baltimore News
Cost: $575,000
This card is from Ruth's time as a minor league pitcher with the Baltimore Orioles, and there are only 10 of these cards known to exist.
The Sultan of Swat held the major league record for career homers with 714 until Hank Aaron surpassed him in 1974.
7. Mickey Mantle, 1951 Bowman
Cost: $588,000
The Bowman cards historically are more poorly made, so it's harder to find cards in good condition. But a mint condition Mantle card sold in 2019 for a pretty penny.
Make Your Money Work for You
6. Nolan Ryan/Jerry Koosman, 1968 Topps
Cost: $612,539
The version of this card that was graded a perfect 10 for mint condition sold for quite a pretty penny. Even the cards in less-than-perfect condition can sell for a few thousand dollars. This is the rookie card for Ryan, who threw seven no-hitters and struck out a record 5,714 batters.
5. "Shoeless" Joe Jackson, 1909 American Caramel
Cost: $667,149
Jackson was the most high-profile player linked to the infamous "Black Sox" scandal in 1919, when the White Sox were accused of throwing games. He's memorialized in movies such as "Eight Men Out" and "Field of Dreams." This card sold for the staggering amount even though it wasn't in mint condition.
4. Pete Rose, 1963 Topps
Cost: $717,000
This card earned a perfect 10 rating from the PSA, making it extremely rare. Rose is considered the Hit King, with a record 4,256 hits. But he's banned from baseball and the Hall of Fame for betting on games.
3. Babe Ruth, 1916 Sporting News
Cost: $717,000
No surprise here that another Ruth card makes this list, as he was one of the most popular athletes of the 20th century. This card is in such high demand because it shows him with the Boston Red Sox, before he was famously traded to the New York Yankees.
Make Your Money Work for You
In 2019, a Ruth card in less than mint condition was found stuffed in a piano and sold for $130,000.
2. Honus Wagner, T206 1909-1911
Cost: $6.6 million
For years, Honus Wagner cards were the Holy Grail of baseball collectors because they were so rare. Only 50 of these cards were produced before Wagner demanded that the American Tobacco Company recall the card, because they had been made without his permission. It also has been reported that he didn't want to be involved in marketing cigarettes to children.
1. Mickey Mantle, 1952 Topps
Cost: $12.6 million
The Mantle card shattered the record, nearly doubling the Wagner auction amount. It's considered in "Mint+9.5" condition, CNN reported, citing Heritage Auctions.
The Yankees player's 1952 card is from his rookie season.
Tips for Collecting and Selling Rare Baseball Cards
Topps baseball cards are consistently considered the highest quality.
Look for rare cards of big-name players in mint condition.
If you're selling, remember that even a card in mint condition could bring a big payday, but the better the condition, the better the payout.
Information is accurate as of Sept. 15, 2022.
Our in-house research team and on-site financial experts work together to create content that's accurate, impartial, and up to date. We fact-check every single statistic, quote and fact using trusted primary resources to make sure the information we provide is correct. You can learn more about GOBankingRates' processes and standards in our editorial policy.
Make Your Money Work for You