The Most Expensive Baseball Memorabilia of All Time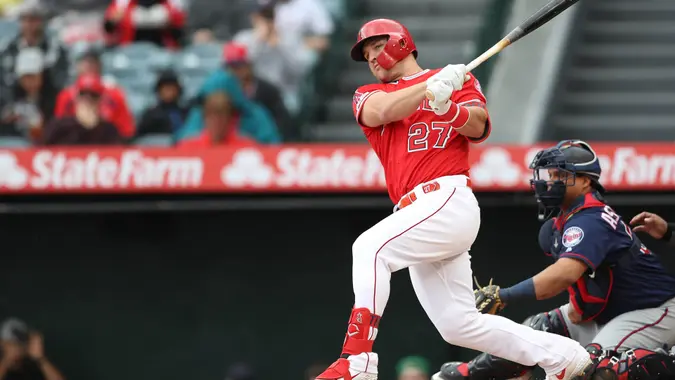 Peter Joneleit/CSM / Shutterstock.com
America's pastime — baseball — has been reenergized when it comes to the collectibles market. In 2021, at least four baseball cards have sold for unbelievable prices, with one record shattered after another. 
From Pitcher to Point Guards: The 41 Highest-Paying Positions in Sports
See: Injuries Cost These 13 Athletes a Fortune
And just who are the famous faces on those baseball cards? And what other memorabilia is enticing collectors to hand over millions?
With the World Series up on us — the Houston Astros will take on the Atlanta Braves in the 2021 Fall Classic — here's a look at 10 of the most expensive collectors' items and memorabilia in baseball history. 
Going To the Ballpark: Most Expensive Baseball Stadiums
Babe Ruth's 1927 World Series Ring: $2.1 Million
The 1927 World Series championship ring awarded to Babe Ruth — engraved G H Ruth, for his given name of George Herman Ruth — sold at auction in mid-2017 for just shy of $2.1 million. The seller? Actor Charlie Sheen, who decided to part with more than $4 million of Ruth memorabilia he had acquired in the early 1990s, ESPN reported. The 1927 title was the second of the 27 World Series wins for the Yankees.
Make Your Money Work for You
Babe Ruth's 1919 New York Yankees Contract: $2.3 Million
Also part of Sheen's collection was one of the only two original contracts selling Babe Ruth to the New York Yankees in December 1919, and it fetched $2.3 million in 2017. When former team owner Harry Frazee announced the sale of Babe Ruth to the New York Yankees, he said, "No other club could afford to give the amount the Yankees have paid for him, and I do not mind saying I think they are taking a gamble." After the sale, the Red Sox did not win another championship for 86 years, until 2004. The sale of Ruth became famously known as The Curse of the Bambino. Ruth went on to hit 714 career home runs.
Learn: Most Successful Athlete From Every Decade
Mark McGwire's 70th Home Run Ball: $3 Million
In 1998, both avid and casual baseball fans watched in awe as Mark McGwire of the St. Louis Cardinals and Sammy Sosa of the Chicago Cubs chased Roger Maris' record 61 home runs for a season. Sosa finished with 66 home runs, led the majors with 158 runs batted in and won the National League MVP award. McGwire hit 70, and his 70th home run ball sold at auction for just over $3 million at auction in January 1999. In the years since, the value of the ball has dropped to somewhere between $250,000 and $400,000, TMZ reported in 2020. Whether it's because Barry Bonds broke the record with 73 homers in 2001 or McGwire later admitted to using steroids is unclear.
Make Your Money Work for You
Honus Wagner T206 Baseball Card: $3.75 Million
Long the gold standard for collectibles, the Honus Wagner card sold in May 2021 for $3.75 million. There are believed to be only about 60 Wagner cards, and ESPN presented a few theories as to why in an August 2021 report. It could have been that the printing plate broke, limiting production; that there was a copyright dispute between the tobacco company that inserted the card in cigarette packs and the artist; or that Wagner wanted more money for using his name and image.
Then there's the most popular tale — that Wagner asked for production to be stopped because he didn't want it to appear to children that he was promoting tobacco use.
This card was judged in good condition, meaning cards with a higher rating can sell for more. And one did.
How Much?: Derek Jeter, Barry Bonds and a Dozen Other MLB Players Worth More Than $100 Million
Make Your Money Work for You
Mike Trout 2009 Baseball Card: $3.9 Million
While spots on such lists generally are reserved for the memorabilia of longtime Hall of Famers, the card of a likely future Hall of Fame member — Mike Trout — sold for $3.9 million in August 2020. At the time, it was the highest-selling sports card of all time. The 2009 Bowman Chrome Draft Prospects Superfactor signed rookie card sold in mint condition and came with a certificate of authenticity for the signature of the Los Angeles Angels outfielder.
Babe Ruth 1933 Baseball Card: $4.2 Million
In July 2021, bidding started at $500,000 for a 1933 Goudey Babe Ruth baseball card, originally sponsored by the Big League Chewing Gum company. The card was rated a PSA 9 on the grading sale from one to 10, meaning it was in mint condition at the time of sale. The final sales price was $4.2 million. 
Look: The Most Valuable Sports Empires — and the Teams That Make Them Rich
Babe Ruth 1920 Jersey: $4.4 Million
In 2012, the earliest known Yankees jersey, which was worn by Babe Ruth in 1920 during his first season with New York, was sold by SCP Auctions for $4.4 million.
The jersey came complete with dried underarm sweat stains and dirt marks. At the time, SCP Auctions president David Kohler said in a statement, "This proves again that Babe Ruth is 'king' in the sports memorabilia world." 
Mickey Mantle 1952 Baseball Card: $5.2 Million
The Topps Mickey Mantle 1952 edition briefly held the record for the highest-selling card in history when it sold for $5.2 million in January 2021. The card of the New York Yankees great was judged a PSA 9 and is believed to be one of only six with that classification, ESPN reported. This Mantle record also could be short-lived, too, though. ESPN said there are at least three PSA 10 Mantles, meaning they are in "gem mint" condition, and each could sell for more than $10 million.
Related: Here's Why It Costs So Much To Take Your Family to a Ballgame
Babe Ruth 1928-30 Jersey: $5.64 Million
The gray jersey with "Yankees" sprawled across the chest in simple lettering sold for $5.64 million in June 2019. It was one of more than 400 items auctioned off by Hunt Auctions in partnership with Ruth's family. With 714 career home runs, Ruth is third, behind Barry Bonds and Henry Aaron, on the all-time home run list but No. 1 when it comes to jersey sales.
Honus Wagner T206 Baseball Card: $6.6 Million
It was another Wagner card, circa 1909-11, that shattered records in August 2021 when it sold for $6.6 million. It fetched more than the card sold in May because of its exceptional condition. So just who was Honus Wagner?
Wagner was a member of the inaugural class of the National Baseball Hall of Fame, inducted in 1936. The shortstop broke into the major leagues in 1897 with the Louisville Colonels, spending three seasons there before joining the Pittsburgh Pirates, where he played 17 seasons. He won eight batting championships and retired with a career average of .328. played shortstop for 21 years from 1897-1917 and spent 18 of those years in Pittsburgh. His 3,420 hits remain No. 8 on the all-time list, more than 100 years after his retirement.
More From GOBankingRates
Last updated: Oct. 28, 2021
Make Your Money Work for You